These Dulce de Leche and Cashews Brownies are both chocolate and dulce de leche fans' dream. They are moist, cakey, crunchy (thanks to the cashews), and very easy and quick to make.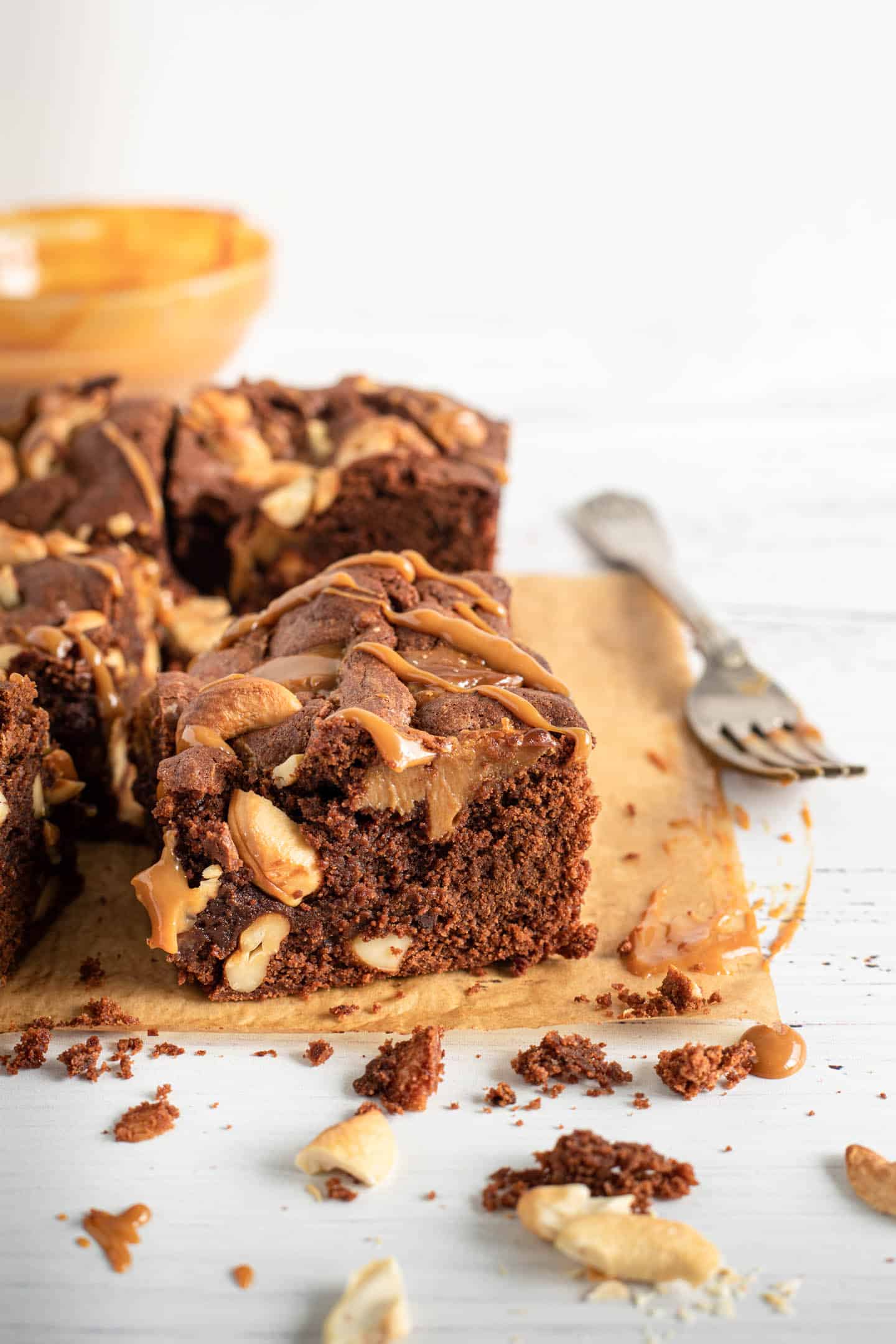 To be honest, this brownies recipe has been in my recipe book since I don't know when. According to my mom, it's my grandma's. The important thing is that is very easy and quick to make. It requires just a few ingredients and it doesn't need too much prepping.
As I couldn't just share the brownies on its own, I gave them the magic Paula-touch by adding dulce de leche (because chocolate + dulce de leche = undeniable duo of flavors) and cashews. If you don't have any at hand, you can replace them with walnuts or almonds, or any other nuts you prefer.
Why you'll love these brownies
It's not hard to imagine why, but there are a few reasons:
They have the perfect cakey and moist texture.
The chocolate flavor is intense, perfect to have with some coffee or tea.
The dulce de leche gives it a very smooth texture.
For the crunchy factor, we'll add some cashews.
Tips to make some irresistible brownies
Chocolate: Try getting the best quality chocolate you can. The more cacao, the better. So aim for 60 to 80%. This will contribute to the intense flavor and color.
Cacao + butter: It's important to melt them together and let them cool down a bit for a few minutes before adding to the dry ingredients. This will guarantee the feature moist of the classic brownies.
Don't overmix: To make sure we get the moist and "packed" texture, it's essential we don't overmix the eggs or the little flour it requires.
Cooking time: Once the edges start to separate from the pan and the top becomes shiny, they are ready. Bear in mind not to overbake them but also not to undercook them. As a guide, and very different to regular cakes, if we insert a toothpick in the center and it comes out with a bit of batter, they are done.
How to decorate these dulce de leche and cashews brownies
Up to this moment, you have the chance to bake them on their own. But if you prefer to give them the perfect touch, let's add two more ingredients that will enhance the intense chocolate flavor.
Once we pour the brownies batter on the cake pan, using a spoon, we'll add a few heaped spoons of dulce de leche on top. Then, using the same spoon or a toothpick, we'll do some swirls to mix the dulce de leche with the chocolate batter.
Lastly, it's the nuts turn. They'll not only be all over the brownies but also we'll have more on top. For this recipe, I chose cashews. But you can easily replace them with almonds or walnuts. Always make sure you roast them for 5 minutes in the oven, in order to boost their flavor and qualities.
That'll be all for today. As I mentioned before, it's super easy, quick and fun to bake these dulce de leche brownies. Bake this delicious dulce de leche and cashews brownies and surprise your family or friends. They are perfect with some nice coffee, as dessert or snack.
Don't forget to leave a comment down below if you try this recipe (and why not, an Uber-style rating? ★★★★★). It not only helps me but also other people that want to try it. You can also tag me on Instagram or Pinterest so I get to check your photos or send them to me privately if you are shy.
Other similar recipes:
Cakey Dulce de Leche and Cashew Brownies
These Dulce de Leche and Cashews Brownies are both chocolate and dulce de leche fans' dream. They are moist, cakey, crunchy (thanks to the cashews), and very easy and quick to make.
Ingredients
200

g

dark chocolate

200

g

unsalted butter

3

eggs

200

g

granulated sugar

150

g

self-rising flour

Pinch of salt

160

g

cashews

roasted and roughly chopped

150

g

dulce de leche
Instructions
Preheat your oven to 180 ℃. Grease a square pan (20 x 20 cm) with some non-stick spray and lay some parchment paper at the bottom.

In a mid-sized bowl, add the chocolate and butter. Put on top of a sauce pan with some water (make sure it doesn't touch the bottom of the bowl). At medium heat, mix until both ingredients have melted.

On a separate bowl, combine the eggs and the sugar.

With a spatula, add the chocolate and butter until everything is well combined.

Fold in the flour and salt.

Add half of the toasted cashews.

Add the batter in the cake pan.

Using a spoon, spread the dulce de leche and lightly mix it with the batter. Sprinkle the remaining cashews on top of the dulce de leche.

Pop it in the oven for 25 minutes, until the edges start to separate from the pan.

Let it cool completely before cutting.
Notes
STORAGE

: Store in an air-tight container up to 4 days at room temperature or in the fridge, or you can also freeze them for several months.