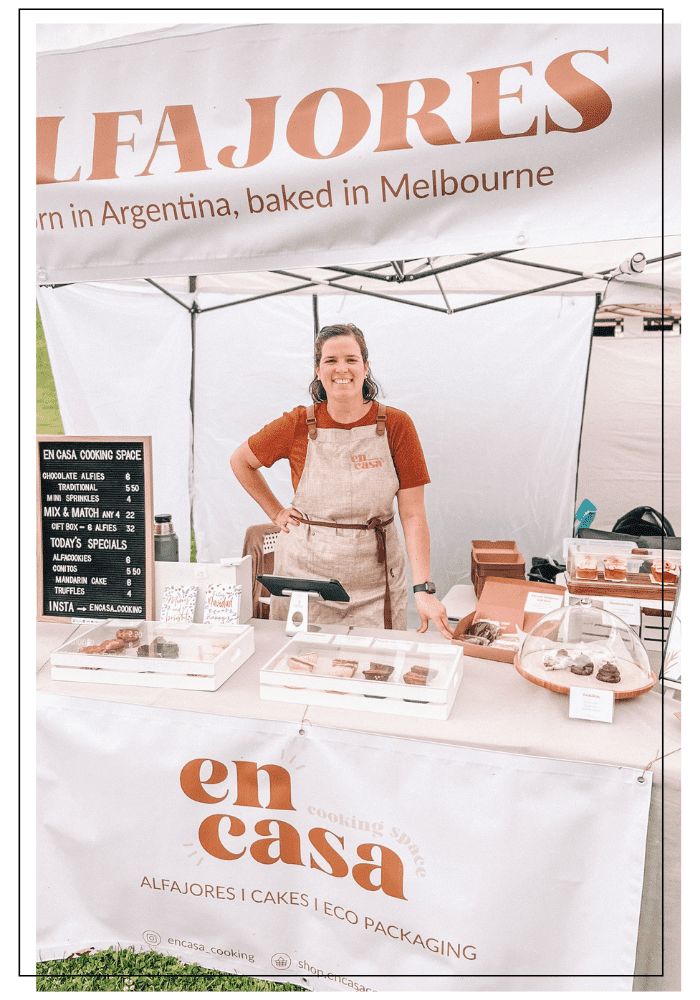 Hola, I'm Paula.
Welcome to En Casa!
En Casa Cooking Space is a place that started as a creative outlet, and now it's fully dedicated to all handmade bakes for those that love baking easy-to-make sweets and are always ready to impress.
Thank you and happy baking!
Paula
A bit about the shop…
In May 2019, I launched En Casa's online shop, where you can find luxurious cakes/desserts and premium alfajores shipping Australia wide from my council-registered kitchen in Melbourne.
En Casa's mission? To spread the love for alfajores and all things dulce de leche in Australia.
My why…
En Casa means "at home" in Spanish.
I've always felt that, when making all these family recipes, I was a bit closer to my home in Argentina. I basically wanted to create a space where I could combine my passion for baking with my newly discovered interest in photography that actually makes them justice.
I've also chosen to create a Spanish-English recipe blog. Why? Well, I'm not only a Spanish translator by trade, but I've also been translating recipes back and forth all my life. Either I found a recipe in English that my mom loves, so I had to translate and convert all measurements, or I would have to translate my recipes into English for friends or colleagues. So that's the short answer.
Last but not least, I want to pay tribute to my grandma, a wonderful woman, who was an even better baker. I still remember walking into her kitchen and wondering what was baking that day. So this is my way of keeping those memories alive. And to my mom, from whom I've inherited a big amount of recipes and knowledge. Thanks, mom!
Join The Kitchen Table
My monthly newsletter
Once a month, I sit down at my kitchen table and write a newsletter for you to read at yours. It's filled with delicious goodies, like exclusive recipes, special offers, sustainability tips and a generous gooey scoop of dulce de leche.
Psssst: you'll also get 10% off in my store when you subscribe! Don't tell!