This Banana Sheet Cake with Dulce de Leche Buttercream represents a classic dessert from many Argentinean's childhoods: banana and dulce de leche. The base is extremely moist, spongy and light, while the smoothness and sweetness of the dulce de leche buttercream in the perfect final touch.
This week I'm sharing another recipe that's extremely easy to make and that's closely related to many people's childhood in Argentina.
Please note that I didn't have this every day when growing up (unfortunately). It happened on very special occasions. And this is how we prepare it:
Grab a banana. Peel it.
Slice it.
Add a heaped spoon of the best dulce de leche you can find.
Enjoy each bite as if it were the most sophisticated dessert you've had.
Yes, it's not complicated at all, but the flavors complement each other wonderfully.
So, I got inspiration on this dessert to create this banana sheet cake with dulce de leche buttercream. It not only is delicious, spongy and light, but it's also the perfect excuse to use those ripe brownish bananas that can't be eaten fresh.
How to prepare this banana sheet cake with dulce de leche buttercream
If you've made any of my other cakes, the recipe is very easy and nothing different from the others.
However, if you are a bit scared of getting into the kitchen because you think you'll burn the cake, or it'll sink in the middle, read my 10 golden rules to bake the perfect cake. They not only apply to cakes but also to muffins and cupcakes.
DOWNLOAD THE 10 GOLDEN RULES TO BAKE THE PERFECT CAKE HERE.
Something to take into account, especially in this recipe, is the cake pan we use.
What cake pan to use for this banana cake
For this banana cake, I used a 23 x 33 cm sheet cake pan. As it's bigger than usual, the cake will only be 6-7 cm high.
However, if you don't have one this size, no need to rush to the shops to buy one (#minimalism). You can use whatever shape you have, either round, loaf shape or any other.
We do have to pay attention to cooking time, which will infallibly vary depending on the pan. The higher, the longer it'll require in the oven. To help you, when the cake rises in the middle and it's already been 35-40 minutes in, insert a toothpick in the middle. If it comes out clean, it's ready!
Now, let's be patient and let it cool completely before cutting. Or if you decide to cover it in buttercream, keep reading 🙂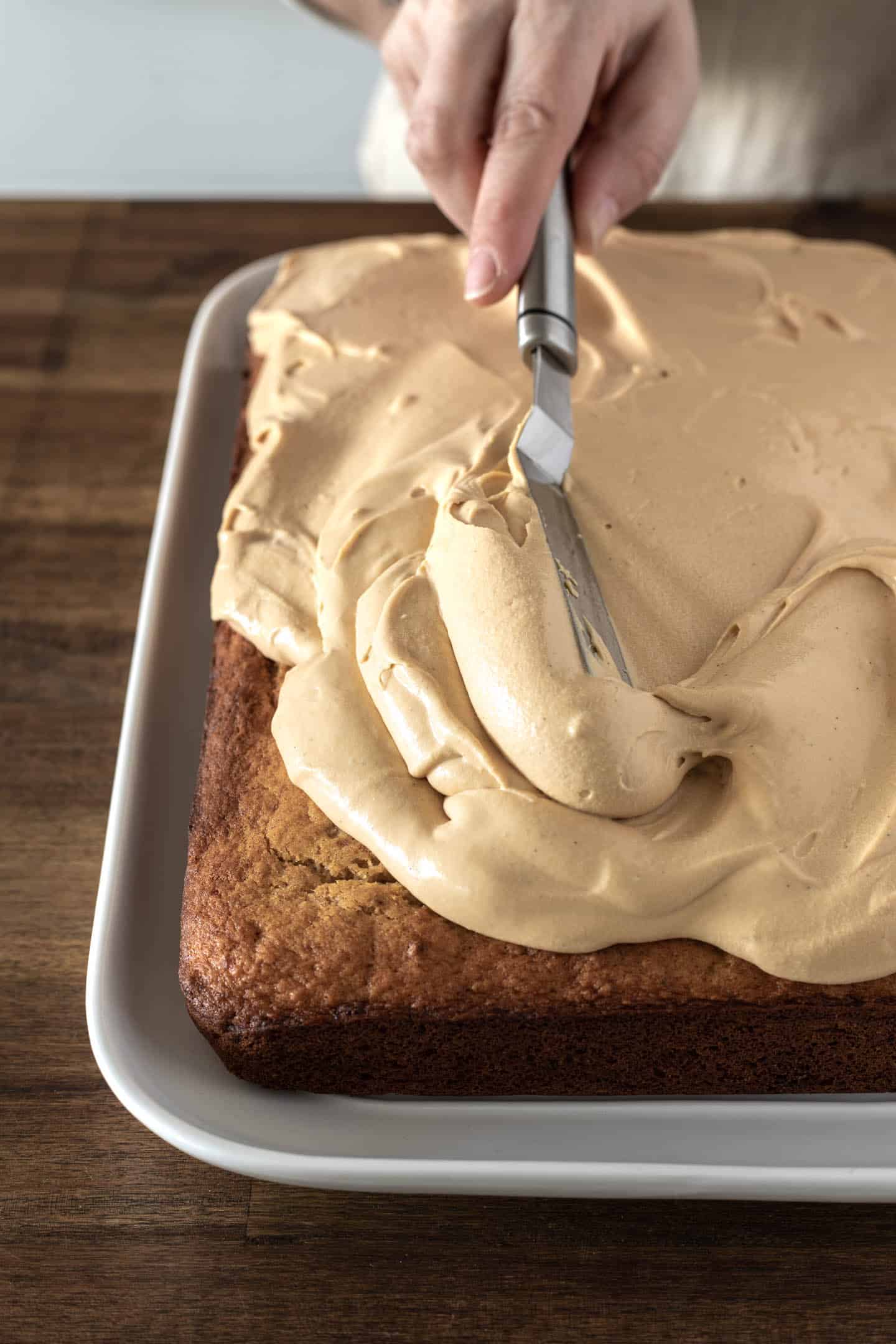 How to make the dulce de leche buttercream
Don't be scared as, despite sounding quite complex, this dulce de leche buttercream is extremely easy to put together. It only requires three ingredients: butter, dulce de leche and icing (or powdered) sugar. If you don't have this type of sugar at home, go check the amazing Kate's quick and easy recipe (from Cookie + Kate).
Warning: This buttercream is not "diet". It does have some calories. But I'm sure you won't eat the whole cake (or at least I'm not responsible if you do). So, cut yourselves a decent-sized slice and enjoy this banana sheet cake and the smooth buttercream.
One tip before getting started is to use an electric mixer. Of course, and by all means, you can use a whisk, but get ready to do some arm workout. Maybe to compensate the calories, right?
Firstly, we need to make sure the butter and dulce de leche are at room temperature. This will help to combine both ingredients in order to get a creamy consistency with lots of volume.
Once they are at room temperature, put them in a large bowl and, using the electric mixer at mid-speed, combine them well until you get a lighter color (as the one on the photos) and very smooth consistency.
Next, turn the mixer off and add the icing sugar, previously sifted, which avoids clumps in the final result. Then, at the lowest speed possible, mix all the ingredients very well. And done!
If you'll cover the cake later on, pop the buttercream in the fridge until you need to use it.
How to decorate this banana sheet cake
When decorating this banana sheet cake, the sky is the limit! You can use just the dulce de leche buttercream and make some drawings with the back of a spoon or fork, as shown in the photo.
Alternatively, let your creativity go free and use whatever you please. This time, I chose chocolate-covered blueberries and some white letters I made with fondant. Isn't it adorable?
Don't forget to leave a comment down below if you try this recipe (and why not, an Uber-style rating? ★★★★★). It not only helps me but also other people that want to try it. You can also tag me on Instagram or Pinterest so I get to check your photos or send them to me privately if you are shy.
Other cake recipes:
Print
Banana Sheet Cake with Dulce de Leche Buttercream
Author:

Paula │ En Casa

Prep Time:

15 min

Cook Time:

25 min

Total Time:

40 min

Yield:

20

slices

1

x

Category:

Cakes

Method:

Baked

Cuisine:

Argentinean
---
Description
This recipe is the clear representation of an Argentinean classic dessert: banana and dulce de leche. The banana cake is super moist, spongy and light, while the smoothness and sweetness of the dulce de leche buttercream give it the final perfect touch.
---
Cake:
150 g

unsalted butter, room temperature

115 g

white sugar

100 g

brown sugar

3

eggs

4

bananas, smashed

1 tbsp

vanilla essence

450 g

self-rising flour
Pinch of salt

2 tbsp

whole milk
Dulce de Leche Buttercream:
150 g

unsalted butter, room temperature

350 g

dulce de leche, room temperature

120 g

icing sugar
---
Instructions
Cake:
Preheat your oven to 180 ℃. Grease a sheet pan with non-stick spray and lay some parchment paper at the bottom. I used a 23 x 33 cm pan.
In a large bowl, using an electric mixer, whisk the butter and sugar. Add the eggs and keep whisking. Add the mashed bananas and vanilla essence until it's all well combined.
Using a spatula, fold in the flour and salt to the batter, making sure not to overmix. Add the milk and mix until well combined.
Spread the batter in the pan. Bake for 25-30 minutes, or until when you insert a toothpick in the middle, it comes out clean.
Let it cool completely before covering with the buttercream.
Dulce de Leche Buttercream:
Using an electric mixer, mix the butter (at room temperature) and dulce de leche very well, until you get a fluffy consistency.
Add the icing sugar and, using the mixer at the lowest speed, mix it into the cream until well combined.
Assembly:
Spread the buttercream on the banana sheet cake.
Cut into square slices and enjoy with a nice coffee or tea!
---
Notes
PAN

: This recipe requires a sheet cake pan. If you don't have one at hand, you can easily use a square pan.

BUTTERCREAM

: The buttercream can be made a few days in advance and store in the fridge. Just remember to remove it from the fridge 30 minutes before covering the cake. You want it to be more at room temperature, which helps to spread the buttercream on the cake.

BAKING

: Depending on the pan you choose, the cake will take longer or less time in the oven. With a rectangular one, the cake won't be super high, so it'll bake quicker. If you sue a round cake pan, or a smaller pan, make sure the cake is fully baked before taking it out of the oven.

STORAGE

: Store it in an air-tight container for 4 days in the fridge, or you can also freeze them for several months.
---
Nutrition
Serving Size:

108 g

Calories:

318 Kcal

Sugar:

28.28 g

Fat:

11.34 g

Carbohydrates:

48.79 g

Fiber:

1.2 g

Protein:

5.57 g