Another Argentine classic that you have to try once in your life. This Coconut and Dulce de Leche Tart will definitely bring a smile to anyone. No-sugar crust, lots of dulce de leche in the middle and crumbly citric coconut mix on top. Easy to make, delicious to eat and even better to share.
Another week goes by and I have another classic recipe to share with you all.
This week is the time for this absolute yummy coconut + dulce de leche combo. If you've never tried it, or even never thought of putting these two together, well, let me explain.
This two elements are excellent on their own but combined, my oh my! This combination is so natural and well-balanced as thinking of "strawberries + chocolate", "apple crumble + ice cream", "peanut butter + jelly", for my American friends. Or also "ham + cheese", "pizza + beer", "gin + tonic". You get the gist of it, right?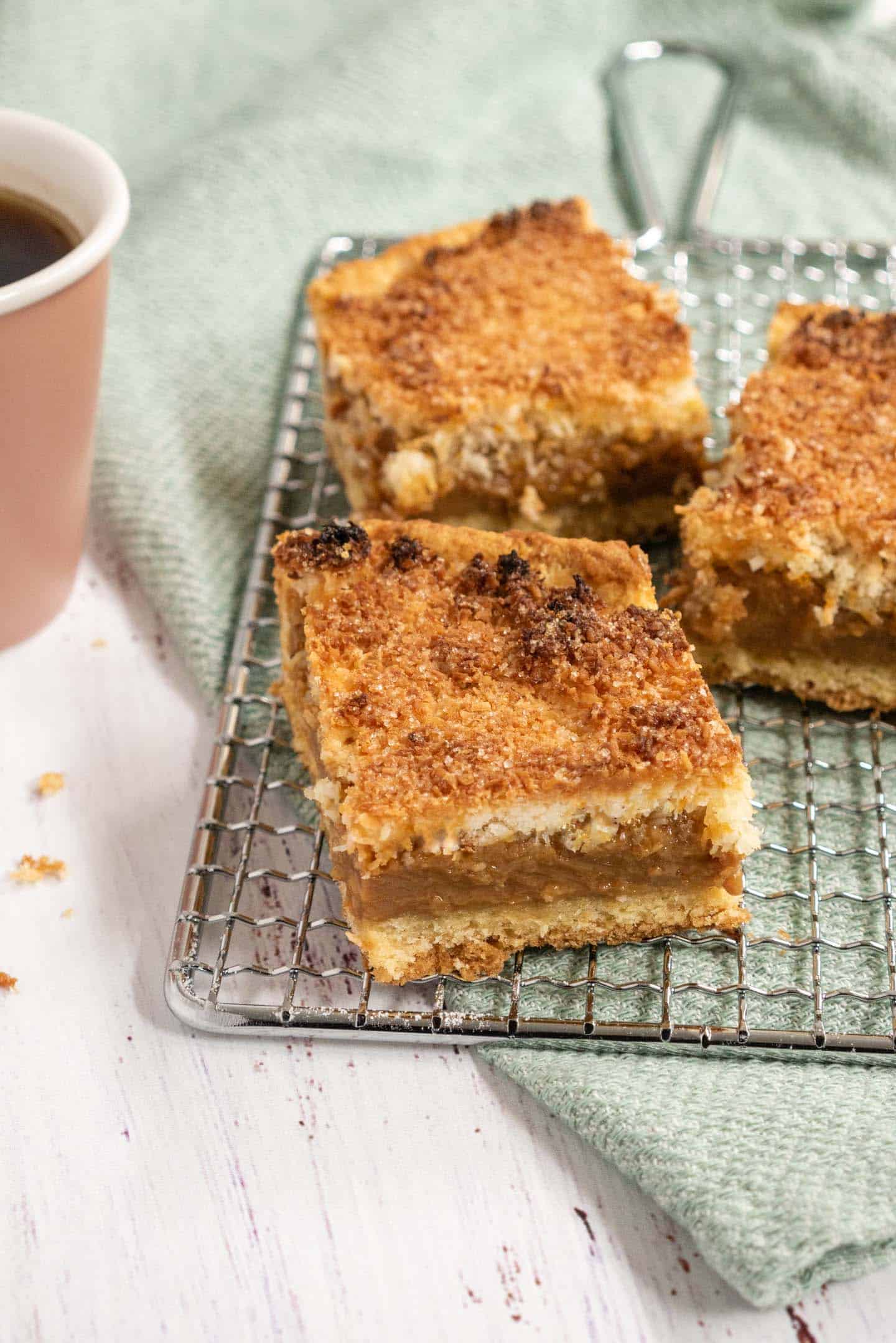 How to make this Coconut and Dulce de Leche Tart
This is a very easy and quick to make recipe, but it has a few tricks which I'll share with you, of course!
For the crust, the butter has to be cold. This way, you'll get a very flaky base. This particular tart doesn't require sugar in the crust, as there is already enough sweetness between the dulce de leche and the coconut mix on top.
When adding the dulce de leche, it should be at room temperature. It'll be easier to spread on the unbaked crust. Trust me! In terms of quantity, as a reference, I used 2 cans of condensed milk for this recipe. But you can always add more (never less haha). If you do not have access to store-bought DDL, you can make it at home with condensed milk. You can find a walkthrough here.
My own variation of this recipe is adding some orange zest to the coconut. It cuts through all the sweetness and lifts the flavors a lot. You can always opt not to add it.
After preparing and spreading the coconut mix, I always make sure to flatten it with a spoon. This will help it be more compact and easy to cut. But by all means, you can make it look rustic and just even it out so you get fluffier and crumblier slices.

And the best part is that you can freeze this Coconut and Dulce de Leche Tart for a few months. Which means you can prepare it way in advance for any celebration or event. You just have to thaw it and done! This is what my family usually does for big birthdays or dinners.
Have you tried this combination before? Would you give it a go, or too sweet for you?
Don't forget to leave a comment down below if you try this recipe (and why not, an Uber-style rating? ★★★★★). It not only helps me but also other people that want to try it. You can also tag me on Instagram or Pinterest so I get to check your photos or send them to me privately if you are shy.
Other recipes with dulce de leche:
Coconut and Dulce de Leche Tart
This Coconut and Dulce de Leche Tart is one of my favorites and an absolute Argentine classic. The recipe is super easy to make and the result is out of this world. Very moist, sweet and with a citric touch, it's the perfect option for any occasion.
Ingredients
Crust:
100

g

unsalted butter

cold

250

g

self-rising flour

1

egg

50

ml

milk
Filling:
200

g

shredded coconut

200

g

granulated sugar

2

eggs

Zest of 1 orange

Dulce de leche

to taste
Instructions
Crust:
In a large bowl, add the butter and the flour. With a fork or a dough cutter, mix until the butter is pea-size.

Add the egg and milk. With a spatula, keep mixing until you get a smooth dough.

Pop into the fridge for 15 minutes.
Filling:
In a medium size bowl, mix the coconut, sugar, egg and orange zest until all the coconut is well covered in the mix.
Assembly:
Preheat your oven to 180 ºC and spray a 26-cm tart dish with some non-stick spray.

On a floured countertop, roll the shortcrust 5-10 mm thick.

Lay the shortcrust on the tart dish and spread the dulce de leche.

Spread the coconut mix on the dulce de leche and make sure to press it down with a spoon to even it out.

Bake for 25-30 minutes, until the coconut is golden brown.

Let it cool completely before cutting.
Notes
ASSEMBLY: The dulce de leche should be at room temperature, so it's easier to spread on the shortcrust. As a reference, I used 2 condensed milk cans, but you can put as much as you would like.
STORAGE: You can easily store it in an air-tight container at room temperature for 4 days, or a week in the fridge. Or you can also freeze it already baked, cut in squares of any size. You just have to thaw it 30 minutes before eating and done!