After you try this, you won't want to try another Starbucks muffin ever again. This Blueberry Muffins recipe with natural Greek yogurt is super easy to make and fool-proof. You'll get a fluffy and tender consistency with sweet juicy blueberries and a dash of the lemony spark that people will fight over.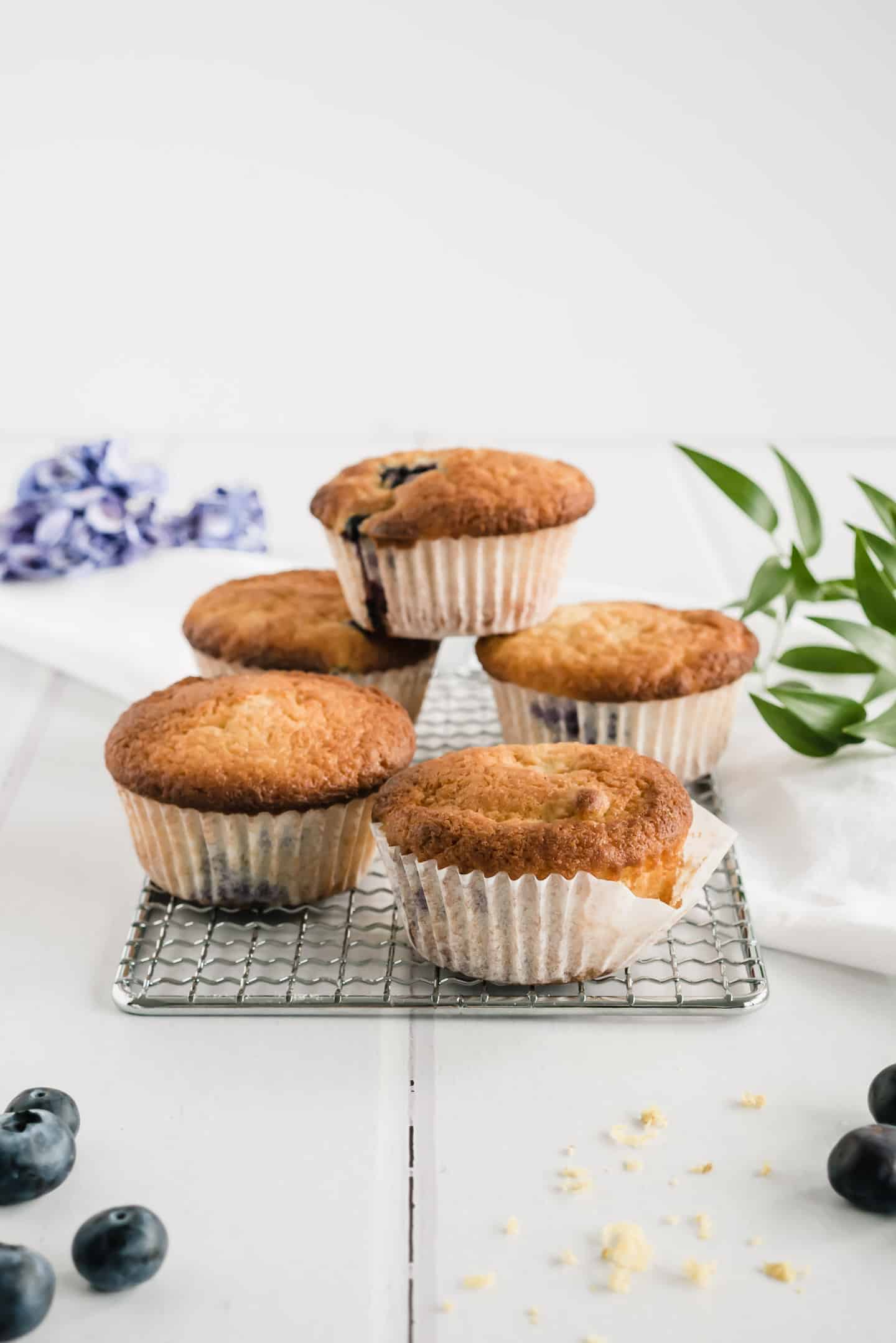 This is one of the recipes I've collected along the way. It's not a family recipe, although it has become one 🙂 But it does have a bit of history, as I've been doing it for a long time.
I came across Laura Vitale's YouTube channel around 2011, when she had just around 3000 followers. I was looking for a recipe for cupcakes, and I came across hers. One video took me to the other and, 3 hours later, I was hooked. I instantly connected with her story. She had moved from Italy to the US and found cooking a way to fight homesickness. As I had lived in the US and come from an Italian immigrant country, there you go! Fast forward to 2019, and she has around 3.5 million followers, I feel I'm one of the true original ones and I'm still doing many of her recipes, like this one. It has just been adapted a bit.
How to make these Blueberry Muffins
I guess you'll know what I'll say next. Otherwise, this wouldn't be in En Casa, right? This recipe is very easy and quick to put together, like all the others.
The recipe is quite self-explanatory. But I have a few suggestions so you can get the moistest, fluffiest and yummiest (and all the superlatives you can think of) muffins EVER.
Use a hand mixer when whisking until before adding the flour and blueberries. This will let you get that fluffy consistency.
Laura's recipe uses sour cream. That is one option. I've decided to try with natural Greek yoghurt and it tastes amazing. You can definitely substitute it with sour cream or even cooking cream.
I opted for lemon zest, as we know I'm already obsessed with anything lemon (like my Lemon Crinkle Cookies). You could also use orange zest instead, which pairs up wonderfully with the blueberries.
The blueberries can be fresh or frozen. Either way, add two tablespoons of the flour and mix until they are all covered. This will allow the blueberries to distribute all over the muffins and they won't sink to the bottom. Then, fold them in the batter with patience, trying not to burst the blueberry. Nothing will happen if you do. They will just release the sweet juice and "stain" the muffins. Which looks pretty awesome, so your call 🙂
That's it for the time being. Go make these homemade blueberry muffins and you won't regret it! Hope you enjoy them. Happy baking!
Don't forget to leave a comment down below if you try this recipe (and why not, an Uber-style rating? ★★★★★). It not only helps me but also other people that want to try it. You can also tag me on Instagram or Pinterest so I get to check your photos or send them to me privately if you are shy.
Other similar recipes:
Blueberry Muffins
This recipe for Blueberry Muffins with natural Greek yogurt is unbeatable: fluffy, tender, sweet juicy blueberries and a dash of lemony spark.
Ingredients
150

g

unsalted butter

room temperature

170

g

granulated sugar

2

eggs

60

g

natural yogurt

1

tsp

vanilla essence

½

tsp

fresh grated lemon zest

175

g

self-rising flour

100

g

blueberries

fresh or frozen
Instructions
Preheat your oven to 180 ℃. Line a muffin tin with paper liners and set it aside.

In a large bowl, cream together the butter and sugar. Add the eggs, vanilla essence, yogurt and lemon zest. Whisk until the mixture is fluffy and thick.

In a small bowl, toss together the blueberries with about 2 tbsp of the self-rising flour. Set aside.

Add the remaining flour to the butter mixture and just mix until the flour is mixed. Make sure you don't over mix it.

With a spatula, fold in the blueberries with patience, making sure not to burst them.

Add the mix to the muffin liners. You can use an ice cream scoop to make sure you add the same amount of butter.

Bake for 20 minutes or until when a toothpick inserted in the center, it comes out clean.
Notes
BAKING: Time in the oven depends on the size of the muffins liners. If you use smaller ones, just take them out of the oven a few minutes earlier.
SUBSTITUTES: You can easily substitute natural Greek yogurt with cream or sour cream. They come out a bit greasier, but still super yummy.
STORAGE: Store in an air-tight container for 3-4 days at room temperature.