The classic Argentinean Rogel cake in all its splendor: crispy layers with lots of dulce de leche covered by a delicious Swiss meringue. Sweet, rustic, decadent and easy. If you have a sweet tooth, this dessert is for you.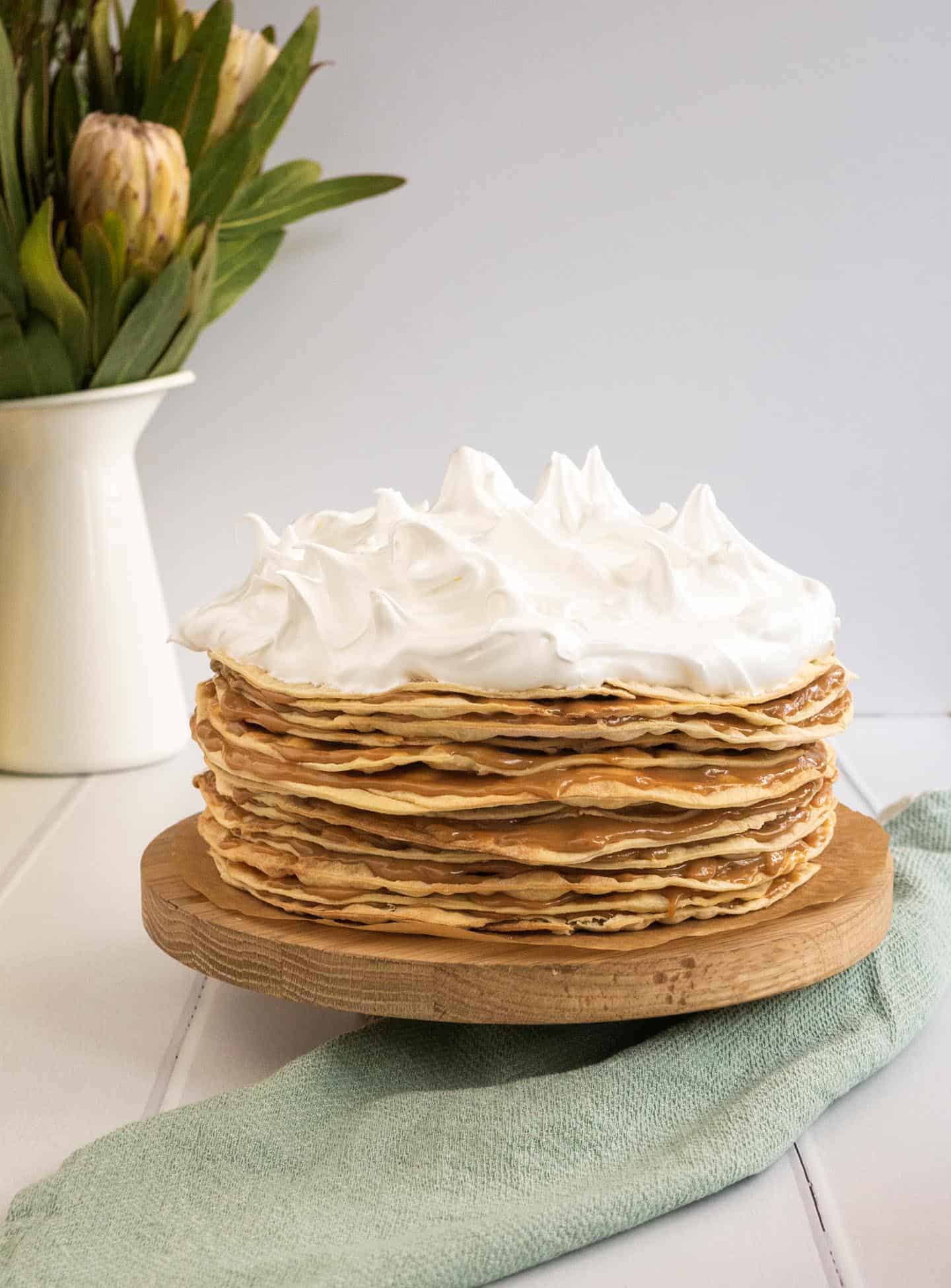 Another week goes by, and here I'm offering another classic of Argentina's cuisine. But first, I need a moment of off-topic honesty.
As I'm writing this, I'm surrounded by shoe boxes, bags with clothing, frames and lost plates around the living room, among other things. I'll be moving apartments in a few days. The new one is bigger, with much more light and a killer balcony to display all my beautiful plants. So excited!! (And anxious to see how my photography will come out with all this light, YAZ!!!) Even I have heaps to organize, I'm making the time to sit down and focus on this. I've always liked baking, as you may suspect if you know me. However, the writing and photography side was uncharted waters for me, but they have become a passion of mine now.
So, if you are reading this, wherever you are, I'm deeply thankful. Thank you for visiting this space that I've been building with so much love one week at a time.
Done! Now that I've overcome this moment of honesty, it's time to talk recipe.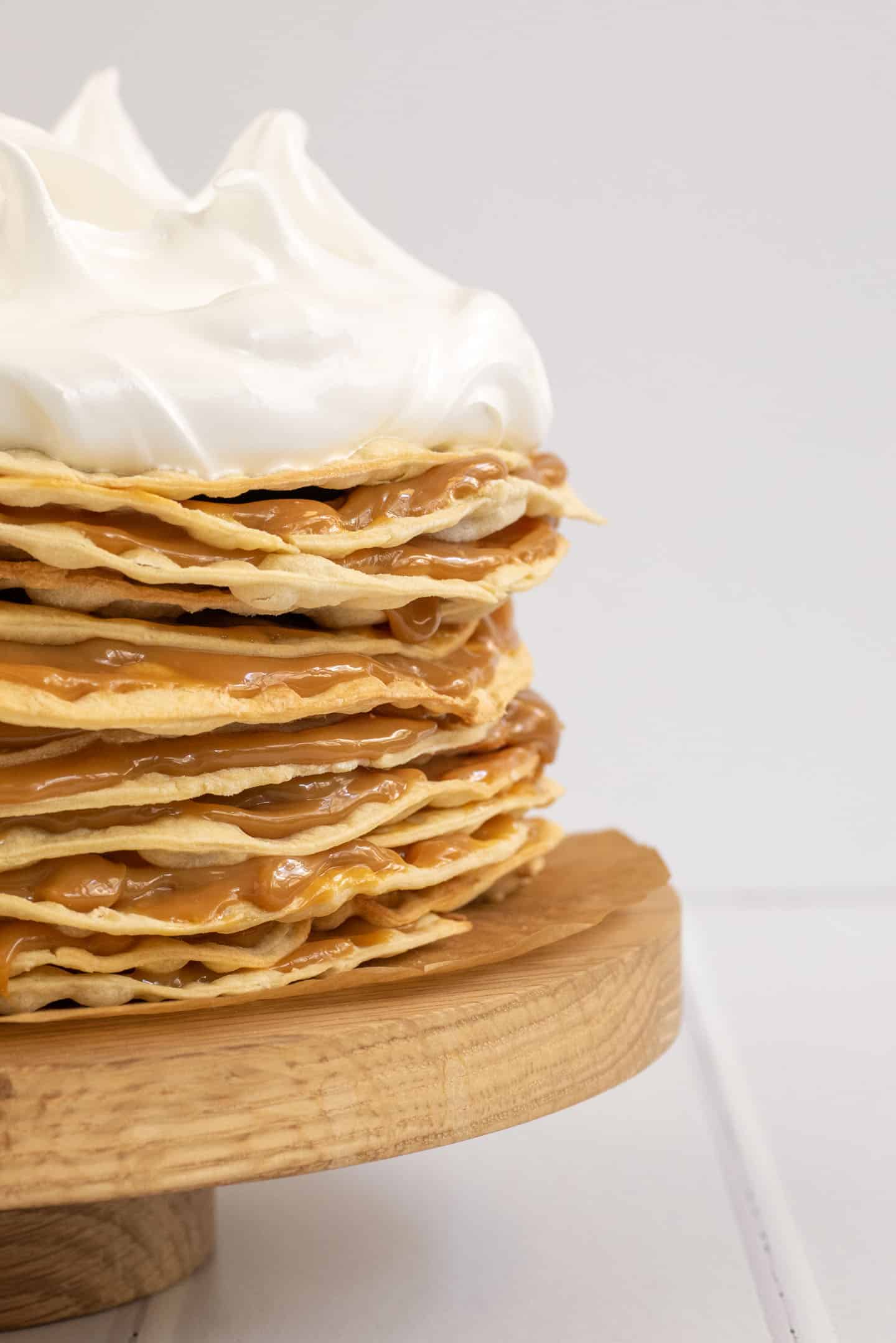 What is a Rogel?
There are two options: either you've tried this exquisite cake, or you'll want to do so after reading this recipe.
The Rogel cake, or alfajor, is a traditional dessert in Argentina's culture. Always present at weddings, birthdays, bakeries and restaurants. It's made of crispy yolk-based layers stacked into a sort of mega sandwich filled with lots of dulce de leche. And if that weren't enough, it's covered with an important amount of Italian meringue.
Please, do not confuse it with the milhojas dessert, or millefeuille. This one uses puff pastry, whereas the Rogel is made of a crispy pastry, much easier to prepare.
History of the Rogel
Its exact origin is unknown. As it tends to happen with this kind of traditional recipes in any country. Some people state it evolved from a dulce de leche cake invented by Petrona Arias. Others confirm it comes from the Alfajor Santafecino (Santa Fe is a province in Argentina).
However, it turns out its inception is much more recent. Apparently, in the 60s, Charo Balbiani, a baker based in Recoleta (a fancy suburb in Buenos Aires city), specialized in a dessert inspired in a Dutch layered cake, which she would sell for some extra income. At the same time, another woman named Rogelia was baking something similar, which she referred to as Rogel. When she passed away, her husband offered all their machinery to Balbiani's husband. When accepting the proposal, they acquired only the equipment but also the trademark Rogel. Finally, in the 80s, the Balbiani couple registered their feature dessert made of 8 yolk-based layers, premium quality dulce de leche and Italian meringue. (Source)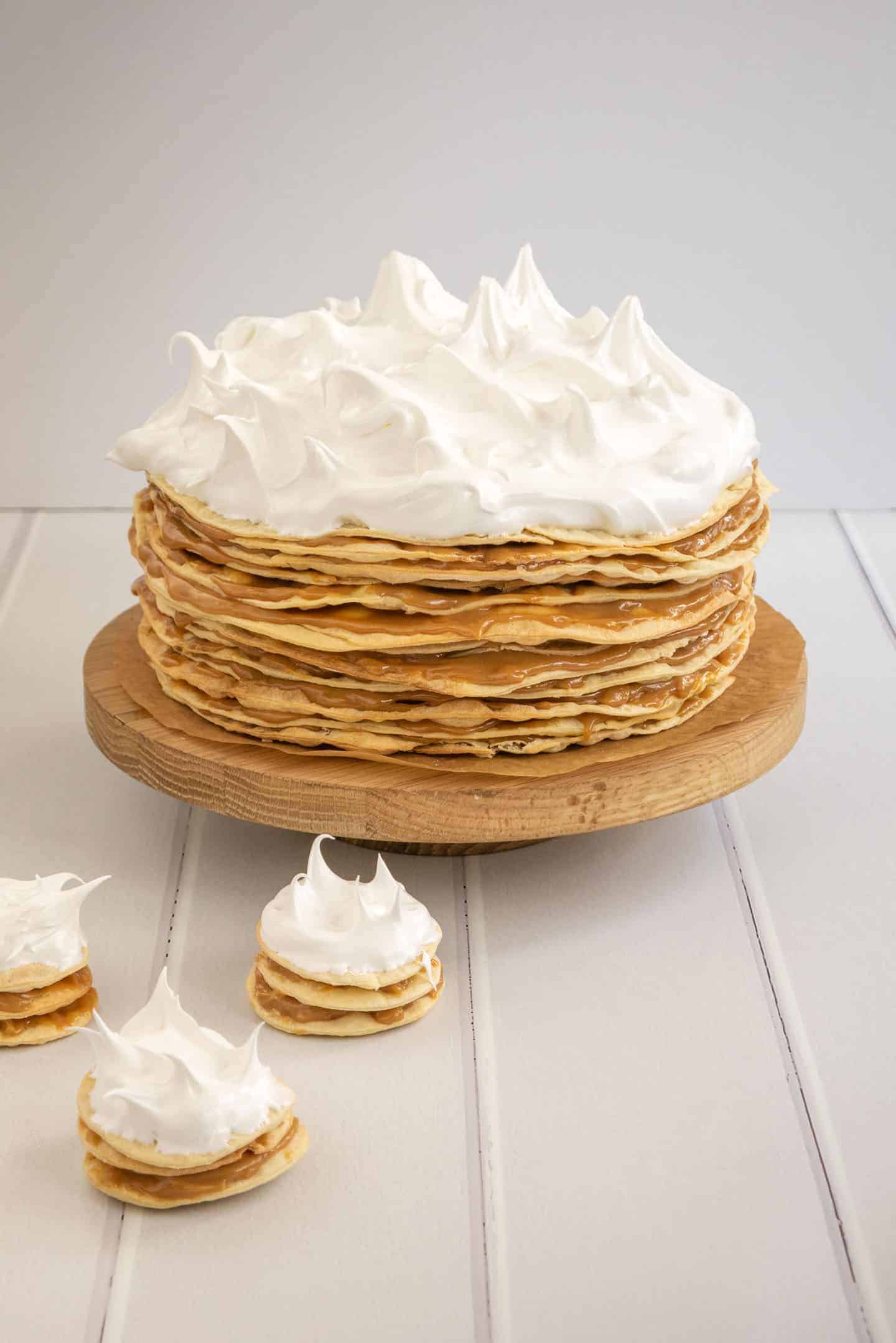 How to make this Rogel
This is one of the longest recipes I've shared in my blog so far. However, it still is easy, delicious and decadent. 🙂
Keep reading, as I'll share some important information about each of its elements: the pastry, the dulce de leche and the meringue.
Pastry discs or layers
As I already mentioned, this recipe is not my family's invention nor mine (unfortunately). The pastry recipe is Valu Ramallo's, a super fun Argentinean baker who shares lots of yummy things. I've tested other options, but hers is the one I liked the most, as it's super simple and quick to make.
The crispy layers are made of a yolk-based dough, so you've been warned: It uses lots of them. But we can attribute its intense yellow color to them. And if we use organic eggs, even better! The good thing is it doesn't include sugar haha. It would be sweet enough with the dulce de leche and meringue.
The recipe yields 14 26-cm diameter paper-thin layers or discs.
How to make the layers for this Rogel
In terms of the preparation, you have to mix the ingredients and knead the pastry until you get an even consistency.
As a reference, I suggest splitting it into 12 mini rolls. On a floured surface, roll one piece until it's paper-thin (2-3 mm). The shape is totally up to you. This dessert can be rectangular, perfectly round or more on the rustic side with uneven edges. Every option is equally enjoyable :). If you opt for the second one, and you don't have a big round cutter, you could use a regular dinner plate. Flip it on top of the pastry and cut the excess with a sharp knife.
So, once we have the first disc, let's place it on a cooking sheet and prick it with a fork several times. This will prevent the pastry from bubbling when baking, so it's an essential step. Pop it into the oven at high heat for 3 minutes. In the meantime, the idea is not to roll all the discs at once and wait while we bake one at a time. I would call this a "dynamic workflow". One disc to the oven and we keep rolling the next. One layer out, another layer in. If you are lucky to have an oven that fits several sheets at a time, you can easily bake 2 or 3 simultaneously. But, I would NOT recommend overlapping them, as they won't crisp and bake evenly. So, put some music on and enjoy this baking therapeutic moment.
As an alternative, instead of making a super mega Rogel, you can opt for its mini version, with 3 or 4 smaller layers. They are equally magical and even cuter, don't you reckon?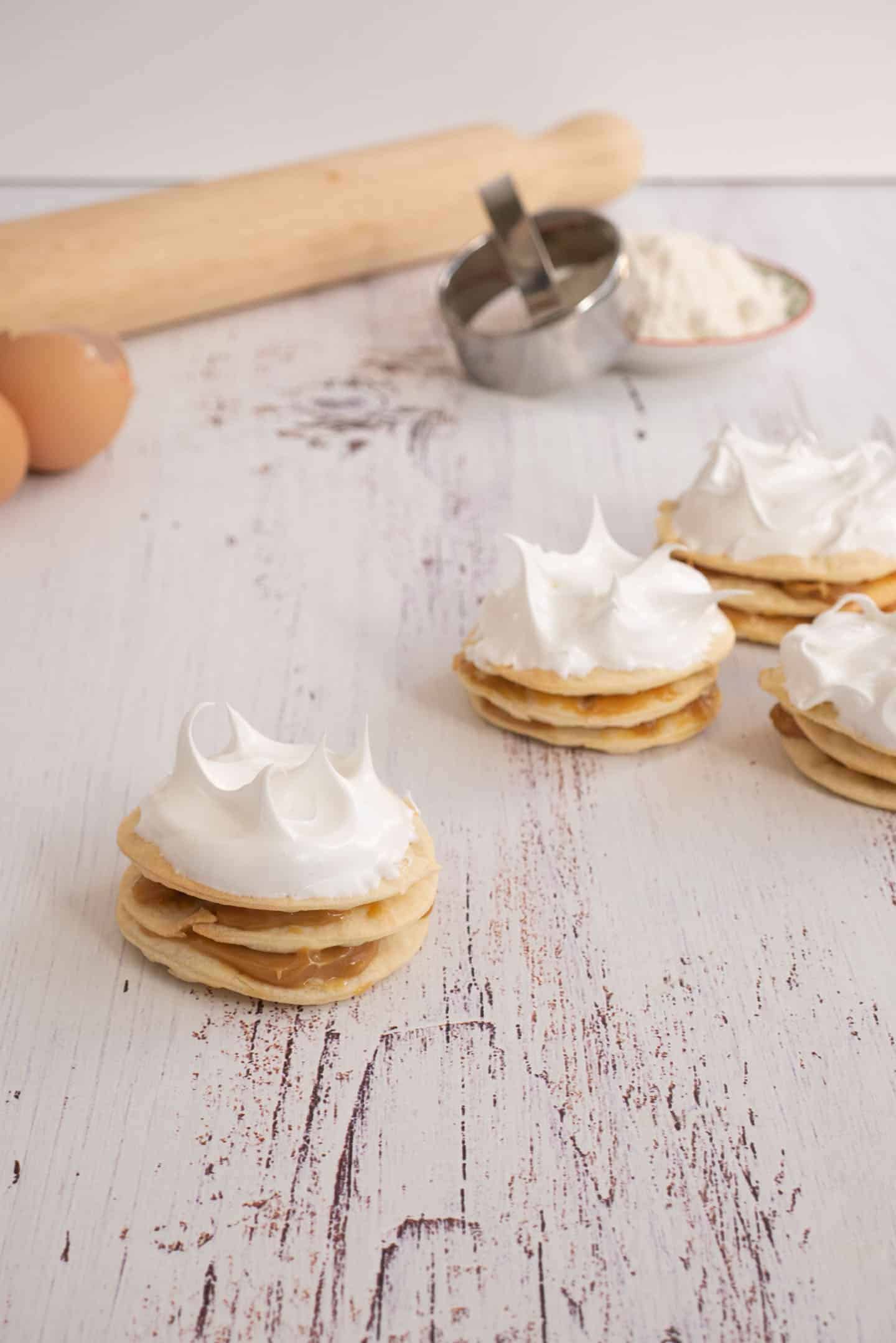 How much dulce de leche to use
Once we have all the layers ready, it's time to assemble this exquisite dessert. To give you an idea, to fill these 14 layers, I used 5 condensed milk cans (made into dulce de leche). That would be roughly 2 kilos. I know, it's a lot! But there are also many layers. I spread each very lightly. By all means, use whatever amount of dulce de leche you prefer. Even though I'm a big fan of this delicious jam, I have to admit using more in this Rogel would make it overly sweet for me.
Italian or Swiss meringue?
I have a confession to make. If you've never heard of this Argentinean dessert, its traditional version actually includes Italian meringue. Sometimes, it's fully covered in it, including the sides. But I prefer to see the different layers, which give it that rustic, homemade feeling. Yeap, that's right!
You may be wondering what the difference is. The Italian version is made of eggs whites whipped to stiff peaks and syrup at 118 ℃ temperature. Given it sounds a bit more complex, and knowing I like simple things, I went for the Swiss meringue.
It's not as difficult to prepare, so my cup of tea! It's cooked at bain-marie, so there is no way to get the syrup wrong.
Anyways, if you know how to make the Italian meringue, you are welcomed to use it for this Rogel. It does the job. I promise!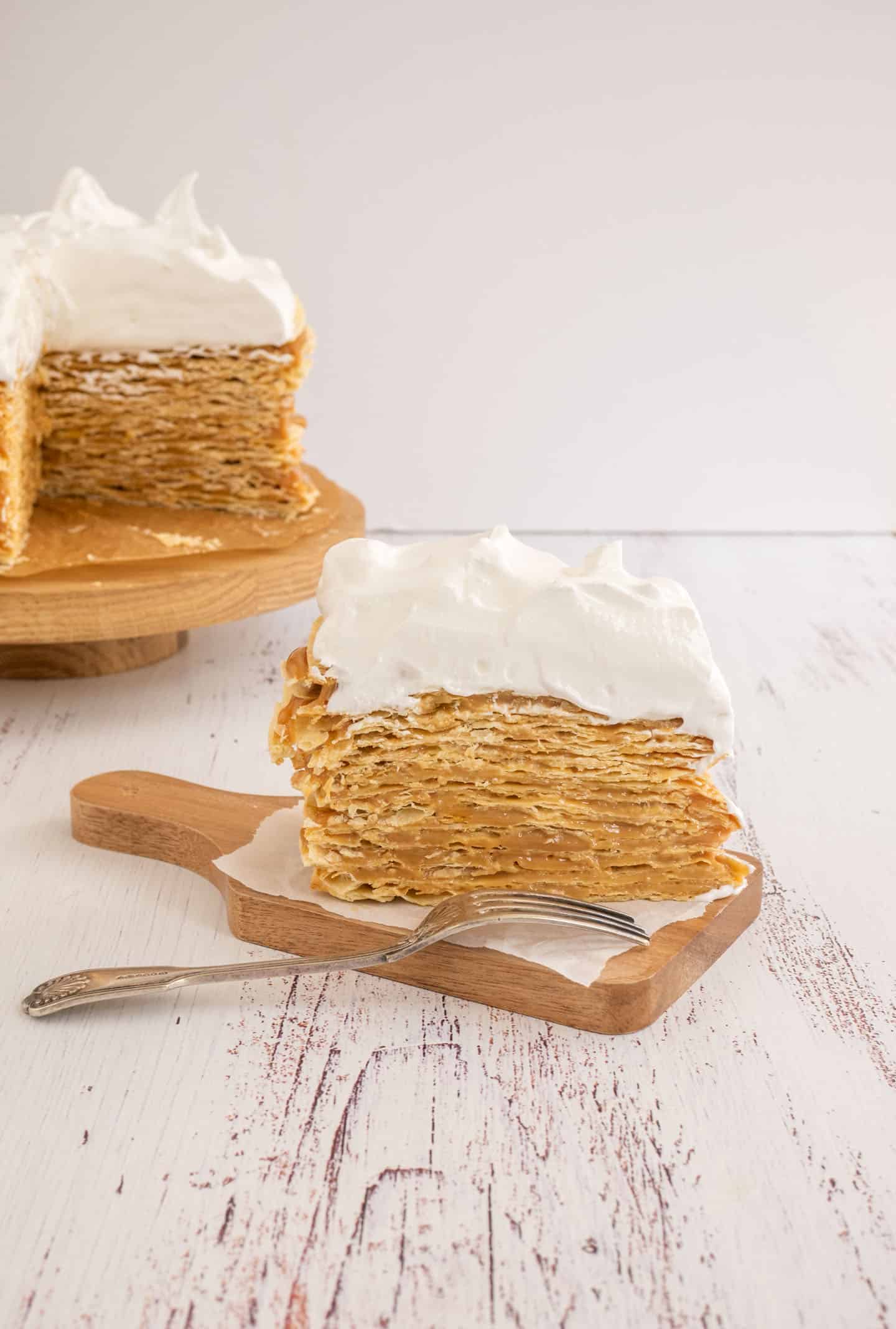 Oh la la! I got excited about writing this sensational classic. From the bottom of my heart, I hope you like it. If you have any questions, leave them in the comments section down below, or send them through Instagram.
Happy baking!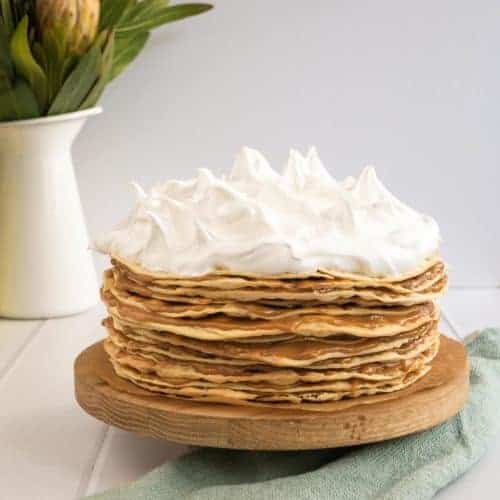 Argentinean Rogel
The classic Argentinean Rogel cake in all its splendor: crispy layers with lots of dulce de leche covered by a delicious Swiss meringue. Sweet, rustic, decadent and easy.
Ingredients
Pastry:
12

egg yolks

2

eggs

100

g

butter

melted

100

ml

water

1

kg

plain flour
Swiss Meringue:
200

g

egg whites

300

g

sugar

1

tbsp

lemon juice
Instructions
Pastry:
Preheat your oven to high heat (200 ℃).

In a large bowl, whisk the egg yolks, the melted butter, the 2 eggs and the water.

Using a spatula, fold in the flour until you get a smooth dough.

On a floured surface, keep kneading until the dough is very smooth.

Split it into 12 individual rolls.

Take one and roll it very well (2-3 mm) using a rolling pin. Place a dinner plate or cutter over the dough and, with a knife, cut the excess pastry. Place on a cookie sheet (no need to grease) and stick it with a fork a few times.

Bake in high heat for 3 minutes until it is lightly golden.

Keep rolling the dough, cutting off the excess, placing the discs on a cooking sheet and baking for 3-4 minutes individually. If your oven allows to bake several at a time, great!

Set the discs aside once baked.
Swiss Meringue:
Put a saucepan with some water over a stove at low heat.

Place a medium bowl with the egg whites and sugar, making sure its base doesn't touch the water.

Constantly whisk until the sugar is all dissolved. To check this has happened, pinch a bit of the egg white with your index finger and thumb. If you can't feel any sugar grains, perfect!

Remove from the stove, dry the base and whisk the eggs whites with an electric mixer for 2 minutes.

Add the lemon juice and keep mixing until the egg whites are firm and the base of the bowl is at room temperature (and not warm as when we removed it from the stove).

Set aside until it's time to assemble the cake.
Assembly:
Place one disc on a serving plate and spread some dulce de leche. Keep layering disc and dulce de leche, until the last once is left without the dulce.

Spread the meringue on top of the last layer and decorate it as you please.

Enjoy this exquisite Rogel with some tea or coffee!
Notes
PREPARATION: To prepare the dough, you can easily use an electric mixer. When cutting the excess pastry, you can use it to keep forming more layers. Don't waste a thing!
BAKING: Depending on your oven, the discs can be ready in 3 to 5 minutes. Just keep an eye on them as they burn easily.
ASSEMBLY: To prevent the Rogel to "dance" on the serving plate, spread a bit of dulce de leche on the surface before placing the first layer. This acts as "glue" and makes the Rogel firmer. Regarding the dulce de leche, I'm giving you an estimated amount in the ingredients list. I spread it on each layer very lightly. I don't overdo it but if you prefer the cake to be super mega sweet, by all means, add as much as you want.
STORAGE:  Store it in the fridge for 4 days or you can also freeze it without the meringue.