The actual name is "Mom's Apple Cake". But just to make it a bit easier for you, I renamed it Apple Crumble Cake. The important thing is that it's super easy to make and it never fails. Believe me. When I say never, I mean never ever! There is no way you can make it the "wrong" way.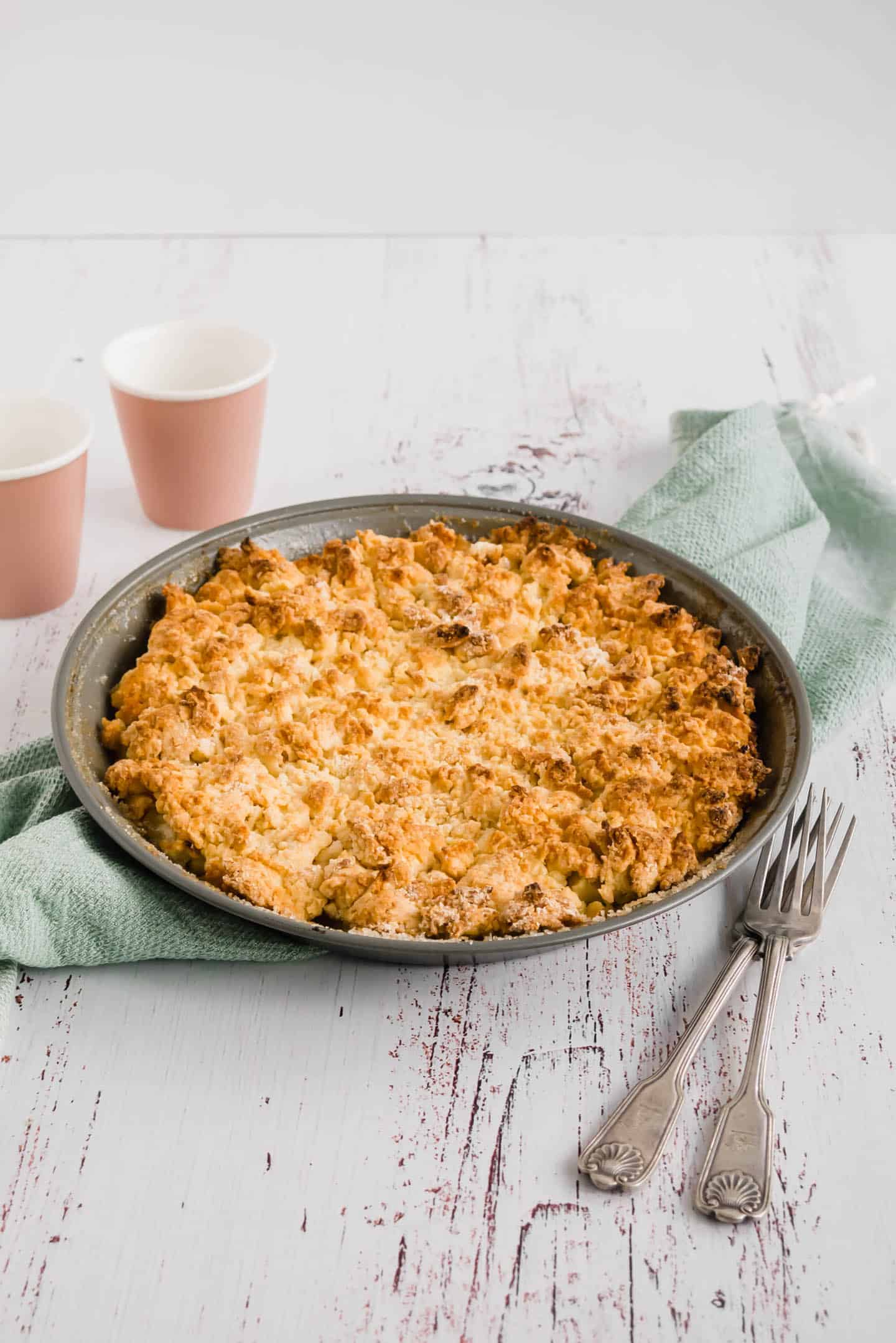 Apple Crumble or Apple Cake?
If you are wondering why "crumble" and "cake" at the same time, the answer is quite simple. Because it combines perfectly both versions. It's not the classic American recipe, nor the usual cake consistency. The apple base has a smooth texture, a bit citrusy and sweet. The top has the perfect balance between spongy and crunchy, thanks to the melted butter.
Friend's Advice
The suggested prep time is basically based on how fast we are to peel the apples :). Once we have the flour, egg and sugar mix ready, we just need to cut the apples in slices. Or in cubes, depending on what you fancy. In my humble opinion, depending on the fruit "quality", the apples cut in cubes can turn into a puré or apple sauce. So if you prefer biting on the pieces of fruit, I recommend cutting them in bigger chunks.
When we already have the apples and cake "batter" in the pie plate, drizzle the melted butter with a spoon. Make sure it's not completely covered nor "swimming" in butter. With only 80 grams, it should be enough to draw on the crumble. This way, we can get that crunchy texture in-between the spongy cake.
Last tip. If, instead of eating this Apple Crumble Cake in the afternoon with tea/coffee, we want to make it into a simple, yet elegant dessert, we can serve it with a scoop of vanilla ice cream and some walnuts. I can't explain how yummy it is and how it takes it to another level to a dessert that both kids and grown-ups love.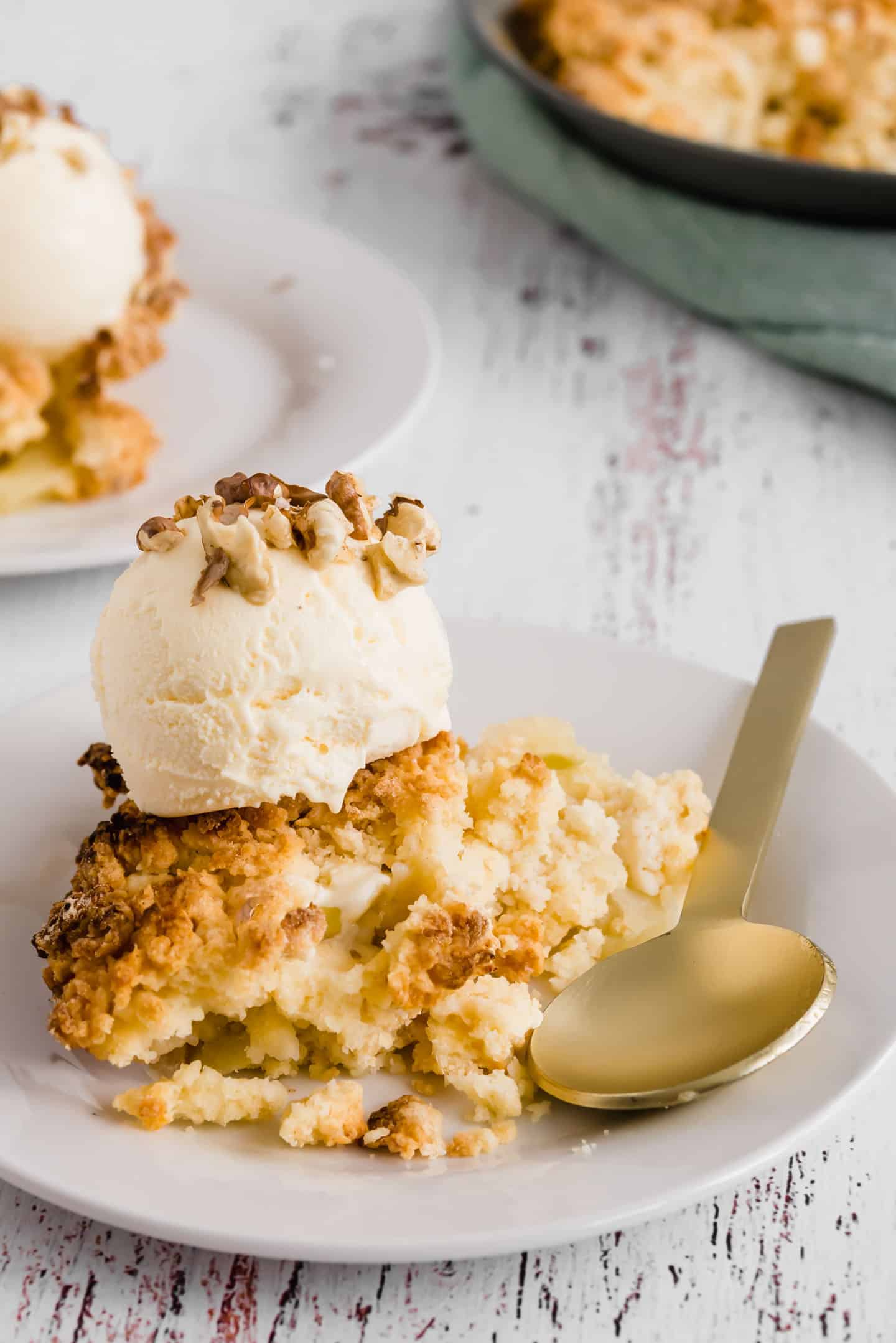 Don't forget to leave a comment down below if you try this recipe (and why not, an Uber-style rating? ★★★★★). It not only helps me but also other people that want to try it. You can also tag me on Instagram or Pinterest so I get to check your photos or send them to me privately if you are shy.
Other dessert recipes: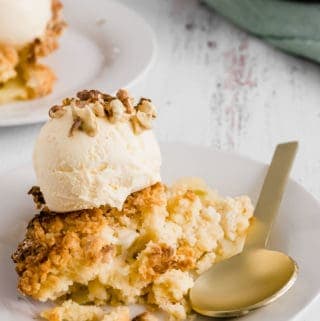 Apple Crumble Cake
A bit of a fusion between apple crumble and apple cake. Sweet, sour, mix of textures, easy.
Ingredients
1 ½

cup

self-rising flour

1

cup

granulated sugar

2

eggs

1

tbsp

vanilla essence

2 or 3

Green Smith apples

sliced

Juice of 1/2 lemon

80

g

butter

melted
Instructions
Preheat your oven to 180 ℃.

Cover a pie plate (23-cm diameter) with some room temperature butter and some sugar.

In a bowl, add the flour, sugar, eggs and vanilla essence, and using a fork or spatula, mix the ingredients together until you get a granulated mix, similar to the typical "crumble". Set aside.

Peel and core the apples. Cut them in slices (1 cm thick approximately), and mix with the lemon juice.

Add the apples to the pie plate and cover with the dry ingredients mix.

With the help of a spoon, pour the melted butter over the mix.

Bake in the oven for 25 minutes, or until the edges and top are golden brown.

You can serve it warm or at room temperature. This crumble cake is not meant be served as a regular cake, and I would recommend using a large spoon.
Notes
ALTERNATIVES

: You can add cinnamon, walnuts or orange zest to the flour mix for a bit of freshness. Serve it warm with a scoop of vanilla ice cream, delicious! Or if you dare, with some dulce de leche. No words to describe how good it is!

STORAGE

: Store it in an air-tight container in the fridge for up to 3 days.