These Quince Thumbprint Cookies (or pepas de membrillo) have equal amounts of quince paste and dough. The sandy-texture base melts in your mouth with the first bite, and the orange zest gives them the perfect freshness so they aren't extremely sweet.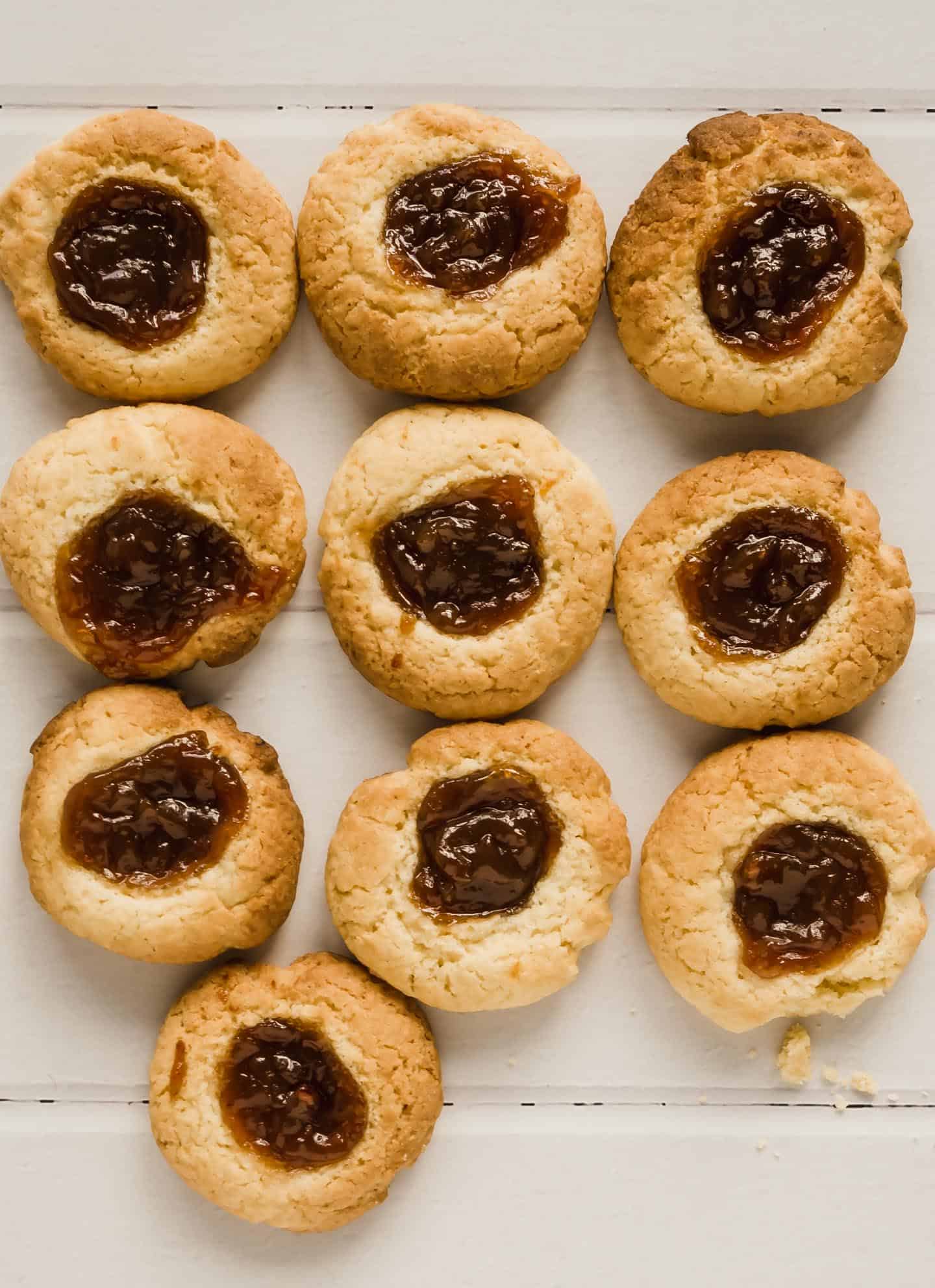 I dare to say that, if an Argentinian gets asked about their favourite cookie traditional from their country, the first answer won't be the usual chocolate chip cookie. Even thought they are everywhere in the Web, Instagram and magazines, and they make you easily salivate, by far the winner is the Quince Thumbprint Cookies, in my humble opinion.
There are tons of recipes. With dulce de batata (or creamed sweet potato, yeap, a very Argentinian thing), with dulce de leche. With corn starch, without corn starch. Rounded shape, squared. From bakeries, supermarkets or homemade. When I was living in Argentina, and I got lazy, my favourites were the popular Terepín. The most traditional ones, with quince paste (or dulce de membrillo). However, when I moved to Australia, there were no Terepín at the supermarket, or anywhere. I've tried to find them, no luck. So this recipe not only makes me feel a bit less homesick (one of the driving forces of this blog), but it is also super easy and fast to make. Besides, everyone likes them, Argentinians and non-Argentineans, kids and grown ups.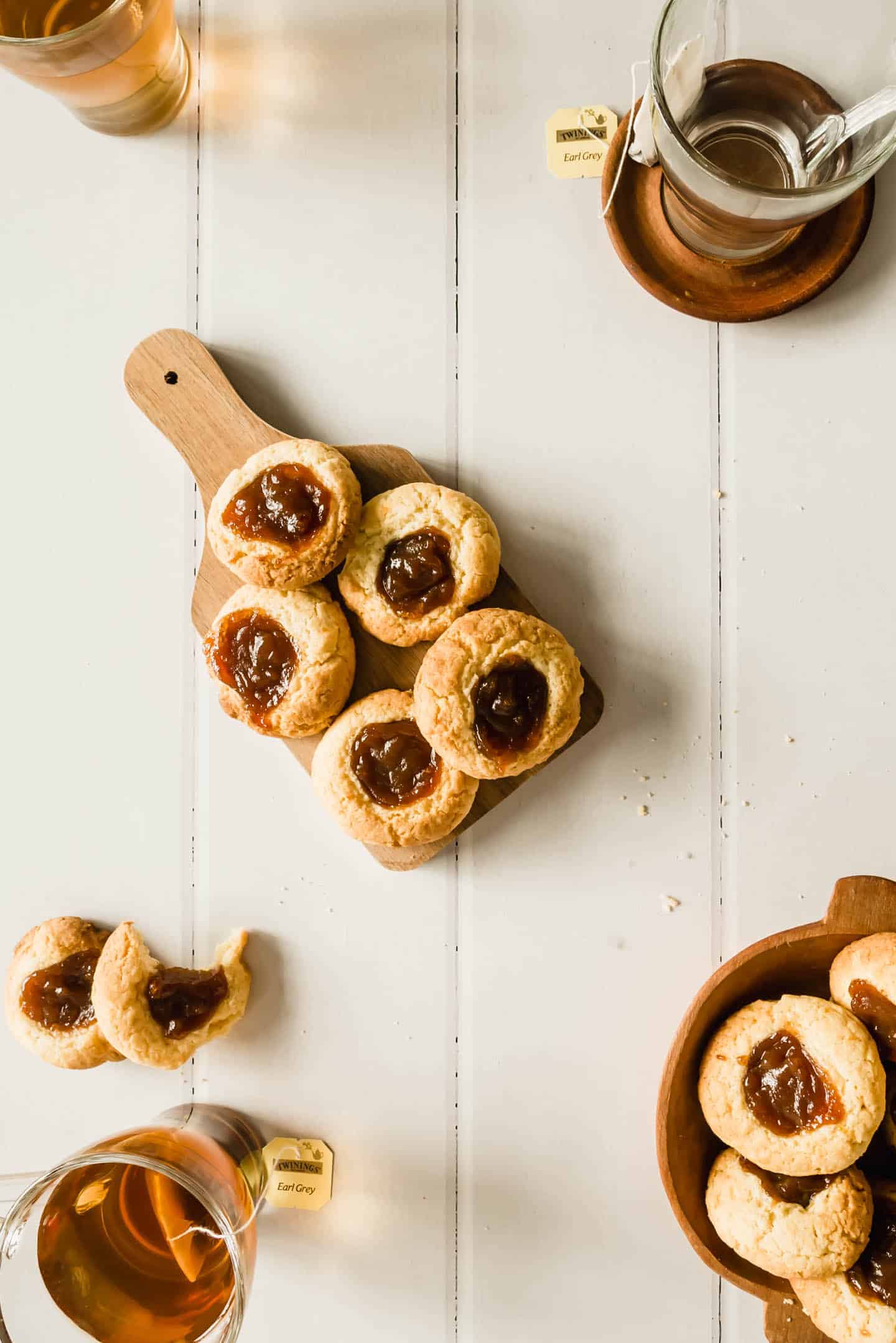 Now the important stuff: the recipe
I don't want to sound too repetitive, but these Quince Thumbprint Cookies are super easy. You just have to mix the wet ingredients (yolks, butter, vanilla essence and orange zest). Then, the dry ones (flour, corn starch, sugar and baking powder). Third step, you combine both mixtures. Warning: it takes a bit of time and patience to get a consistent dough. When you are able to form a firm dough, stick it into the fridge for 10 minutes, so the butter gets time to chill.
In the meantime, in a separate bowl, add the quince paste cut into squares and 1/4 cup of water. Microwave it for 30 seconds and stir with a ofrk, breaking the pieces apart. You may have to repeat this step one more time until you get shapeless and a bit more runny paste. If you don't own a microwave, you can easily do this in a double-boiler (or bain-marie). Just put the bowl with the quince paste on a small pot with boiling water, making sure the water doesn't touch the base of the bowl.
Assembling the Quince Thumbprint Cookies
We already have the dough ready. We have the quince paste. Now, to the fun part! To assemble these Quince Thumbprint Cookies, let's shape little balls of 2-cm diameter. Please, I invite you to test different shapes and sizes to choose which one you prefer the most. Next, arrange them on a baking sheet with parchment paper or a silicone sheet. I always prefer this option. Why? The environment will appreciate it. It's a bit pricy, but it saves me a lot of money in parchment paper and nothing sticks to it, nothing! (Note: in the following photo, I've used parchment paper, but it's the one piece I recycle for photography purposes, in case you were wondering).
Alright, going back to our important business. Make sure you leave some space between each cookie, as they tend to spread quite a bit in the oven (at 180 ℃). After 8-9 minutes (pay attention to avoid getting them very dry), done! Time to enjoy them with some nice tea or cofffee, or whatever you fancy.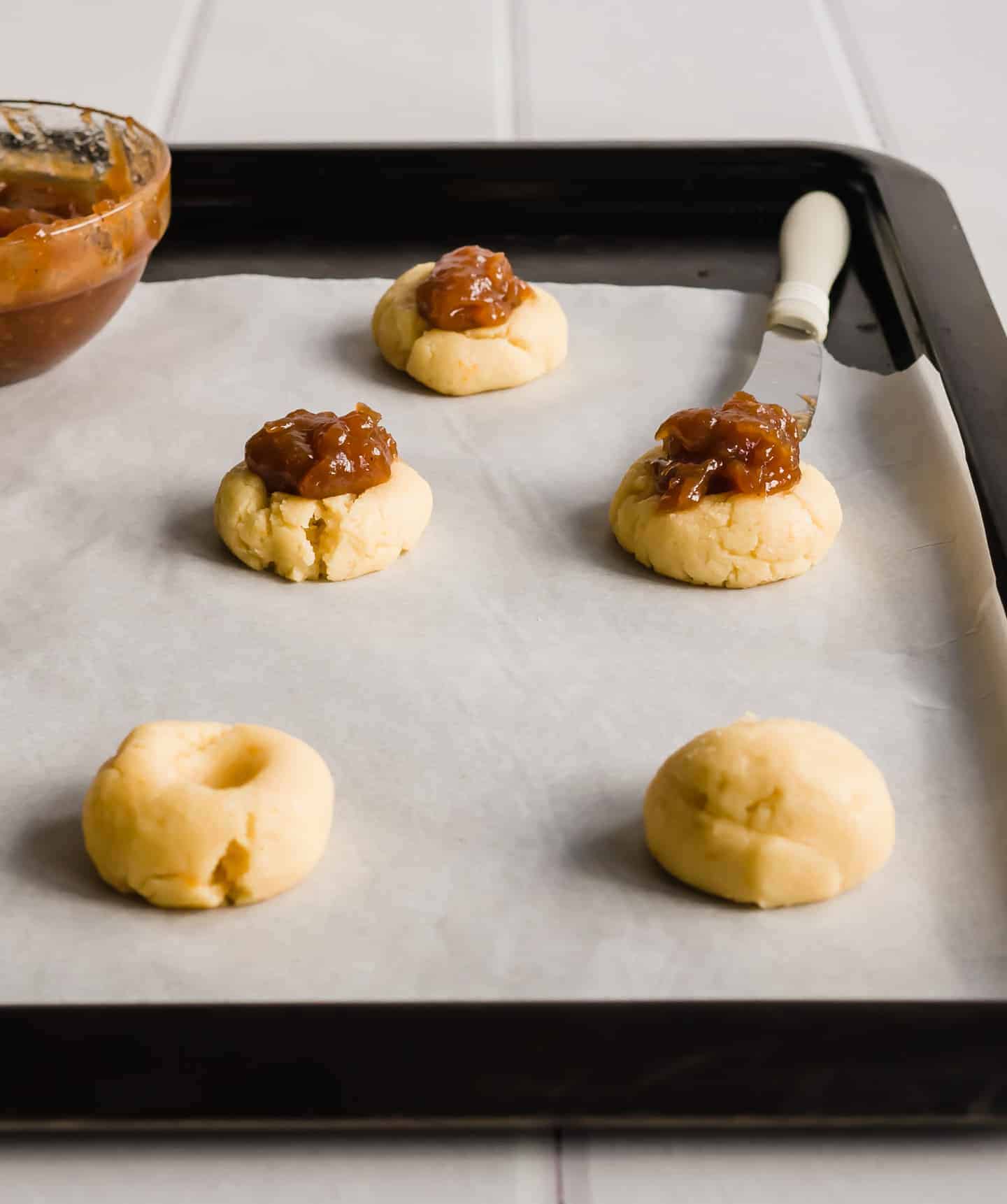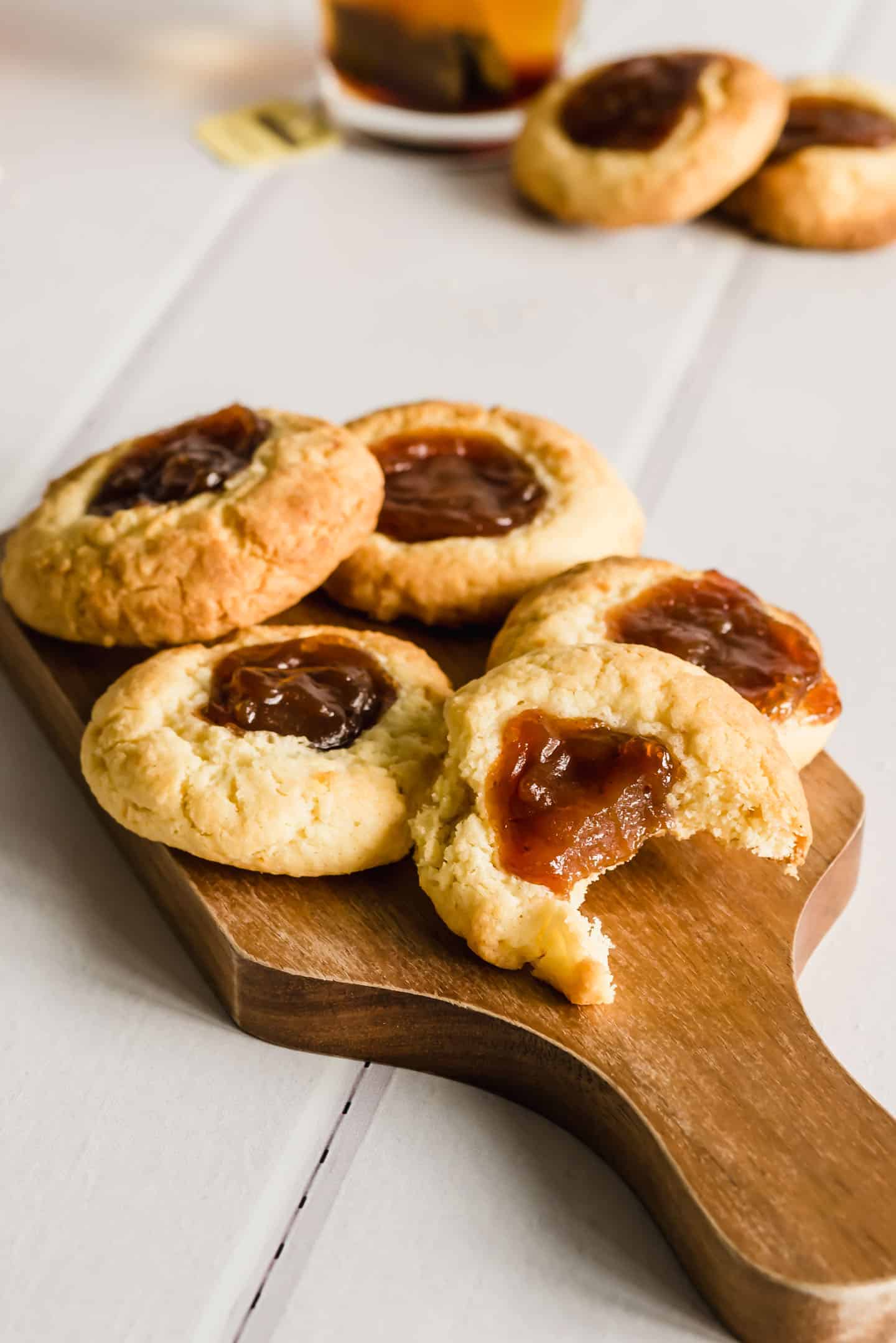 Don't forget to leave a comment down below if you try this recipe (and why not, an Uber-style rating? ★★★★★). It not only helps me but also other people that want to try it. You can also tag me on Instagram or Pinterest so I get to check your photos or send them to me privately if you are shy.
Other similar recipes: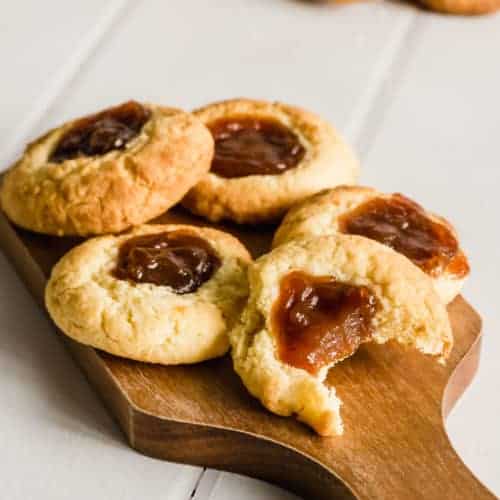 Quince Thumbprint Cookies (or pepas de membrillo)
These Quince Thumbprint Cookies are a total Argentinian classic. Rustic, chewy, sandy dough, heart of quince. Crazily yum. Pair up with some nice tea or coffee, or whatever you fancy.
Ingredients
3

egg yolks

125

g

butter

room temperature

1

tbsp

vanilla essence

1

tbsp

orange zest

1 1/2

cup

self-rising flour

1/2

cup

corn starch

1

tbsp

baking powder

1

cup

powder/icing sugar

300

g

quince paste
Instructions
In a large bowl, mix the butter and the egg yolks. Add the vanilla essence and the orange zest.

In a separate bowl, combine the flour, the corn starch, the baking powder and the icing sugar.

Add the dry ingredients to the first mix and combine until you get a firm dough.

Set in the fridge for 10 minutes.

Preheat your oven to 180 ℃.

Shape little balls of 2 cm diameter, make a little dent in the center and add the quince paste. Set on a baking sheet with some parchment paper or silicone sheet, making sure to leave some space apart, as they tend to spread when baking.

Bake for 8-9 minutes, until light golden brown.
Notes
ASSEMBLE: To speed up the process, you can shape the dough into a 2-cm diameter log and cut it into 1.5 cm slices. Make a dent and add the quince paste as the recipe indicates. They won't have that rustic look, but it does the job.
BAKING: Pay attention to them when in the oven. Baking time depends on your oven and its temperature. Once they are light golden brown, remove them so they don't get dry.
STORAGE: You can freeze them already assembled without baking them, so you get freshly baked "pepas" at any moment. Once you bake them, they last around 4 days in an air-tight container at room temperature.