If you are into lemon, these made-from-scratch Lemon Crinkle Cookies will be heaven! Chewy center, crispy edges and a marvellous lemony smell. You won't be able to have just one. Do you want to bet?
Don't get me wrong. I adore chocolate, but lemon is almost my other favorite flavor. I mean, Lemon should be my second name (and I don't actually have one, so it could be, it could be…).
So, many years ago (around 2011), when I was looking for a lemon cookies recipe, I came across the award-winning recipe from Lauren's Latest. The interesting thing is that, with time, I started to adapt it a bit to my taste, and made it my own. And my family started to call it "my lemon cookies recipe". A bit more flour, a lot more lemon.
However, when the time came to share it here, I had to dig the Internet (not that much) so I could be honest and give credit to the actual creator. Fair game and honesty, always!
How to make these lemon crinkle cookies
The recipe is pretty straight forward and easy. Completely made from scratch. No store-bought cake mix thing. This is the real deal. I may sound repetitive (if you've read some of my other posts), but the most time-consuming step here is rolling the cookie balls in the powder sugar. Yeap, that's it! So, if you can do that, done! You can get these amazingly delicious cookies ready to melt in your mouth in under half an hour.
Friend's advice: If you would like these cookies to spread a bit more, pop them in the oven the minute you finish rolling them. But, if you want them to preserve that little dome in the middle, I usually put them in the fridge for 10-15 minutes, and then directly to bake.
And one last thing. If you belong to the #lemononeverything fan club, feel free to add more lemon zest. I particularly don't think you can get it wrong 🙂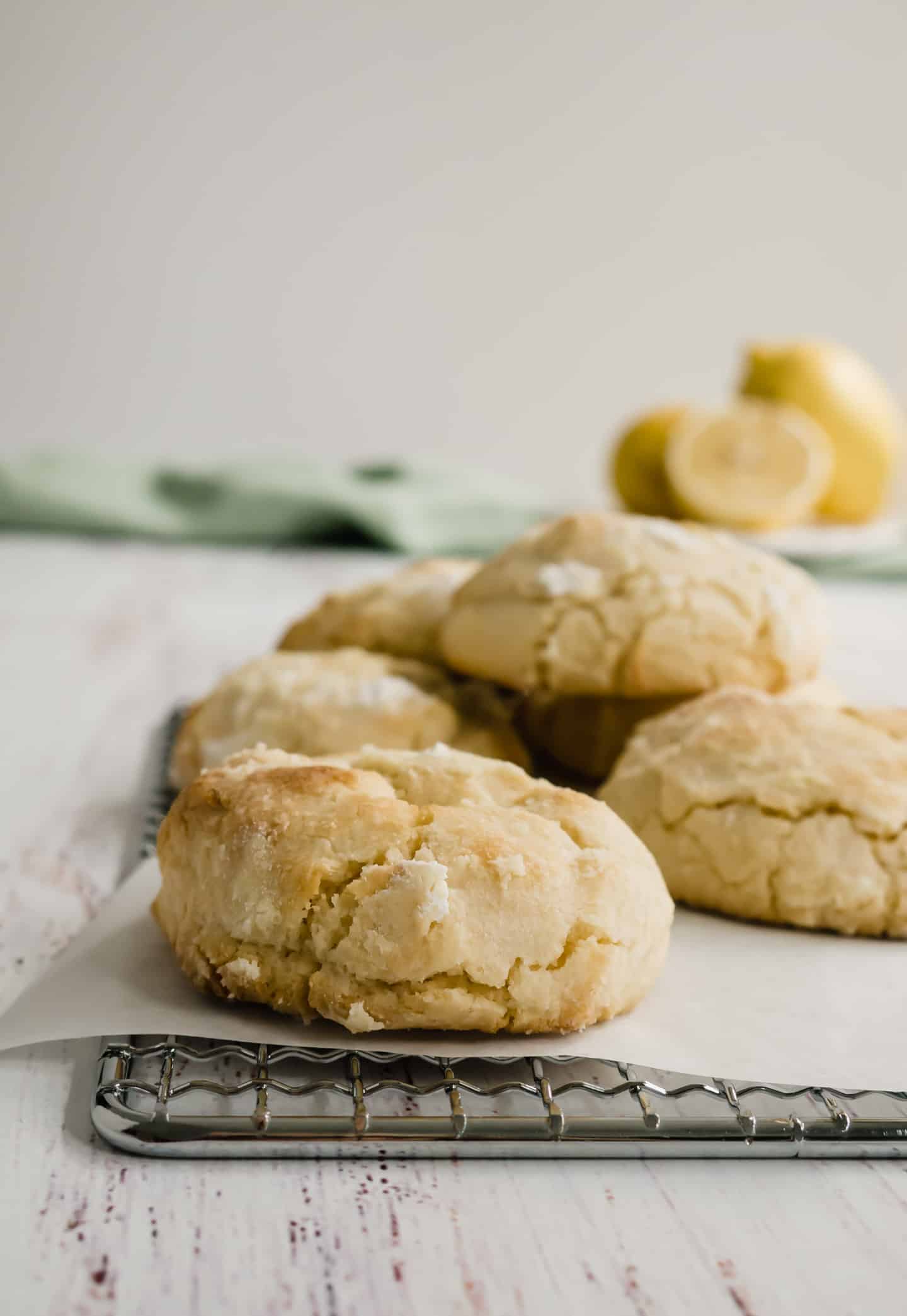 Enough chitter-chatter, down to the important business. The recipe! Hope you enjoy it.
Don't forget to leave a comment down below if you try this recipe (and why not, an Uber-style rating? ★★★★★). It not only helps me but also other people that want to try it. You can also tag me on Instagram or Pinterest so I get to check your photos or send them to me privately if you are shy.
Other similar recipes:
Lemon Crinkle Cookies
These Lemon Crinkle Cookies are easy to make, super chewy and they smell wonderful. Perfect to eat more than one and to share with your loved ones, or not.
Ingredients
½

cup

unsalted butter

at room temperature

1

cup

granulated sugar

½

tsp

vanilla extract

1

whole egg

Zest and juice of one lemon

¼

tsp

salt

¼

tsp

baking powder

⅛

tsp

baking soda

1-¾

cup

all-purpose flour

½

cup

powdered sugar
Instructions
Preheat your oven to 180 ℃. Lay parchment paper or a silicon sheet on a baking sheet and set aside.

In a large bowl, cream butter and sugar together until light and fluffy. Add the vanilla essence, egg, lemon zest and juice. Scrape sides and mix again.

Stir in all dry ingredients slowly until just combined, excluding the powdered sugar.

In a large plate, add the powder sugar. Roll a tablespoon of dough into a ball and roll in powdered sugar. Place on baking sheet and repeat.

Bake for 9-11 minutes or until bottoms begin to barely brown and the surface starts to crack. Remove from oven and cool cookies about 3 minutes before transferring to cooling rack.
Notes
BAKING: Before baking, pop them in the fridge for 10-15 minutes so they keep the form and do not get too flat when baking. But if you prefer them thinner, just put them in the oven the minute you finish rolling them. Also, when using a darker baking sheet, the cookies will bake faster, so remove them from the oven 2-3 minutes earlier.
STORAGE: Keep in an air-tight container for 3-4 days at room temperature. You can also freeze them and thaw them before eating.