Another Argentinean classic: Pasta Frola (or quince tart), the two magic words. Each family has its own recipe. This is mine's: crumbly crust and lots of quince paste.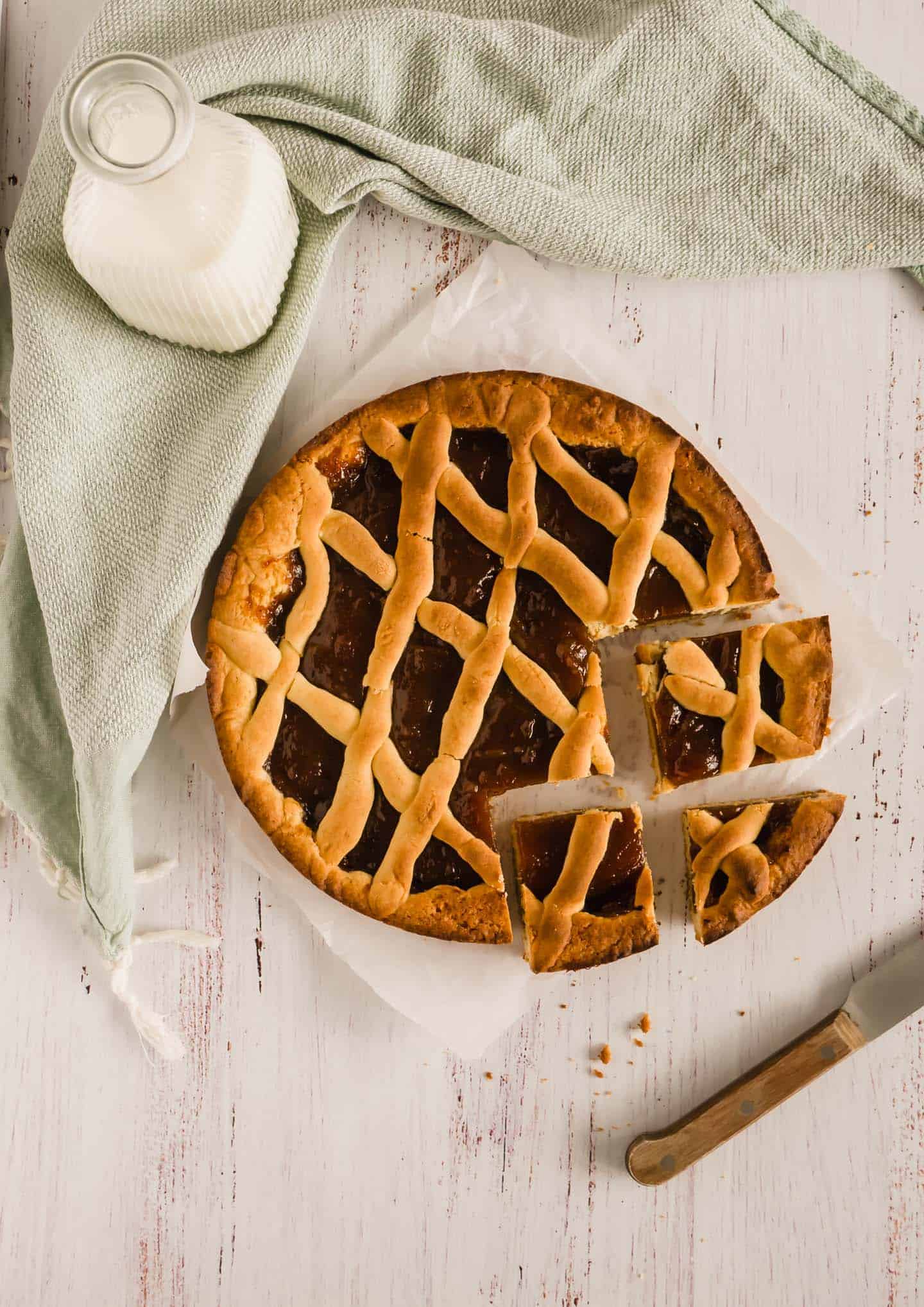 A bit of history on the Pasta Frola
If this is the first time you've heard of this tart, you should know it was born from different cultures. On one side, from the Genoese immigrants. They had the famous crostata, which has a frolla shortcrust with a wide range of fruit jams. However, there is also the rumour that it originated from the Linzer Tart from Switzerland. Especially due to the decorative top. All good so far, but they had to adapt the filling to our taste, so they decided to add quince paste, one of the most traditional jams in the country.
How to make this pasta frola
I'm not going to get into details, as you can read the step by step down below. But I will tell you that this shortcrust is super flexible and multipurpose. It is very easy to make, you can freeze it (unbaked) and it's not that sweet. You may recognize it from my Dulce de Leche and Double Chocolate Bars recipe. (If you haven't seen them already, be my guest and get ready to drool a bit with this triple bomb. You've been warned!)
Once you get the shortcrust ready and you've added the quince paste, it should be ready to go. BUT, it wouldn't be a pasta frola without its characteristic sort of criss cross pattern on top.
How to make the criss-cross pattern
It's not as complicated as it sounds. Besides, what's the worst that can happen? Maybe they won't come out super straight. Who cares? They'll be super yummy anyways 🙂
In this virtual world so obsessed with perfection, I like the pasta frola to be a bit crooked, rustic and homemade-style. Which as you can tell, is a common factor in my blog.
Once you've separated 3/4 of the shortcrust for the base, we'll create the strips for the top part with the remaining 1/4. I would suggest the shortcrust is cold, so it's easy to manipulate. I usually add a bit more flour (maybe 1 or 2 tablespoons), just to make sure the dough doesn't expand too much in the oven and keep its shape. So, you have to roll the crust to 1 cm thick, cut the strips (around 1 cm again) and place them on top of the quince paste creating a criss-cross pattern. You can also roll them with your hands, forming thin logs. whichever you prefer. Check my photos for some inspiration
Friend's Advice: You can easily prepare the shortcrust and stick it into the freezer. You just have to thaw it a few hours before baking the tart and done! And you can also bake it with the quince paste and everything, cut it and freeze it like that. It's sooo good, even if it's frozen hehe.
If you would like to try a different version of this Pasta Frola, you can use any jam or mermelade of your choice In Argentina, it's very common to see it with dulce de batata (sweet potato jam) or even dulce de leche. Yum!!
Don't forget to leave a comment down below if you try this recipe (and why not, an Uber-style rating? ★★★★★). It not only helps me but also other people that want to try it. You can also tag me on Instagram or Pinterest so I get to check your photos or send them to me privately if you are shy.
Other similar recipes: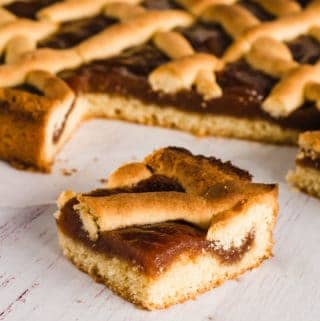 Quince Tart (or Pasta Frola)
The family recipe for the traditional Pasta Frola with quince paste. So Argentinean as mate and dulce de leche!
Ingredients
100

g

unsalted butter

room temperature

100

g

granulated sugar

1

egg yolk

1

egg

200

g

self-rising flour

1

tbsp

vanilla essence

250

g

quince paste
Instructions
Shortcrust
In a bowl, whisk the butter and the sugar.

Add the yolk, the egg and the vanilla essence, and whisk until well combined in a fluffy and whiter batter.

With a spatula, fold in the flour with patience, until it's well combined.

Once it's well combined, cover the bowl and pop it into the fridge for 30 minutes.
Assembly
Preheat your oven to 180 ºC and spray a 26-cm tart dish with some non-stick spray.

In a small bowl, add the quince paste with ½ cup water and heat it up in the microwave for 30 seconds, until the quince is softer. Smash it with a fork in order to get a more manageable consistency.

On a floured countertop, roll ¾ of the shortcrust 1 cm thick.

Lay the shortcrust in the tart dish and spread the quince paste.

Roll the remaining 1/4 of the crust, cut 1 cm strips and place them on top of the quince paste in a criss-cross pattern (see the pictures for inspiration).

Bake for 25 minutes until the crust is golden brown.
Notes
STORAGE

: You can easily store the pasta frola in an air-tight container at room temperature for 4 days, or a week in the fridge (if you don't eat them before then!)
FREEZER: It's possible to freeze the shortcrust before baking it. Or you can freeze it already baked, cut in squares of any size. You just have to thaw it 30 minutes before eating and done!

ALTERNATIVES

: Instead of quince paste, you can pretty much use any type of jam or marmalade, as long as it's a bit solid, such as dulce de leche, dulce de batata, raspberries, figs, plums.