There are three reasons to love this Mocha Cake: coffee, chocolate and Nutella. Not only it's extremely spongy, but it's also very easy to make and its intense dark color wins everyone's heart.
This is one of the many recipes I've been doing since high school. If my memory doesn't fail me, I got it from a classmate and it was one of my top cakes for an afternoon hang out with friends. Not only because it's so easy to make, but also for its color and texture.
When I decided to share it with you, I started thinking about how I could combine it with other flavors. If I think "mocha", I get immediately teleported to the little streets of Italy. And if I say "Italy", the first word that comes to mind is Nutella (well, after "pasta" and "prosciutto" of course).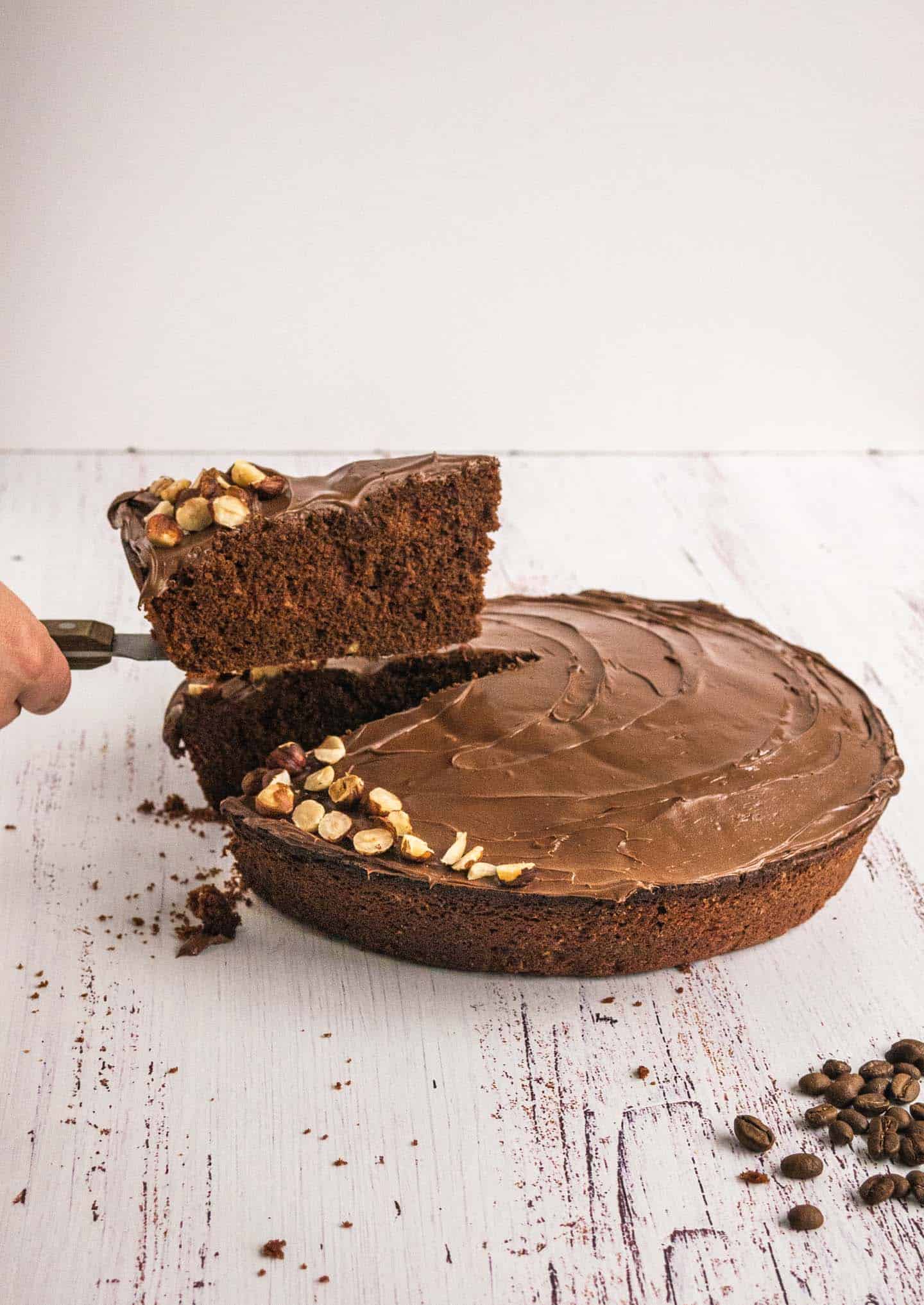 How to make this Mocha Cake
The steps are very easy to follow. I just have a few suggestions to keep in mind. Check below:
Chocolate: In order to ensure a delicious cake, it's essential to use high-quality ingredients, starting with the chocolate. In this case, I used dark chocolate with hazelnuts by Loving Earth. It melts in your mouth and, even better, it's made in Melbourne 🙂 Make sure you use a chocolate bar or melts, not cacao powder.
Coffee: I would recommend using any brand, except instant coffee. The stronger, the more intense the Mocha cake's color will be. Once it's done, and your kitchen smells wonderful, just pour it over the chocolate in a medium bowl and wait for a few minutes. Then, all you have to do is mix it well until you get an even consistency and all the chocolate is melted.
Prep: This recipe is very easy to follow. But a very important step to ensure its spongy and light texture, despite the chocolate, is beating the egg whites to stiff peaks. Then, you add them to the batter, alternating between the flour and the egg whites. You just have to make sure they don't deflate. So very patiently, fold them slowly to the batter which will increase its volume. From there straight to a greased cake pan and voilá! Mocha cake is almost ready!
Icing: Don't be alarmed but, in case you didn't know, I had the chance to know what Nutella was on my first trip to the United States. I grew up eating dulce de leche, which would actually be a perfect addition to this Mocha cake. Still, I think the combination hazelnuts-coffee-chocolate let us create this triple-bomb that's beyond belief. By all means, you can skip this step and even the roasted hazelnuts. But don't they look cute? And I can guarantee everyone will love it! It's addictive.
That's it!
Once you've read these tips, you are ready to jump to the recipe and try this Mocha cake this coming weekend.
Don't forget to leave a comment down below if you try this recipe (and why not, an Uber-style rating? ★★★★★). It not only helps me but also other people that want to try it. You can also tag me on Instagram or Pinterest so I get to check your photos or send them to me privately if you are shy.
Good luck and happy baking!
Other chocolate recipes:
Nutella Mocha Cake
If you like Nutella, coffee and chocolate, you'll love this spongy, decadent and light cake, covered with exquisite Nutella and crunchy hazelnuts.
Ingredients
100

g

unsalted butter

room temperature

200

g

granulated sugar

1

egg

3

yolks

1

tbsp

vanilla essence

130

g

dark chocolate

250

ml

coffee

220

g

self-rising flour

3

egg whites

Nutella

to taste (optional)

Hazelnuts

to taste (roasted and lightly chopped) (optional)
Instructions
Preheat your oven to 180 ºC and cover a 26-cm round cake pan with some non-stick spray.

Prepare the coffee and, in a medium bowl, pour on the chocolate. Let it rest for a few minutes. Whisk until the chocolate is fully melted and well combined with the coffee. Set aside.

In a large bowl, whisk the butter and the sugar.

Add the egg, the yolks and the vanilla essence, and keep whisking until you get a consistent mix.

With a spatula, fold in half of the flour and then half of the egg whites, already whipped to stiff peaks. Add the coffee and chocolate, and keep folding in the batter. Add the remaining flour and egg whites.

Bake for 40 minutes, or until when you insert a toothpick in the middle, it comes out clean.

Let it cool completely. Spread some Nutella and hazelnuts on top of the cake.
Notes
TOP: This cake is delicious on its own, so you can skip the Nutella on top if you want to save on some calories. But let me tell you, they are worth it and it takes the cake to another level.
STORAGE: Store in an air-tight container up to 4 days at room temperature, or for a week in the fridge, or you can easily freeze it.