These mandarin muffins with dark chocolate ganache are super-mega fluffy and light, and their color and flavor make them irresistible. Moreover, with just a few ingredients and equipment, you can get them ready in 30 minutes. What other reason do you need to try them this coming weekend?
Ladies, gentlemen and kids. This week I'm delighted to share with you all the recipe for these delicious mandarin muffins with optional chocolate ganache. It's so easy to make, even for people who are not used to bake and do not trust themselves in the kitchen. I can vouch for that.
It's also one of my most classic recipes when I want to bring something homemade and I don't have much time. It's a show-stopper at the office or birthdays. Their intense color also makes them the perfect decoration for any table of sweet and baked dishes.
In order to boost the mandarin taste, I thought about covering them with dark chocolate ganache, which is totally optional. But it gives them that special touch which makes them the ideal combination of flavors.
How to make these mandarin muffins with chocolate ganache
To make this recipe, we'll need a blender (ideally, a powerful one), a big bowl and a spatula. Then, to bake the muffins, we can use a muffin pan or muffins liners. Whatever you prefer.
Next step is choosing good mandarins, which has a direct impact on the end flavor result.
What kind of mandarins to use in this recipe
As I told you previously, this recipe calls for whole mandarins. So I'll tell you about a few tips you should consider at the time of picking them up at the fruit shop.
Even there are tons of types of mandarins or tangerines, whatever you prefer to call them, all of them with many health benefits, I haven't found a major difference in the end result, either for muffins or cakes, as long as they meet the following requirements:
The peel has to be smooth, without any brown spots and firm (so they are not too ripe).
Ideally, try to choose sweet mandarins, which will help you bake some delightful muffins.
I rather use mandarins with a very thin peel. When the peel is thicker, it has more of that white layer (which I'm not sure about the name), but it has quite a bitter taste.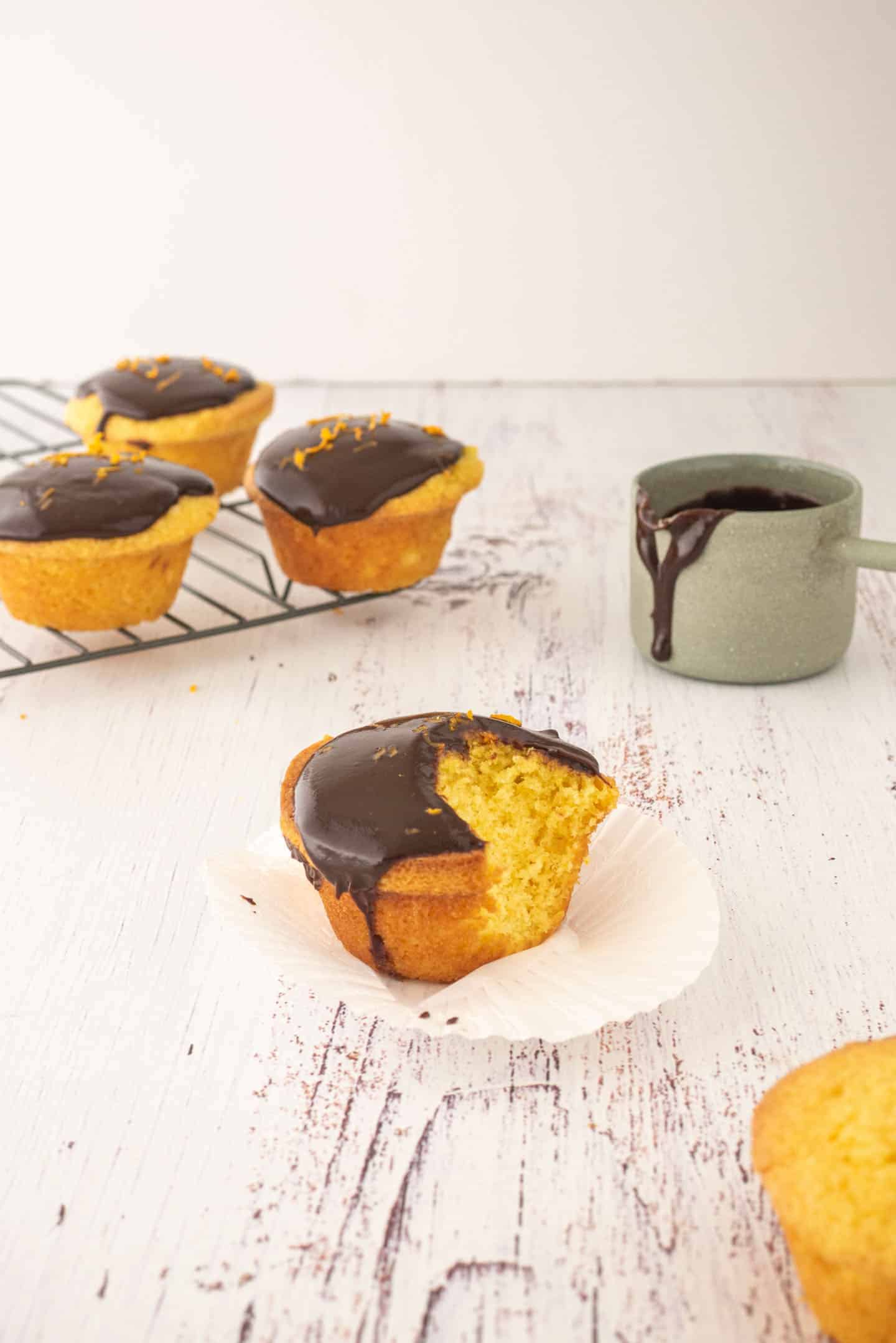 Recipe for these mandarin muffins
Now, it comes the easy part. We basically have to first add the oil and sugar in the blender and mix for a few seconds, until the sugar is "covered" in oil. Then, we add the quartered and seeded mandarins. In this step, we need to blend the mix very well, so we don't get chunks of fruit. Please, take a moment to enjoy the beautiful smell coming out of the blender. One of my favorite moments in this recipe 🙂
We'll then add the vanilla essence and eggs, which we previously cracked in a separate bowl, to make sure they are OK to use. At this time, we'll blend for a bit longer, to give the eggs time to increase the batter volume, incorporate air to the mix so it gets fluffier.
When you notice this has happened, pour the batter in a large bowl. It should be quite runny. Using a spatula, fold in the flour and salt with slow movements. The batter should be quite runny, which will give us some moist and fluffy muffins later on.
For baking them, I suggest using an ice cream scoop to evenly pour the batter in the muffin tin. If you don't have one, just use a regular spoon and fill 3/4 of each muffin.
With the oven at 180 ºC , baking time will depend on how big they are. These are mid-size and they took around 18-20 minutes in the oven. If you choose a smaller muffin tin, they'll probably take around 12-15 minutes. Always insert a toothpick in the middle after the cooking time. If it comes out clean, they are ready to go!
How to prepare the dark chocolate ganache
You'll see it's super easy to make the chocolate ganache, and that's why I use it quite frequently in my baking. Basically, we need to have equal amounts of good quality chocolate (which makes a huge difference) and cooking cream.
In a mid-size saucepan, let's heat up the cream until it simmers. The minute it simmers, we need to pour it on the dark chocolate (in a separate bowl). While letting it sit there for a few minutes, the temperature of the cream will melt the chocolate. It's like magic!
So, that's when using a fork or spoon, we'll mix very well both ingredients until we get an even consistency. Done!
To cover the muffins with the ganache, we have a few options. 1. We can pour it immediately after mixing it, which will be quite liquidy. 2. We can let it sit for 15 minutes until room temperature and then pour in the desired amount on the muffins (see photos for reference). 3. We can pop it in the fridge until it thickens a bit and then we spread on the muffins.
No matter what you choose, the combo mandarin-chocolate is a total winner that you can't miss.
That's all!
I really hope you like these mandarin muffins, a highly demanded recipe for people around me.
Don't forget to leave a comment down below if you try this recipe (and why not, an Uber-style rating? ★★★★★). It not only helps me but also other people that want to try it. You can also tag me on Instagram or Pinterest so I get to check your photos or send them to me privately if you are shy.
See you next time! Happy baking!
Other similar recipes: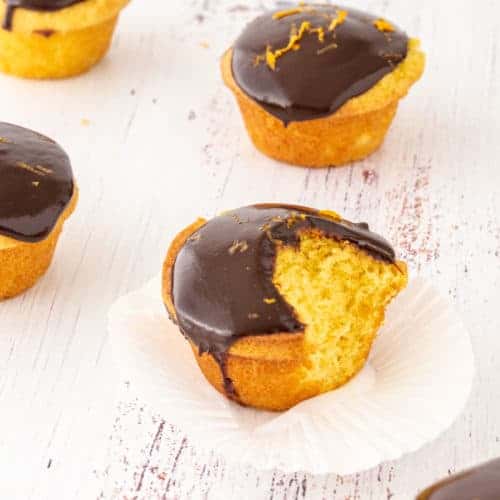 Whole Mandarin Muffins with Chocolate Ganache
These Mandarin Muffins are super spongy and light, and their citrusy flavour together with the chocolate ganache make them absolutely irresistible to the sight and taste.
Ingredients
Muffins:
1

cup

vegetable oil

2

cups

granulated sugar

3

mid-size mandarins

seeded and quartered

1

tbsp

vanilla essence

3

eggs

3

cups

self-rising flour

Pinch

of salt
Dark Chocolate Ganache (optional):
250

g

dark chocolate

250

ml

cooking cream
Instructions
Muffins:
Preheat your oven to 180 ºC and spray a muffin pan with some non-stick spray.

In a blender, add the oil and sugar, and blend well for a minute. Add the mandarins (quartered and seeded), and keep blending until you get a smooth batter, and there are no chunks of fruit. Add the eggs and vanilla essence. Keep blending for 2 more minutes.

Pour the mix into a big bowl and using a spatula, fold in the flour and salt.

Using an ice cream scoop or a regular spoon, pour the mix into the muffin pan, filling them up about 3/4.

Bake for 18-20 minutes, until they are golden brown. If you insert a toothpick in the middle and it comes out clean, remove them from the oven.

Let them cool completely before covering them with the chocolate ganache.
Dark Chocolate Ganache (optional):
In a mid-size saucepan, heat the cream at medium heat until it simmers.

Once it simmers, pour over the chocolate in the medium bowl, without stirring. Let it rest for a few minutes.

After a few minutes, using a fork or spoon, mix until you get an even consistency.

Let it rest to room temperature.

Pour the desired quantity over the muffins.
Notes
BAKING: Time in the oven depends on the size of the muffin pan. If you use a smaller size, bake them for around 12-15 minutes.
STORAGE: Store in an air-tight container for 3-4 days at room temperature, or freeze them for even a month.