On its own, this banana bread with white chocolate chips and walnuts is a total winner. This time, I'm sharing its recipe but I've raised the bet. Thanks to the chocolate and the nuts, you'll get a sweet, spongy and filling banana bread that goes a long way. Besides, there is no comparison to the one you could get at Starbucks.
Unlike many of my recipes, I adopted this one just some years ago. Growing up in Argentina, I had never tried this delight. We had the pleasure to meet on my first trip to the United States when I was around 16 years old. Needless to say, we never broke apart from that day. Now, I have to make up for lost time, so it's one of my go-to recipes for any weekend or to share at the office. My colleagues are a bit euphoric about it. If you want to make a good impression, I recommend this 100%.
The base recipe is inspired by Laura Vitale's, just like my Blueberry Muffins. However, I've modified it with the passing of time and tried combining different ingredients. Until I opted for this one, the QUEEN of them all, the one you'll love and never let go.
The white chocolate-walnuts combo was pure accident. Or was it fate? Firstly, I had some bananas that were too ripe to eat. And secondly, when I open my pantry, on my seeds and nuts shelf, I noticed a quarter of a jar of walnuts and half a package of white chocolate chips. So, it didn't take me long to figure this exquisite triple-bomb combination.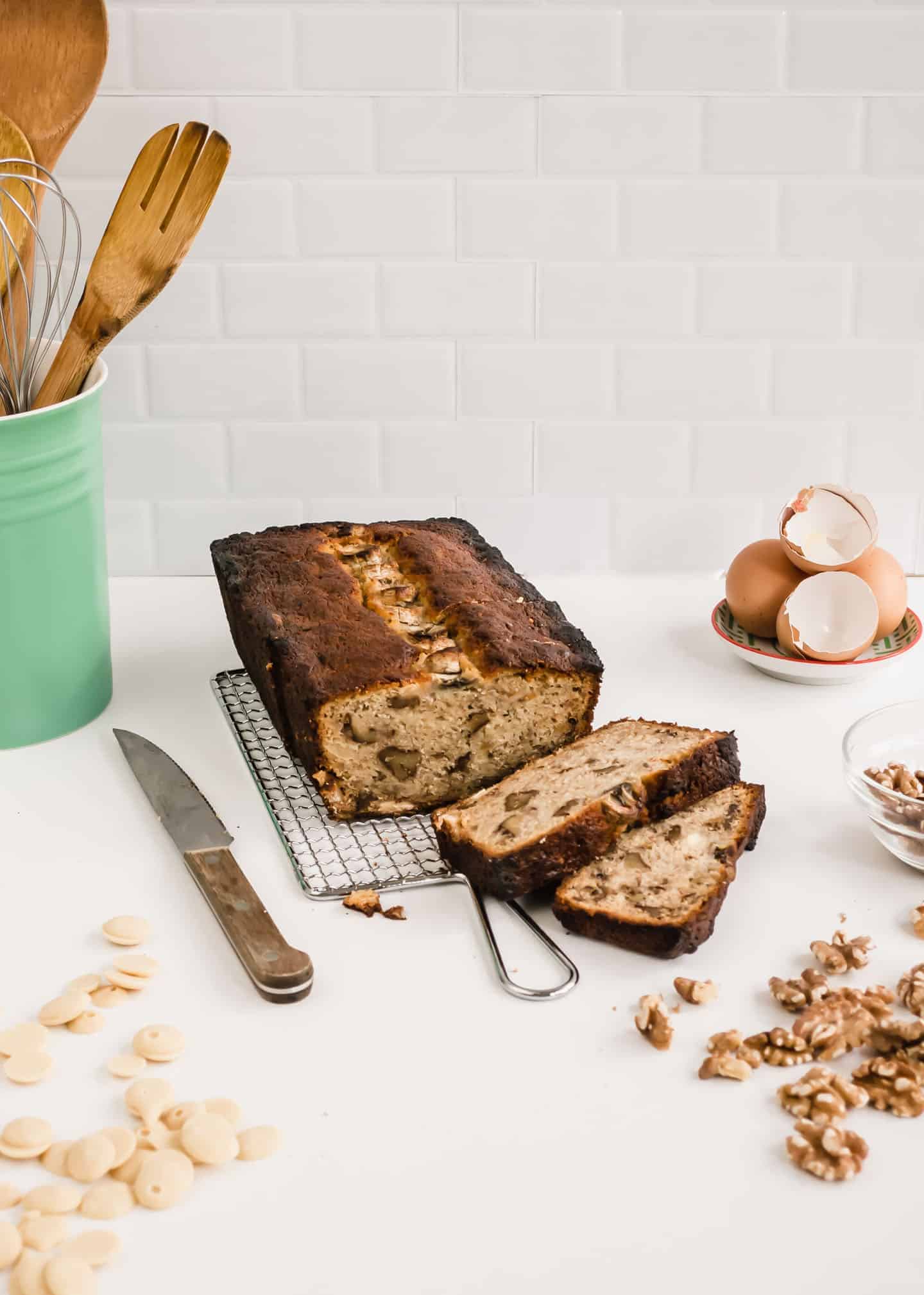 How to make this Banana Bread
This banana bread is spongy, sweet and moist (sorry, I know English speakers don't fancy this word, but there are no synonyms). This is all due to the four bananas packed in this bread. Yeah, four! You could use three, but I gave this a shot and it doesn't turn out as sweet as with four.
The only "setback" could be the bananas not being ripe enough. But, here you have the solution to ripe them quickly. I'm all about solutions, no problems, please.
How to ripe bananas quickly
One option could be to place them in a paper bag (no plastic), add another fruit, perhaps an apple or a pear, close it and place it on top of the fridge. The fruits will emit ethylene, which in turn will speed up the ripening process (curious fact). Besides, the room temperature, ideally around 20 ºC, helps the process. In 24 hours or so, depending on how green or ripe the bananas were, they should be ready to use in this yummy bread.
The second option is using the oven. You just have to place the unpeeled bananas on a baking sheet and pop them in the oven, at very low heat (around 150 ºC) for 20-30 minutes. Afterwards, they should be black and mushy, already ripe. Let them cool completely before peeling them. Done!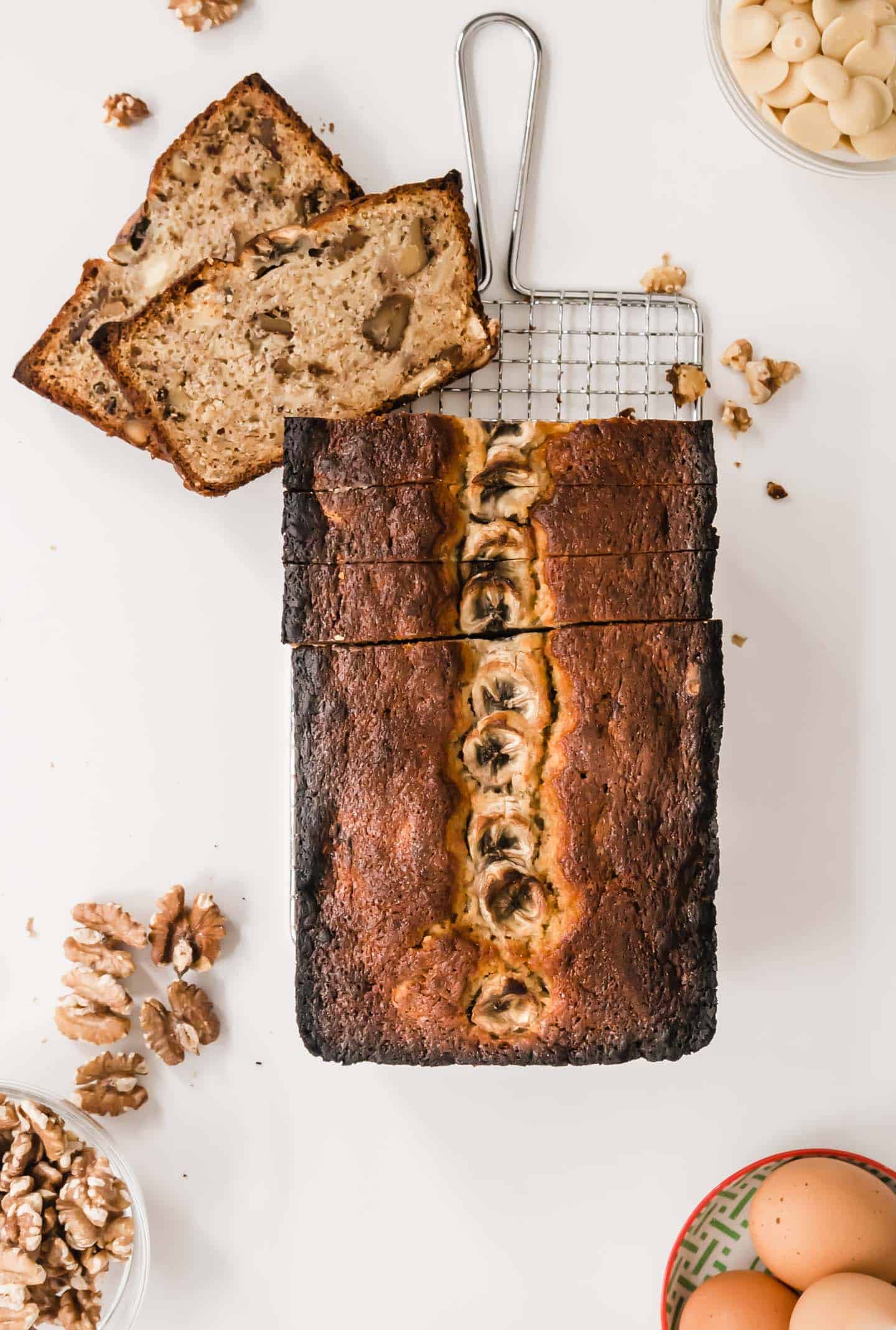 Once we have the bananas ready to go, you can plunge into this quick and easy recipe. To mix the ingredients before adding the flour, simply use a hand whisk. You could turn to an electric mixer, but this will probably smash the bananas too much, and I particularly like to find whole chunks of bananas all over the cake. It's a matter of trying and deciding which method you prefer. No matter what you use, it's turn out delicious. I promise.
One last advice. To make sure that both the white chocolate chips and the walnuts are well distributed throughout the bread, I suggest mixing them previously with two tablespoons of flour. This will prevent them from sinking to the bottom.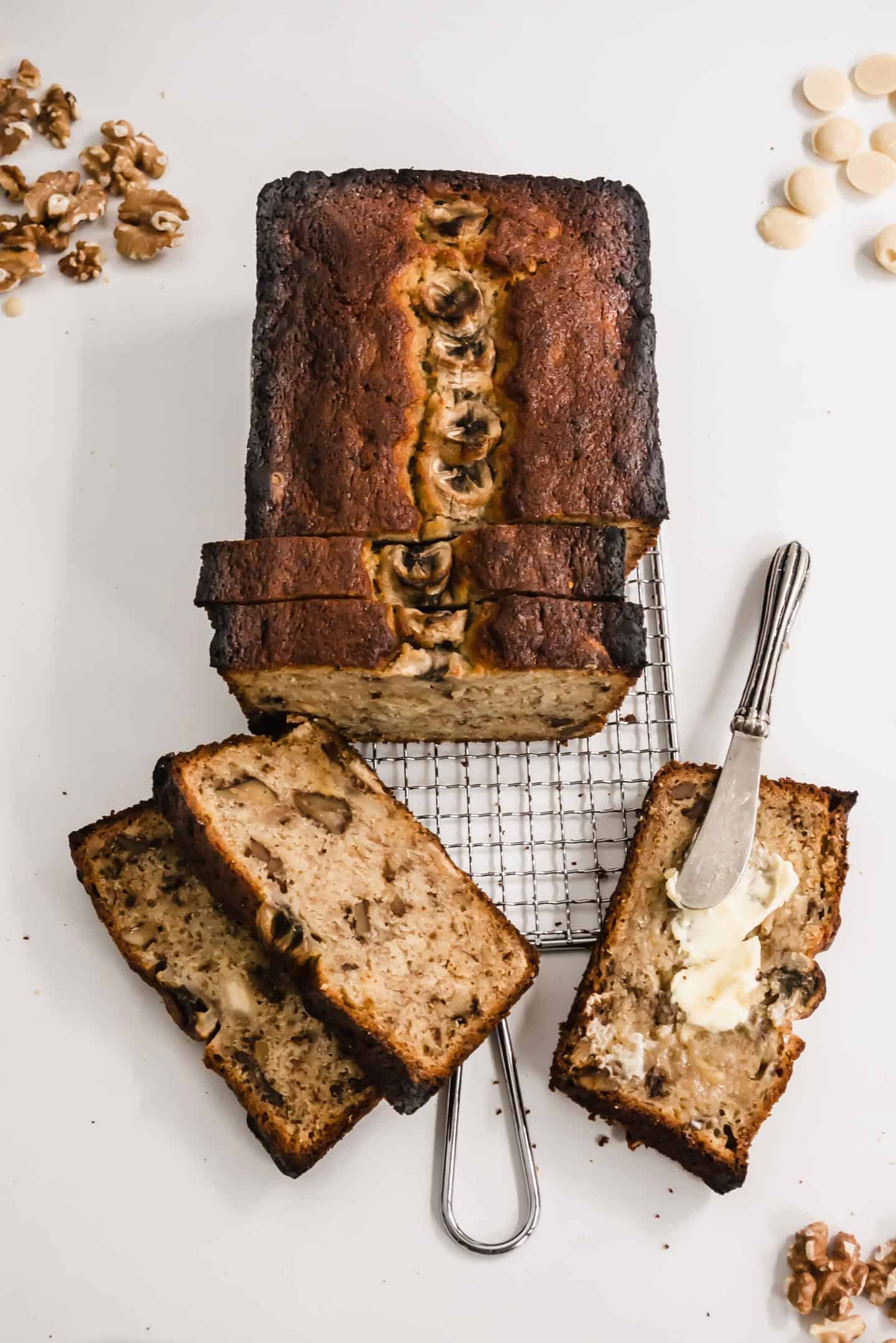 I promise you, with just 10 minutes of preparation, you'll get a sweet, yielding banana loaf that everyone, children and adults will love. It is suitable for beginner bakers as well as for advanced ones. Also, it gives room to play around with alternatives. For example, instead of white chocolate, you could use dark chocolate chips; and instead of walnuts, take the risk and try swapping them with some almonds, cashews or even blueberries.
Don't forget to leave a comment down below if you try this recipe (and why not, an Uber-style rating? ★★★★★). It not only helps me but also other people that want to try it. You can also tag me on Instagram or Pinterest so I get to check your photos or send them to me privately if you are shy.
I hope you enjoy it. Good luck with this delight of a recipe!
Other similar recipes:
White Chocolate Chips and Walnuts Banana Bread
This is the traditional banana bread recipe, but enhanced with sweet white chocolate chips and crunchy walnuts. Moist, easy and quick to put together. What's there not to like about it?
Ingredients
115

g

unsalted butter

room temperature

215

g

granulated sugar

2

eggs

4

ripe bananas

lightly smashed

1

tsp

vanilla essence

1/2

tsp

salt

230

g

self-rising flour

2

tbsp

whole milk

150

g

white chocolate chips

150

g

walnuts

chopped
Instructions
Preheat your oven to 180℃. Spray a loaf pan with some non-stick spray.

In a large bowl, whisk the butter and the sugar. Add the eggs and keep whisking. Add the smashed bananas and the vanilla essence until it's all well combined.

In a small bowl, mix the white chocolate chips and the walnuts with 2 tablespoons of the flour.

Using a spatula, fold in the flour and salt to the batter, making sure not to overmix. Pour in the milk. Lastly, add the chocolate chips and walnuts.

Spread the batter in the loaf pan. Bake for 50 minutes, or until when you insert a toothpick in the middle, it comes out clean.

Let it cool completely before cutting.
Notes
ASSEMBLY: It is very important to mix the chocolate chips and walnuts with some flour. This will let them be distributed all over the cake and not sink to the bottom.
STORAGE: Store in an air-tight container up to 4 days at room temperature, or for a week in the fridge.