The recipe for these Puff Pastry Quince Paste Empanadas is super easy and quick to make. It requires only four ingredients, and you can have it ready in less than 30 minutes. They are the perfect solution if you get a surprise visit and you don't have any sweets to share.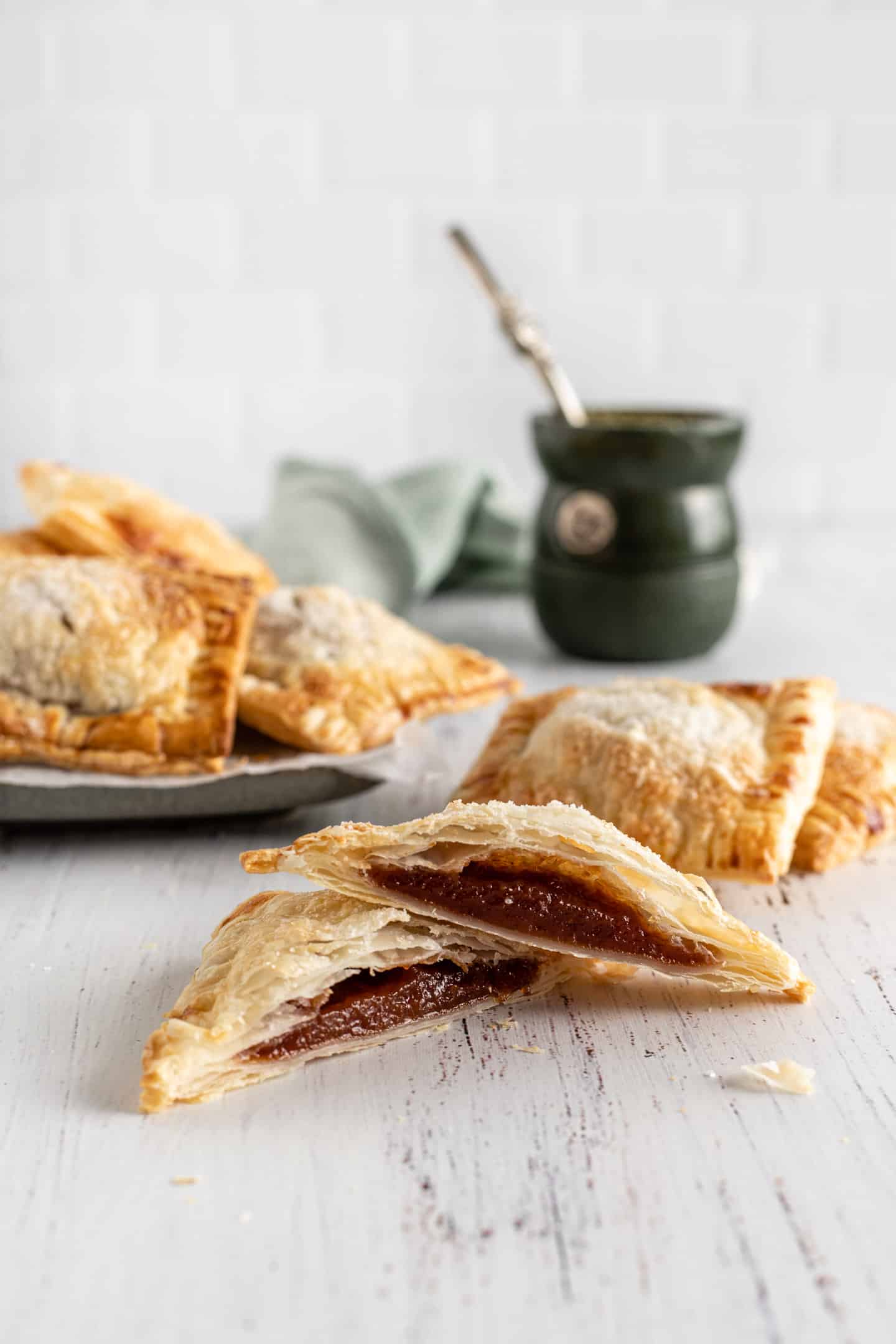 Ohh long time no see, my friends! A lot has happened since my last recipe. To make it short: I went on holidays, I had my parents visiting from Argentina, a new year has started, or decade I should say, and we are already in February. Amazing! Besides, I've been working on a secret project you'll soon know all about.
To take it easy at the start of this new year, I've decided to share this simple yet delicious recipe. Well, actually, instead of a recipe, I should call it a guide to prepare this super mega easy quince paste empanadas with puff pastry.
They have been, and will continue to be, my go-to option to have with mate (or tea/coffee for those that don't drink mate), or even for my Sunday breakfast.
Besides, I have a confession to make. Despite my blog having too many dulce de leche, I feel quince paste is a bit underestimated. Especially when moving overseas from Argentina. Here is Australia, you can find quince paste. What you can't find are all the delicious pastries, biscuits and desserts that are made with it. Some examples are pasta frolaand quince paste thumbprints. And that's why I have to bake them myself 🙂
Why you'll love this recipe
You can have it ready in 30 minutes.
It only requires 4 ingredients (or products).
You don't have to be an expert in baking. You just have to be careful not to burn the empanadas 🙂
You can use different types of jam, such as dulce de leche or your favortie fruit jam.
How to make these quince paste empanadas
This recipe is super easy and quick to make, so anyone can do it, from grown-ups to children.
You'll need four ingredients, or products: puff pastry, quince paste, egg wash and white sugar.
What puff pastry should I use
In Argentina, I remember I always used this little store-bought empanada discs. They are available anywhere.
If you don't know what I'm talking about, they are puff pastry discs that are sold in packages of 12 or 24 units. So, they are used as finger food or appetizers for birthdays and any kind of events.
Given I can't find them in Australia, I use this frozen square puff pastry I find super easily at the supermarket. That's right! They come in packages of 6 or 10 units, and their quality is quite similar, although it's not same.
You can use whatever you find at your local grocery place. The crunchier, the better. To be honest, I always prepare this quince paste empanadas when I don't have enough time to bake a cake. So imagine, I'll have less time to do all the steps involved in the puff pastry. 🙂
The quince paste, hero of the recipe
That's right. In my opinion, it's the most important part. The more delicious and natural it is, the better result you'll get. I always try to get the one with the least unnatural color possible. And I recommend doing the same.
How to prepare the egg wash
Don't worry, because this is super simple. Basically it's just an egg and some water or milk. Whisk it well until well combined, so it helps you brush it on the empanadas. That's all! In the oven, this will turn into a light golden brown. If you don't believe me, take a look at the pictures and let me know if you aren't drooling all over.
Why the white sugar at the end
This last step is optional. But I would suggest you do it, as it gives the empanadas that shinny crunchy touch. So yes, do it!
Once you brush the quince paste empanadas with the egg wash, the sugar will stick to it easily and it'll be the perfect decoration for these yummy treats.
---
An image is worth a thousand words. So I'll just give you some tips to get the best quince paste empanadas.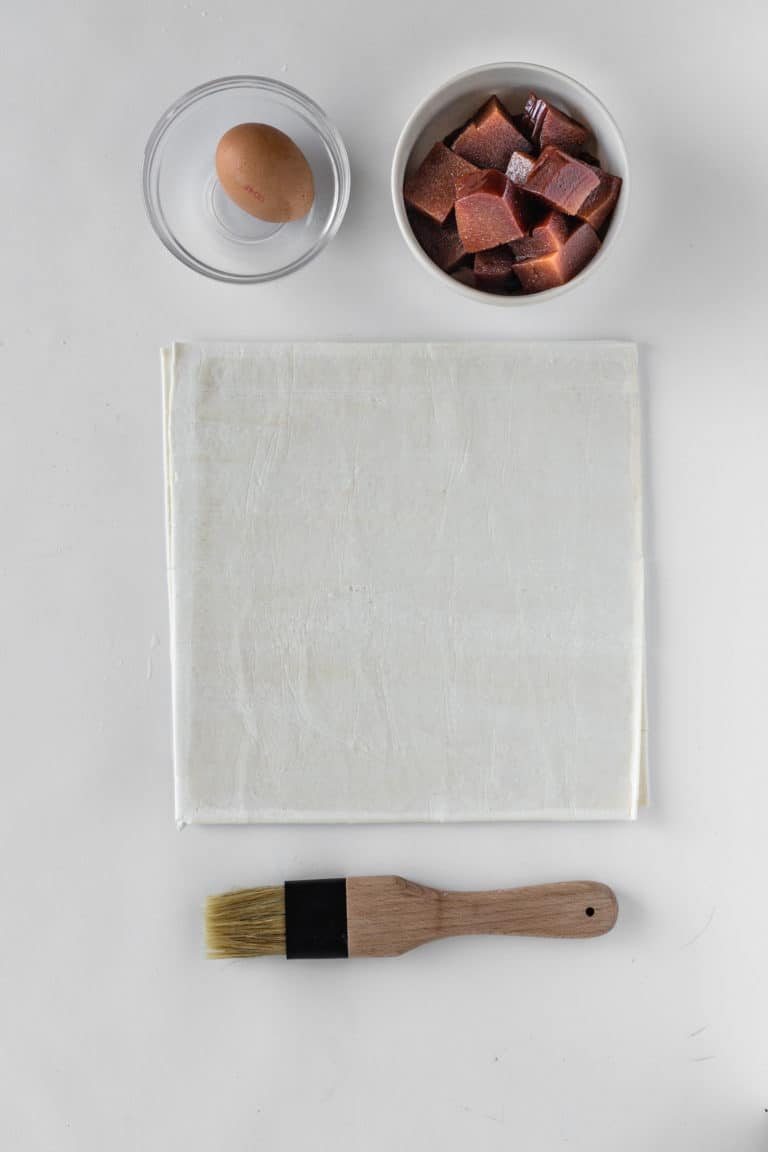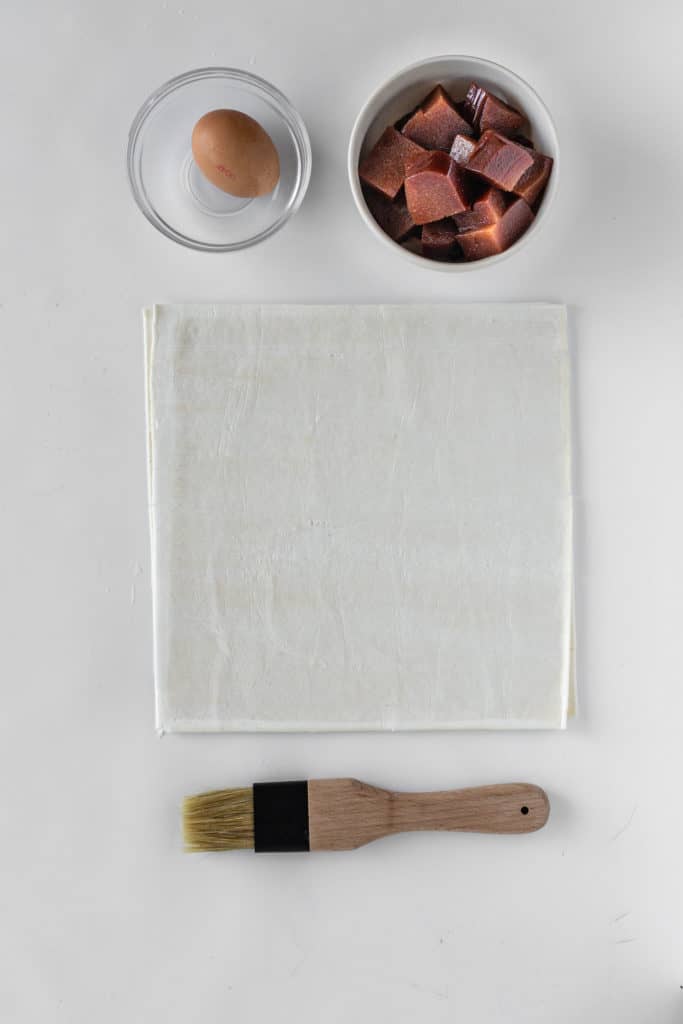 Tips to make the best quince paste empanadas
Quince paste: You can easily cut it into little squares and place them in the center. To get a better shape, and to make sure you get some quince paste in every bite, do the following: 1. Cut the quince paste into squares. 2. Place them in a little bowl with some water (2 or 3 tablespoons). 3. Heat it up in the microwave for 30 seconds. 4. Remove from the microwave and mash the paste with a fork until it's all well combined (see the photos).
Folding: In order to seal them properly, brush some water on the edges of the puff pastry. Place the other piece of pastry and then press firmly so both sheets stick together.
Quince paste explosion: During the oven time, it can happen that the quince paste escapes from the empanadas. So, after the previous step, I suggest making two little cuts on the puff pastry using a very sharp knife. Alternatively, use a toothpick to pinch two little holes. This will allow the air between the paste and the puff pastry to escape, and in turn, the explosion of flavors will have been averted.
Repulgue: At this stage, you have total freedom to fold the empanadas in whatever design or pattern you prefer. If you know how to do the traditional Argentinean repulgue, awesome! Otherwise, you can use a fork, as I'm doing on the photos, and done! Another option is to use the edge of a glass. Make sure not to choose a very sharp one 🙂
Oven time: These empanadas cooking time depends on their size. Generally, if they are small, they'll take from 10 to 12 minutes to be ready. Once they turn light golden brown, they are ready to go.
Waiting: Yeap. This is the hardest of the steps. Once you remove them from the oven, you have to wait till the cool completely before eating them. I can assure you that, if you don't you'll burn your soul. I've been there… ouch!
More recipes with quince paste:
Don't forget to leave a comment down below if you try this recipe (and why not, an Uber-style rating? ★★★★★). It not only helps me but also other people that want to try it. You can also tag me on Instagram or Pinterest so I get to check your photos or send them to me privately if you are shy.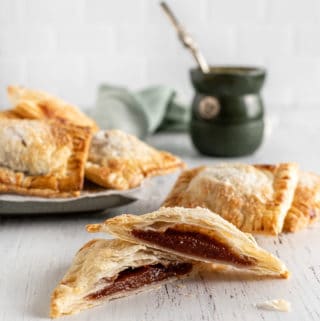 Puff Pastry Quince Paste Empanadas
The recipe for these Puff Pastry Quince Paste Empanadas is super easy and quick to make. It requires only four ingredients, and you can have it ready in less than 30 minutes. They are the perfect solution if you get a surprise visit and you don't have any sweets to share.
Ingredients
2

sheets of puff pastry

200

g

quince paste

egg wash

1 egg + 2 tbsp water

50

g

white sugar

optional
Instructions
Cut the quince paste into little cubes and place them into a mid-size bowl with 2 tbsp of water. Heat it up in the microwave for 30 seconds and then, using a fork, mash the quince paste until you get a smooth consistency.

Preheat your oven to 180C (350F).

Place one puff pastry sheet on a clean surface and cut into same-size pieces.

Using a spoon, place some quince paste in the center of each piece.

Brush the edges with some water and place the other piece of puff pastry on top. Firmly press down to seal each empanada.

Brush the empanadas with some egg wash and kae two tiny cuts using a very sharp knife.

Place them on a baking sheet.

Bake for 10-12 minutes, until they are light golden brown.

Let them cool completely before eating. 
Notes
Puff pastry: If it's frozen, take it out of the freezer 30 minutes before prepping this recipe.
Storage: Store in an air-tight container for 2 days at room temperature. It's possible the puff patry will lose its crunchiness after a few days.