These lemon, coconut and oats bars are the perfect treat for any sweet tooths out there. Easy to make, no oven required or fancy equipment. Tangy, soft, delicate. Yes, please!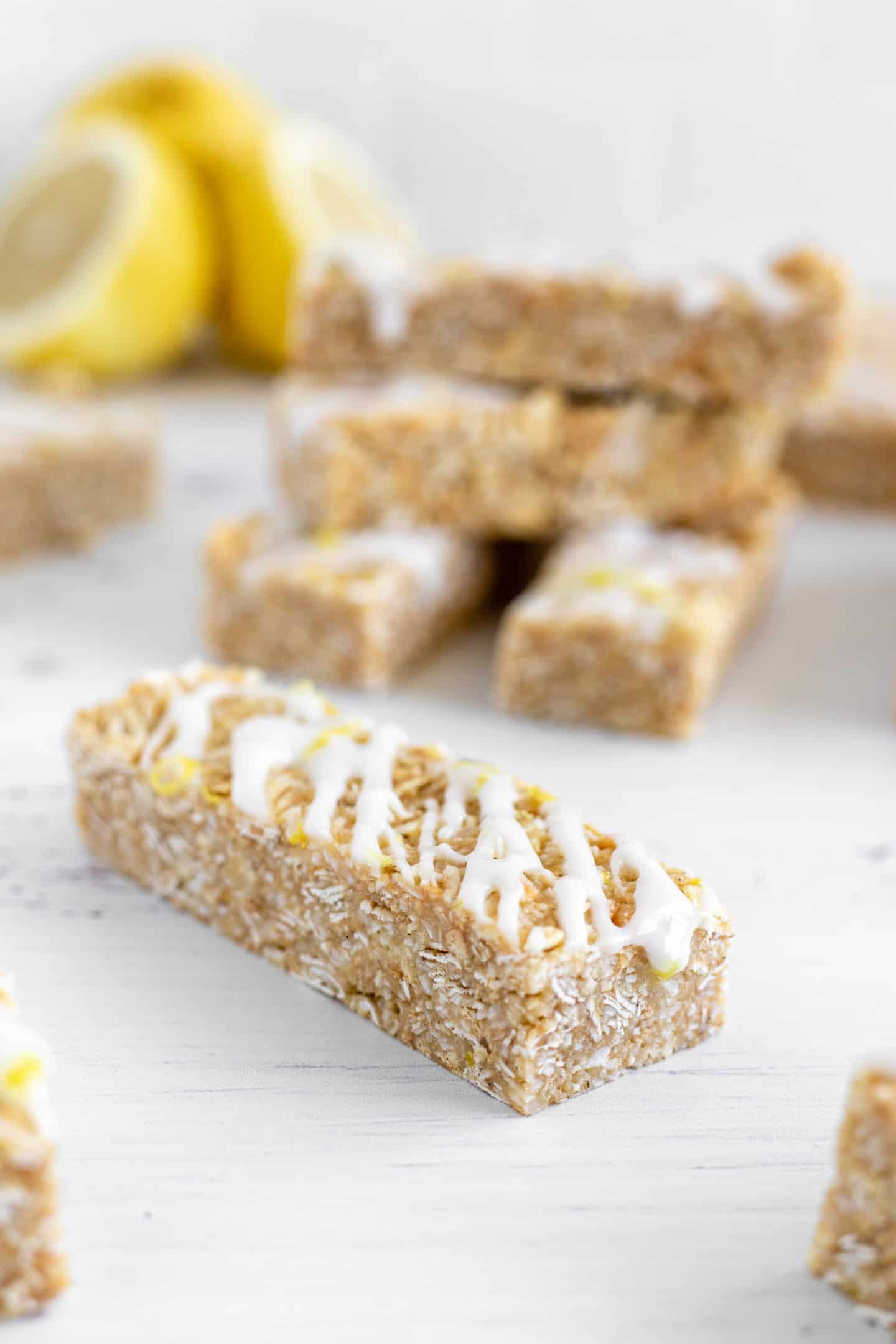 After so many celebrations, chocolate and dulce de leche this past month, I'm in need of something lemony to stop so much sweetness. Lemon and citrusy treats are one of my biggest loves, in case you didn't know.
In this opportunity, I got inspired by my sister, Roci, for this recipe. She is a very good cook, but she tends to shift a bit more towards the healthish side (although she never says no to my sweet treats and alfajores) 🙂 And she found her recipe on the Australian Health Food website. That one uses less condensed milk (around 300 g), which made me feel a bit funny. I don't like wasting food, so in order to solve the issue of having that remaining bit of condensed milk, I adjusted the recipe so I could use a whole can and I also add less butter.
Why you'll love this recipe
You can get them ready in a matter of minutes
There is no baking/oven required. Aka, the ideal recipe for summer 🙂
It has the perfect balance between citrusy and sweet.
It has a healthy component with the oats and coconut.
How to make these lemon, coconut and oats bars
Considering they are no-bake, they are super easy to make. There is no risk of them not raising in the oven or even sinking in the middle. Or even for them to get burnt or not aiming the citrusy taste.
If you follow these steps, I can promise you'll add them to your recipe box today.
First, we need to crush the biscuits very well, as much as you can. The finer, the easier it'll be to mix all the ingredients.
One way to do this is to use a food processor, as I did. However, if you don't have one at home, you can easily place the biscuits into a bag and using a rolling pin, you'll smash them lightly (please, don't break anything!). This is also an excellent way to release tensions :), for the sake of the recipe, of course! 😀
Add the biscuits in the food processor and pulse a few times, so that the biscuits get crushed a bit and rearrange themselves in the container. Then, run the food processor for 30 seconds, or until all the biscuits are finely crushed.
What biscuits should I use
These bars are best when you use Maria biscuits, or even Arrowroot biscuits (here in Australia). They are crunchy, not too sweet and generally speaking, quite cheap.
You can choose whatever brand you can find at your local shop.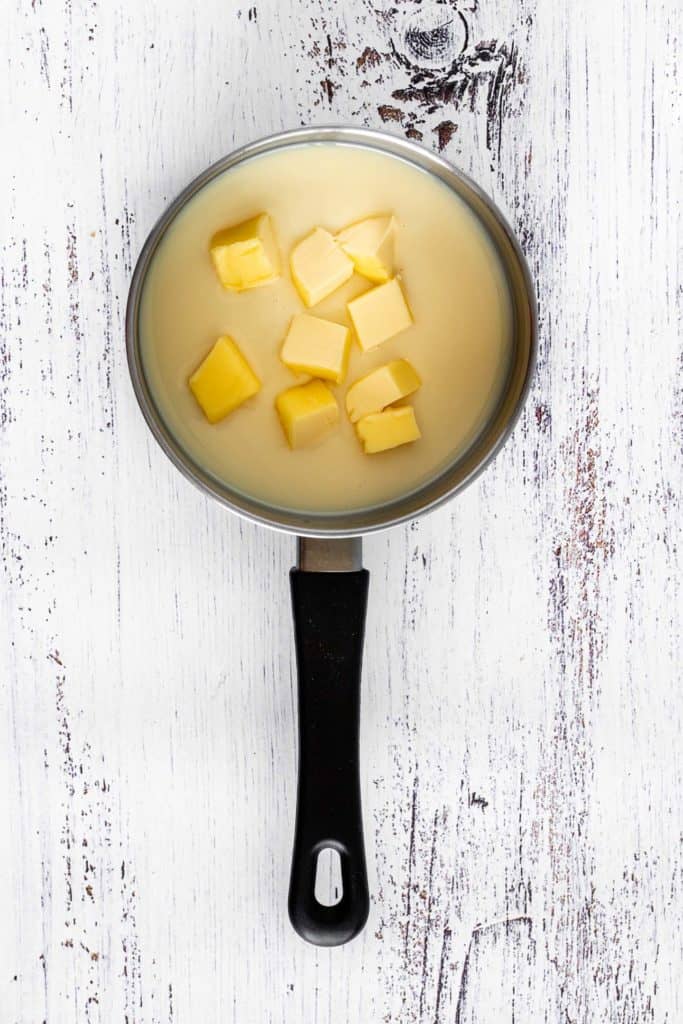 Next step is to melt the condensed milk with the butter.
In a small bowl, add the condensed milk and the butter, and microwave for 2 minutes. Halfway, mix to make sure the butter is fully melted.
Warning: Although you can see a saucepan here, please use a microwave or Bain Marie. I didn't notice and all the bottom got burnt.
So, one we have the crushed biscuits and the condensed milk/butter, it's time for us to prepare these lemon, coconut and oats bars.
In a large bowl, add the dry ingredients, the vanilla essence and lemon juice and zest.
The last step is to add the condensed milk and melted butter combo.
Done! Now, using a spatula mix all the ingredients very well. From here, place the mix in a cake pan lined with some parchment paper.
Friend's advice: when lining the cake pan with parchment paper, I suggest you leave some handles on the sides. This will let you remove the bars much easier afterwards. (Check the photos to have a better idea I'm talking about).
Once we press the mix tightly onto the baking pan, pop in the fridge for at least an hour. This will help the butter to solidify and, as a result, it'll be easier to slice the bars.
Alternatively, if we are in a rush, we can pop in the freezer for around 15 minutes.
Once they are firm, it's time to prepare the lemon glaze and decorate these bars.
For the glaze, I suggest you sift the icing sugar to prevent from having sugar lumps, which doesn't look the best. Next, pour the lemon juice and whisk well using a spoon or fork.
If you prefer a runnier glaze, just add more lemon juice.
How to cut these lemon, coconut and oats bars
Perhaps it's not super clever, but for this recipe, I called them "bars" as I decided to slice them in a rectangular shape.
But you can simply choose to cut them into squares, smaller bite sizes or whatever shape you prefer.
I do recommend using a very sharp knife and clean it between slices. This way you'll get bars with sharp and straight edges.
Awesome! If you made it this far, you are ready to make these delicious lemon, coconut and oats bars. It's a sort of newish recipe in my family, but it has become a total classic now.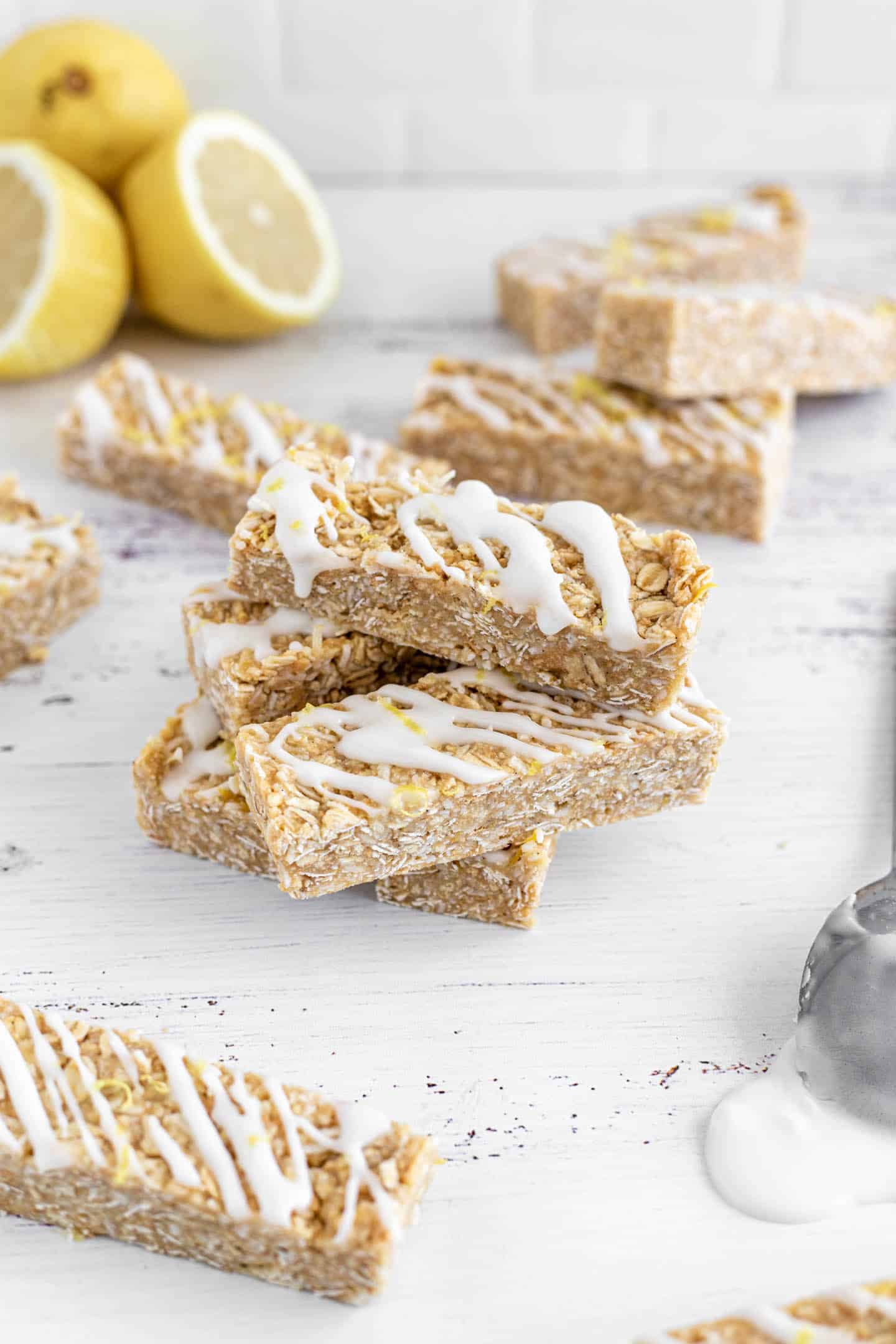 Don't forget to leave a comment down below if you try this recipe (and why not, an Uber-style rating? ★★★★★). It not only helps me but also other people that want to try it. You can also tag me on Instagram or Pinterest so I get to check your photos or send them to me privately if you are shy.
Other no-bake recipes: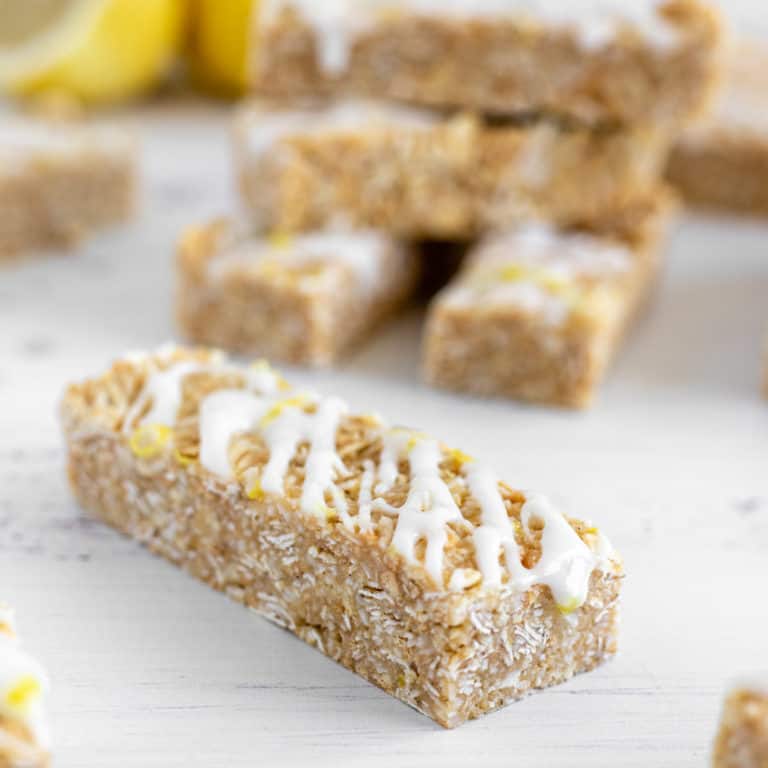 No-Bake Lemon, Coconut and Oats Bars
These lemon, coconut and oats bars are the perfect treat for any sweet tooths out there. Easy to make, no oven required or fancy equipment. Tangy, soft, delicate. Yes, please!
Ingredients
Bars:
180

g

Marie biscuits

finely crushed

50

g

unsalted butter

1

can

condensed milk

120

g

rolled oats

80

g

shredded coconut

Zest of 1 lemon

Juice of 1 lemon

1

tbsp

vanilla essence
Glaze:
4

tbs

icing sugar

sifted

1

tbsp

lemon juice
Instructions
Line a 25x23 cm (9x10 in) baking pan with some parchment paper, making sure to leave some handles on the sides.

In a small bowl, add condensed milk and butter cut into squares. Microwave for 2 minutes, mixing it halfway in to make sure the butter has melted.

In a large bowl, add the crushed biscuits, rolled oats and coconut.

Pour into the dry ingredients the condensed milk and butter mix, the lemon juice and zest, and the vanilla essence.

Using a spatula, mix all the ingredients thoroughly.

Pour the mix into the lined baking pan and press well until you get a compact and levelled base.

Pop into the fridge for at least 1 hour, or into the freezer for 15 minutes, until the mix has completely set.  

While they set, place the icing sugar and lemon juice in a small bowl and using a spoon or fork, mix well.

Once the bars have set, slice and drizzle the glaze. You can add some extra lemon zest for decoration.
Notes
COOLING TIME: In this recipe, baking time refers to cooling time. It's essential that you let the bars set in the fridge or freezer. Otherwise, you'll find it difficult to slice them.
BAKING PAN: You can easily use any pan you have at hand. Just be aware that the bigger the pan, the flatter the bars will be. If you want to preserve the height, double the recipe. 
STORAGE: Store in an air-tight container for 3-4 days in the fridge or freeze them for up to 3 months.