This delicious glazed lemon zucchini loaf bread is so easy and quick to make, full of citrusy flavour, very spongy and super mega light. I'm sure it'll be your next go-to weekend recipe!
Don't forget to subscribe to my channel for more recipes!
We need to include veggies in our diet, right? So what better way to incorporate some greens than in cake form 😂. All jokes aside, this recipe will be your next hit, trust me!
You can do it in one bowl, with ingredients you probably have in hand and it's perfect to use those zucchinis you have in the bottom of your fridge. Also, I would suggest not skipping the glace part, as it's the best aspect of this cake! But I'll leave that to you 😉.
I've got the inspiration for this recipe on Jenna's gluten-Free lemon zucchini bread.
Why you'll love this recipe
It's an easy, quick, one-bowl recipe.
You'll appreciate how soft and spongy the cake is.
It provides a clash of flavours: citrusy yet sweet and light.
It lasts for up to 7 days in the fridge 🥳.
Ingredients you'll need for this Glazed Lemon Zucchini Loaf Bread
We all love cake and bread recipes that are simple yet yield fantastic results. This is one of them!
Caster (or granulated) sugar: I would use this type of sugar, and I wouldn't replace it, as it can affect the chemistry and consistency of the loaf bread.
Lemons: If you can get your hands on some home-grown / organic lemons, please do so!! The difference is sooo evident, not only in the smell but also the quality of the juice.
Vegetable oil: Please use a neutral oil without any flavour. Stay away from olive oil or any other kind. The oil will provide moisture to this delicious cake.
Double cream: This will give the cake its super moist and light texture.
Eggs: Always use room temperature eggs for baking (unless stated otherwise). I

always

opt for free range eggs from a local farmer, delivered straight to my door.
Zucchini: You can use fresh ones or those oldie zucchinis that no one wants to use. Only make sure to wash them and dry them well 😉
Vanilla: Try to use the best vanilla paste you can find. I'm not a fan of essence imitations, so if you can't find or afford vanilla paste, always go for natural vanilla essence.
Self-rising flour: You could eventually replace it with plain flour + 1 tsp of baking powder if you don't have any self-rising flour at hand. The baking powder will act as levening agent.
Salt: It enhances all the flavours, same as in savoury dishes.
For the

glaze

, you'll need icing sugar and lemon juice.
Tips to make this loaf bread
This is a fairly simple recipe, which can be done in 10 minutes in one single bowl. Isn't that the easiest bread recipe you've heard about?
The batter: You can prep everything in one single bowl, using a spatula. No need to use an electric mixer. How cool is that? Follow the recipe steps below and you'll get amazing results.
Extra lemon flavour/smell: In order to boost the release of the lemon natural essence, I love rubbing the lemon zest with the sugar right before mixing it into the wet ingredients. I strongly believe it empowers the lemon in this zucchini bread.
Grating the zucchini: I suggest using a box grater and shredding it in fairly medium-big bits. You don't want it to be super fine as it'll be unnoticeable in the loaf bread. If possible, use fresh zucchinis, as they'll be easier to grate and hold more moisture.
How to make the easiest lemon glaze
I've had some people say they can't find the correct ratio for the glaze. I've been winging it for years, but in order to help you, I've made sure to weigh the ingredients and pay close attention to the consistency.
If you don't get the ratio right, what can happen is the glaze gets absorbed by the cake. Is there something wrong with that? Of course not!! But if you want that photo-worthy white glaze on top, make sure to hit the right amounts of icing sugar and lemon juice.
So, once you have measured the icing sugar and the lemon juice, I suggest adding the liquid one tablespoon at a time, and mixing well in between. By doing this, you prevent adding too much liquid and "ruining" the right consistency.
When you check it's the right consistency, pour it in the center of the loaf bread and using a spoon or small spatula (or even the back of a knife if you get lazy), spread the glaze close to the edges of the cake. Let it sit for a while, as a thin shell will form on the top.
Recipe FAQs
How can I store the lemon zucchini bread?
This lemon zucchini loaf bread keeps up to 2 days at room temperature or up to 7 days in the fridge in an airtight container.
Can I freeze homemade lemon zucchini loaf bread?
Absolutely! I would suggest freezing it without the glaze. Once you are ready to enjoy it, thaw it, make the glaze (it literally takes 3 minutes), and boom! Like freshly baked 🙂
It keeps well from 2 to 3 months in the freezer.
Can I substitute the cream?
If you prefer so, you can definitely switch the double cream with plain yogurt.
How can I decorate this glazed lemon zucchini loaf bread?
If the glaze doesn't cut it and you want to dress it up for a picnic, brunch or any kind of event, you can sprinkle some lemon zest to make the colours pop. Here's a tip: zest it and leave the zest out on a plate for 20 minutes or so, in a dry area. This will make it go a bit hard, and easier to sprinkle on top of the glaze.
You can also use fresh lemon wedges or a quarter of a slice, or even dried or candied lemon. Check out the recipe for candied lemon here (I used oranges, but it'll be the same).
Make sure to follow me on social media!
Come say Hola! on Instagram, Facebook and watch and subscribe to my videos on YouTube!I hope you enjoyed this simple but delicious recipe with me.
Please comment below if you made it (and why not, an Uber-style rating? ★★★★★), and feel free to share it with your family and friends on social media.
I'll see you all in the next post.
Happy baking!
Pau
More lemon recipes: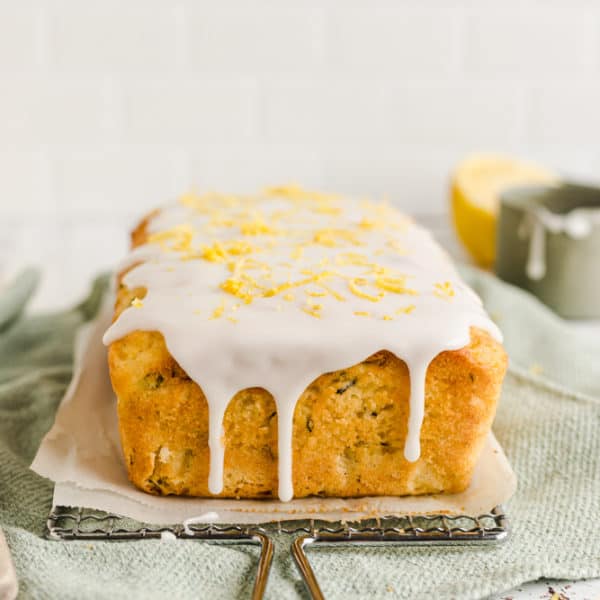 Glazed Lemon Zucchini Loaf Bread
This delicious glazed lemon zucchini loaf bread is so easy and quick to make, full of citrusy flavour, very spongy and super mega light.
Ingredients
80

ml

vegetable oil

60

ml

double cream

alternative: natural yoghurt

2

eggs

170

g

granulated sugar

Zest of one lemon

60

ml

lemon juice

Or the juice of one lemon

110

g

zucchini (medium size)

grated in mid-size bits

255

g

self-rising flour

Pinch of salt
Glaze
150

g

icing sugar

25

ml

fresh lemon juice
Instructions
Preheat your oven to 180 ℃ – 350F (fan-forced).

Grease a loaf pan with some non-stick spray and lay some parchment paper making sure you leave some excess on the sides (this will help you pick it up once cooled down).

In a large bowl, whisk the eggs, cream, vegetable oil, lemon juice and vanilla paste.

In a small bowl, add the sugar and lemon zest. Rub with your fingers to release the lemon natural essence into the sugar. Add to the wet ingredients and whisk.

Add the grated zucchini and then, fold in the flour and salt.

Pour into the greased loaf pan. Bake for 40 minutes or until you insert a toothpick in the center and it comes out clean.

While the cake cools down, in a small bowl, whisk the icing sugar and the lemon juice, adding this one tablespoon at a time to make sure you'll get the right consistency.

When the loaf bread has cool downed completely, pour the lemon glaze on top. Decorate with extra lemon zest (optional).
Notes
SUBSTITUTIONS: You can substitute the double cream with natural yoghurt.
STORAGE: Store in an air-tight container for up to 2 days at room temperature or 7 days in the fridge. You can also freeze the cake for up to 2-3 months.