These dulce de leche-filled candied walnuts are so easy to make on the stove. They are sweet, extremely crunchy and covered in indulgent white chocolate. The perfect snack for all year long.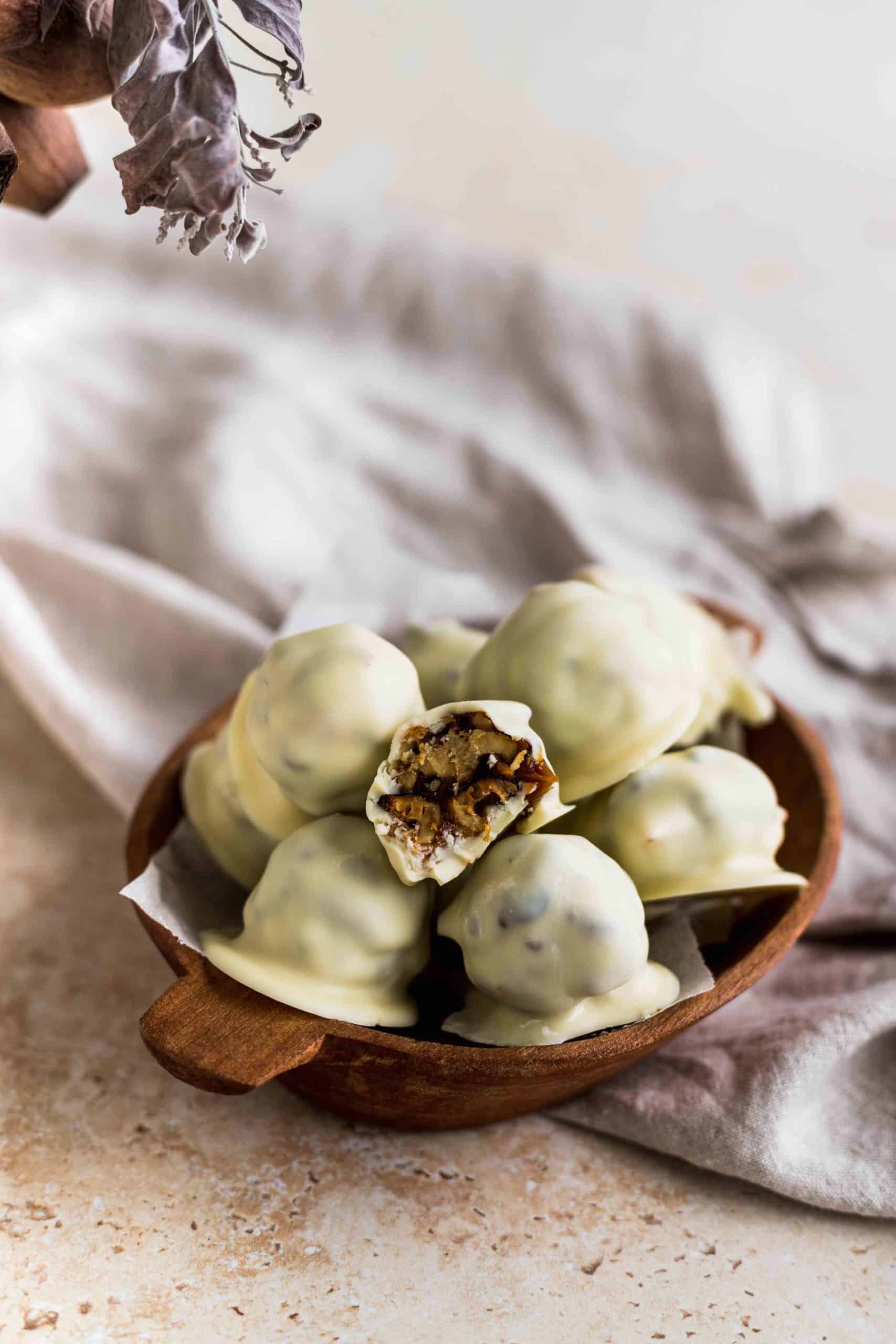 Don't forget to subscribe to my channel for more recipes!
Truth be told, I had in mind sharing this recipe and video for Christmas, but #noexcuses, life got in the way. I still want to share them with you, as they are the perfect snack all year long.
It's no shock (hopefully) that I love dulce de leche. And it's a no brainer that walnuts + white chocolate are a killer combination of flavours (have you seen my popular white chocolate alfajores?). So adding dulce de leche made them the ultimate trio of flavours, textures and colours.
Why you'll love this recipe
The recipe calls for very few ingredients.
There's no oven/baking time involved.
They are full of textures and flavours.
You can choose to use white, milk or dark chocolate.
Ingredients you'll need for this recipe
The very good thing about this delicious snack is that there's no baking time involved. And the second very good thing is that the ingredients are minimal.
Walnuts: You'll need good quality

half walnuts

, ideally previously toasted. If they are toasted ahead of time, you'll enjoy their full flavour.
Sugar: regular or caster sugar to create the syrup for the candied texture.
Dulce de leche: You can purchase it online, at the supermarket if you are lucky or make your own by boiling a closed can of condensed milk for 3-4 hours.
White chocolate: You can swap it with dark or milk chocolate, as they all 100% match the flavour "profile" of walnuts + dulce de leche.
Tips to make dulce de leche-filled candied walnuts
This is technically a no-bake recipe. But there are a few tricks to achieve the best results.
Walnuts: I suggest toasting the halved walnuts for 10 minutes (and letting them cool down completely) before starting this recipe. This will enhance the nutty flavours and overall crunchiness of the dulce de leche-filled bites.
Candied method: Please be careful when doing this. The melted sugar gets super hot, so I would advise you to do this while keeping an eye out at all times. Also, this helps as the sugar, once it starts to melt, can get burnt very quickly and develop a strong flavour.
Let them air: Once you have candied the walnuts and filled them with dulce de leche, let them air for an hour or so. This helps the white chocolate to stick better to the little bites. Nevertheless, it's totally fine if you are super eager to cover them in chocolate and eat at ASAP 🙂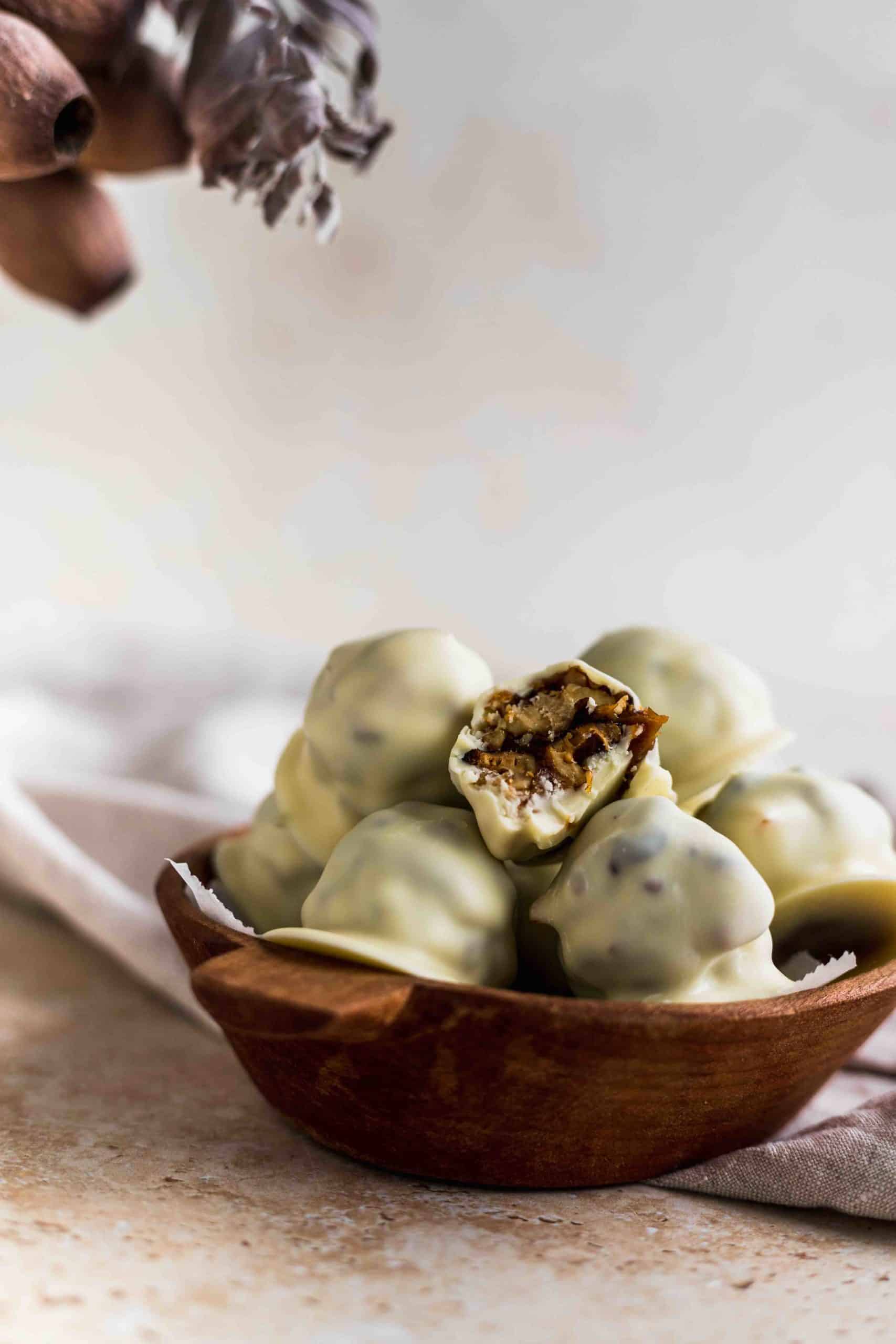 Recipe FAQs
Can I use other kinds of nuts?
Absolutely! Pecans would work perfectly in this recipe. You can also use the same method to make candied almonds, hazelnuts, cashews, etc. Let your imagination fly high 🙂
What if I don't have white chocolate?
You can easily replace it with dark or milk chocolate. Or if you are feeling lazy (no judgement here!), feel free to skip that step and enjoy this "naked" dulce de leche-filled walnuts.
How can I store these candied walnut bites?
After the white chocolate has been set, you can place them in an air-tight container and keep them for up to 7 days (if you don't eat them before!)
You can also store them in the fridge, but technically chocolate doesn't go in the fridge #controversialopinions :).
Can I use brown sugar or sugar alternatives?
I haven't tested this recipe with sugar alternatives or brown sugar. They all have different textures and consistencies, so I wouldn't be sure if they work. You can try the recipe by substituting the caster/granulated sugar and comment below on how it went.
Make sure to follow me on social media!
Come say Hola! on Instagram, Facebook and watch and subscribe to my videos on YouTube!
I hope you enjoyed this simple but delicious recipe with me. Please comment below if you made it, and feel free to share it with your family and friends on social media.
I'll see you all in the next post. Happy baking!
Pau
More recipes with dulce de leche:
Don't forget to leave a comment down below if you try this recipe (and why not, an Uber-style rating? ★★★★★). It not only helps me but also other people that want to try it. You can also tag me on Instagram or Pinterest so I get to check your photos or send them to me privately if you are shy.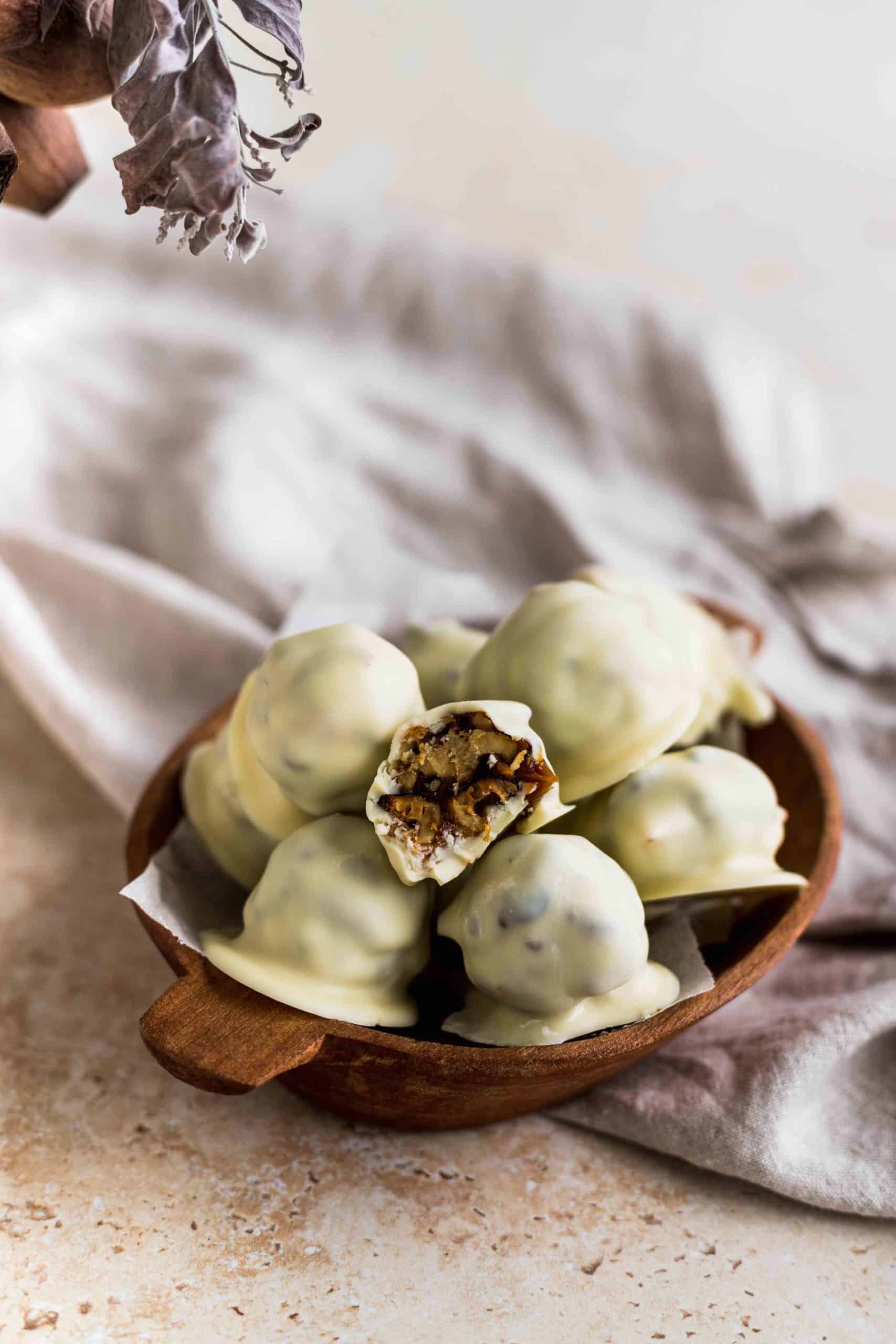 Dulce de Leche-Filled Candied Walnuts Bites
These dulce de leche-filled candied walnuts are so easy to make on the stove. They are sweet, extremely crunchy and are covered in indulgent white chocolate. The perfect snack for all year long.
Ingredients
140

g

granulated sugar

24

half walnuts

50

ml

water

2

tbsp

whisky

(optional, can be replaced by water)

Dulce de leche

to taste

100

g

White chocolate
Instructions
In a mid-size pan, add the sugar and water on low heat. Mix constantly and cook until it develops into a thick but light-colour syrup. (Slowly you'll notice the first bubbles that are very loose. Let them cook for a bit longer until they are less frequent).

Once it reaches the correct syrup point, add the half walnuts and remove the pan from the stove. Mix constantly until the sugar's temperature lowers and it's completely dry.

Take back to low heat until the sugar melts completely once again. At this stage, add the whisky (or water) and cook for two minutes until it's fully evaporated and the sugar is no longer white.

Remove from the stove and place the candied walnuts on a cooking tray with a silicon mat (or parchment/baking paper). Make sure they aren't stuck together, leaving some room between them. Let them cool completely.

Once cooled down, using a piping bag (or a teaspoon), add some dulce de leche on one walnut and add another on top, on the flat side down (like making a sandwich). Let them air for one hour.

Dip each bite in melted white chocolate and place them on the cooking tray with a silicon mat to let them set.
Notes
SUBSTITUTIONS: You can replace walnuts with pecans or any other similar-shaped tree nut. If you aren't a fan of white chocolate, use dark or milk chocolate. STORAGE: Store in an air-tight container for up to 7 days in the fridge.