These Double Chocolate Banana Muffins are extremely easy to make, moist, fluffy, and perfect for breakfast, snack and even dessert. Full of rich chocolate flavour and loaded with white chocolate chips.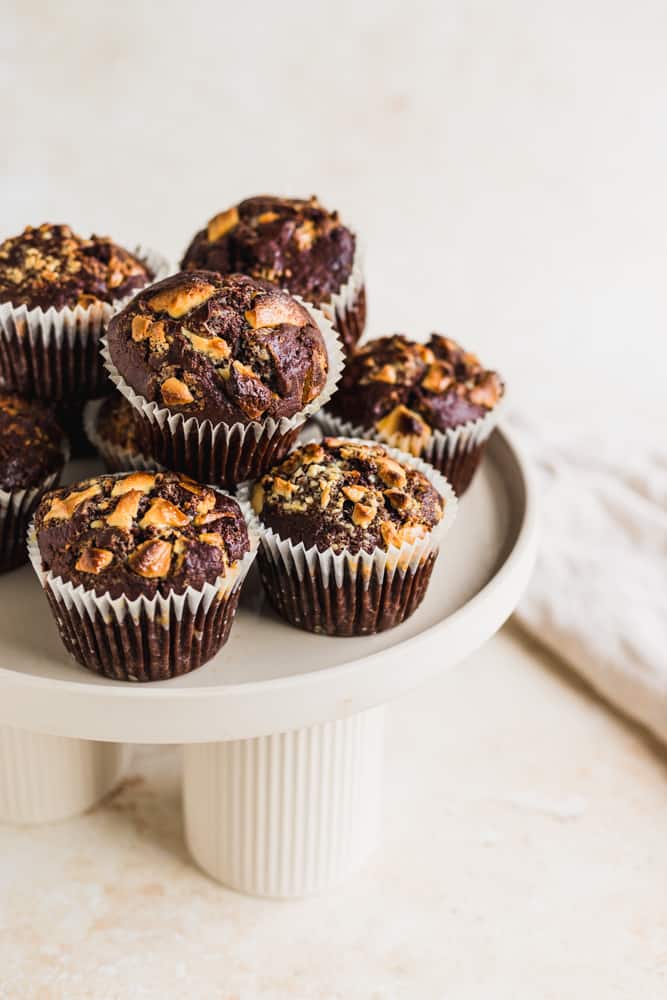 Don't forget to subscribe to my channel for more recipes!
Get ready for your next favourite weekend recipe! When you have those brownish old bananas, forget the traditional banana bread recipe (even though it's delicious!) and try these muffins. Easy to make in one bowl in under 20 minutes!
They'll become your and your family's go-to snack or on-the-go brekkie option.
Why you'll love this recipe
Very easy to make in one bowl.
Super fluffy and chocolate-rich muffins.
Use any chocolate you love (dark, milk, or white chocolate chips).
Perfect to use those old brown bananas.
Ingredients you'll need for these double chocolate banana muffins
This recipe only requires a few staple ingredients, as follows:
Buttermilk: This helps make the muffins super moist. If you can't find any at your supermarket, simply add 1 tsp white vinegar to milk, mix it and let it sit and curdle for 5 minutes.
Bananas: A perfect recipe for those brown and very ripe bananas. never throw ripe bananas away!
Egg: Free-range egg at room temperature.
Vegetable oil: Another ingredient to help the muffins be moist and tender.
Self-rising flour: You can also use plain flour + 1 tbsp of baking powder + 1 tbsp of baking soda.
Baking soda: Even though we are using self-rising flour, the baking soda will help create the dome shape in the muffins.
Sugar: Caster or white sugar.
Instant coffee: Rest assured they won't taste like coffee. This simply helps boost the chocolate flavours.
Cocoa powder: Choose the best quality cocoa powder you can afford. This will make decadent and rich-colored muffins.
Salt: Because every dish, sweet or savoury, needs a bit of salt to boost flavours.
White chocolate: Choose the best quality you can afford, either a chocolate bar or chocolate chips.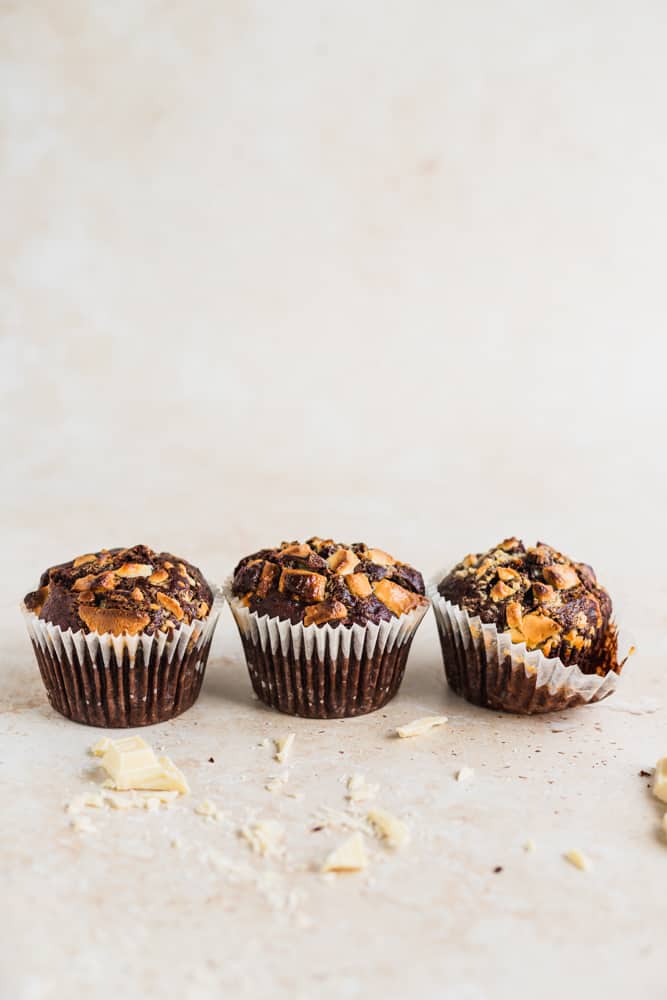 Tips to make chocolate banana muffins
This recipe is 100% beginners-proof It can be made in one large bowl using staple ingredients as mentioned above. I would suggest a few things to make sure you get the best chocolate banana muffins ever!
Ripe bananas: Try to use brown ripe bananas. The riper, the better 🙂 This recipe is ideal for those leftover bananas that no one in your family wants to eat. They'll be sweeter and help achieve super moist muffins.
Wet ingredients: Good news! You don't need to do a lot of whisking or creaming for this recipe! Simply mix the wet ingredients in a large bowl as the video shows and then add the dry ingredients. Simple as that! 🙂
Chocolate: My suggestion here is to not chop the chocolate super finely. It's better to be surprised by some big chunks of white goodness in the centre of the dark chocolate muffin. But this is totally up to your taste!
Recipe FAQs
How many chocolate banana muffins does this recipe yield?
I made 10 jumbo muffins, but you can use smaller muffin liners to yield 14-16, which will require less oven time (15-20 minutes). I wouldn't go too small, as they tend to get drier.
What chocolate can I use?
I recommend sticking to the cocoa powder, but then you can swap the white chocolate with dark or milk chocolate chips. Alternatively, as I did in the video, use a chocolate bar and chop it roughly.
How can I store these muffins?
Store them in an air-tight container for up to 5-7 days at room temperature.
Can I freeze these chocolate banana muffins?
Yes! They are at their best on their day of baking, but you can easily freeze them for up to 3 months.
Make sure to follow me on social media!
Come say Hola! on Instagram, Facebook and watch and subscribe to my videos on YouTube!I hope you enjoyed this simple but delicious recipe with me.
Please comment below if you made it (and why not, an Uber-style rating? ★★★★★), and feel free to share it with your family and friends on social media.
I'll see you all in the next post.
Happy baking!
Pau
More muffin recipes:
Double Chocolate Banana Muffins
These Double Chocolate Banana Muffins are extremely easy to make, moist, fluffy, and perfect for breakfast, snack and even dessert. Full of rich chocolate flavour and loaded with white chocolate chips.
Ingredients
125

ml

buttermilk

or alternatively, add 1 tsp of white vinegar to regular milk

1

egg

60

ml

vegetable oil

Splash of vanilla essence

2

bananas

ripe

150

g

Self-rising flour

5

g

baking soda

35

g

cocoa powder

10

g

instant coffee powder

100

g

sugar

Pinch of salt

150

g

White chocolate chunks
Instructions
Preheat your oven to 180 C (350 F).

Mix buttermilk, egg, oil, smashed bananas and vanilla essence in a large bowl and whisk.

Separately, in a mid-size bowl, combine flour, instant coffee, cocoa powder, baking soda, sugar, and salt.

Combine wet and dry ingredients.

Fold in the white chocolate chunks and then scoop evenly into a muffin pan lined with baking paper.

Bake for 25 to 30 minutes.