These Coconut Tres Leches Cupcakes are the mini version of the renown Latinamerican dessert. Their flavor is unprecedented, and the moist texture due to the three kinds of milk is unbelievable. And to round things off, the shredded coconut makes them irresistible.
Have you ever been obsessed with a dessert? Well, before moving to Australia, I'd never tasted the wonderful Tres Leches dessert. Despite the fact it comes from Latin America, I had never seen in Buenos Aires and much less in my city.
One day, researching for new recipes, I came across this dessert and I believe I made it around 3 or 4 times. Are you getting my obsession? As expected, after this intense Tres Leches period, I abandoned the recipe for a while. Until one day, thinking about what kind of cupcakes I could make for my blog, I came up with this combination.
The vanilla base is extremely spongy and moist, while the whipped cream and crunchy shredded coconut give them the final perfect touch.
What's the origin of the Tres Leches dessert
Some believe it is a Peruvian dessert, while others state it was created in Mexico. In order not to hurt anyone's feelings, I would like to believe it is a Latin American dessert. In Argentina, until moving to Australia, I had never had it.
Let's not forget I come from a sort of small city. But even in Buenos Aires, I never came across this exquisite dish.
There are heaps of "original" recipes out there, like the one that started to show up on Nestlé condensed milk cans in the 1940s. Some of them have an additional hero element, like strawberries, dulce de leche or coffee.
How to make these Coconut Tres Leches Cupcakes
The recipe for these Coconut Tres Leches Cupcakes is mega simple, although the ingredient list is a bit longer than usual. However, like most of my recipes, there a few tips I would like to share you get the best version of these wonderful little treats.
Make the cupcakes
The base for the cupcakes is basically like most cakes. We just have to make sure to whisk very well the butter with the sugar and eggs. The more air it gets, the spongier it'll be. The spongier, the more liquid it'll absorb. Already drooling just thinking about it…
Once we pop them into the oven, we can start prepping the Tres Leches mix.
What kind of milk should you use
Like the name indicated, the classic recipe uses three types of milk: condensed, whole and evaporated milk.
If you can't find evaporated milk (which happens in some countries), you can replace it with cooking cream. Same goes for coconut milk. I would still suggest you find some, as it gives the cupcakes a very subtle but delicious taste.
So to prepare these mix, you just need to pour them all in a mid-size bowl. While whisking, make sure to scrape the bottom. As the condensed milk is thicker than the rest, it can sink to the bottom. We do NOT want this.
How to pour the Tres Leches mix on the cupcakes
Once the cupcakes are at room temperature, stick them with a fork or toothpick a few times. In order not to ruin them, I recommend doing this step with lots of love and patience 🙂
Without removing the cupcakes from the muffin tin, as shown in the image, slowly pour the Tres Leches mix on each one. Don't panic if they don't absorb the liquid right away. Basically, we'll pour a bit onto a cupcake and then move to the next. When we get to the last, the mix will probably have been "disappeared" from the first ones we did. Let's repeat the process until they cannot take more liquid.
Note that it's possible for the liners to get a bit split from the dough. It's ok! Once we pour all the liquid, we'll pop them in the fridge for an hour or so, until the base absorbs all the yummy liquid.
How to decorate these Coconut Tres Leches Cupcakes
This part gives you total freedom to play around. I would suggest prepping the whipped cream as the recipe indicates, without sugar, as they are already quite sweet.
So, on top of the cream, sprinkle some shredded coconut. I like roasting it for 5 minutes. This not only gives the coconut an amazing toasty color, but also enhances its flavor.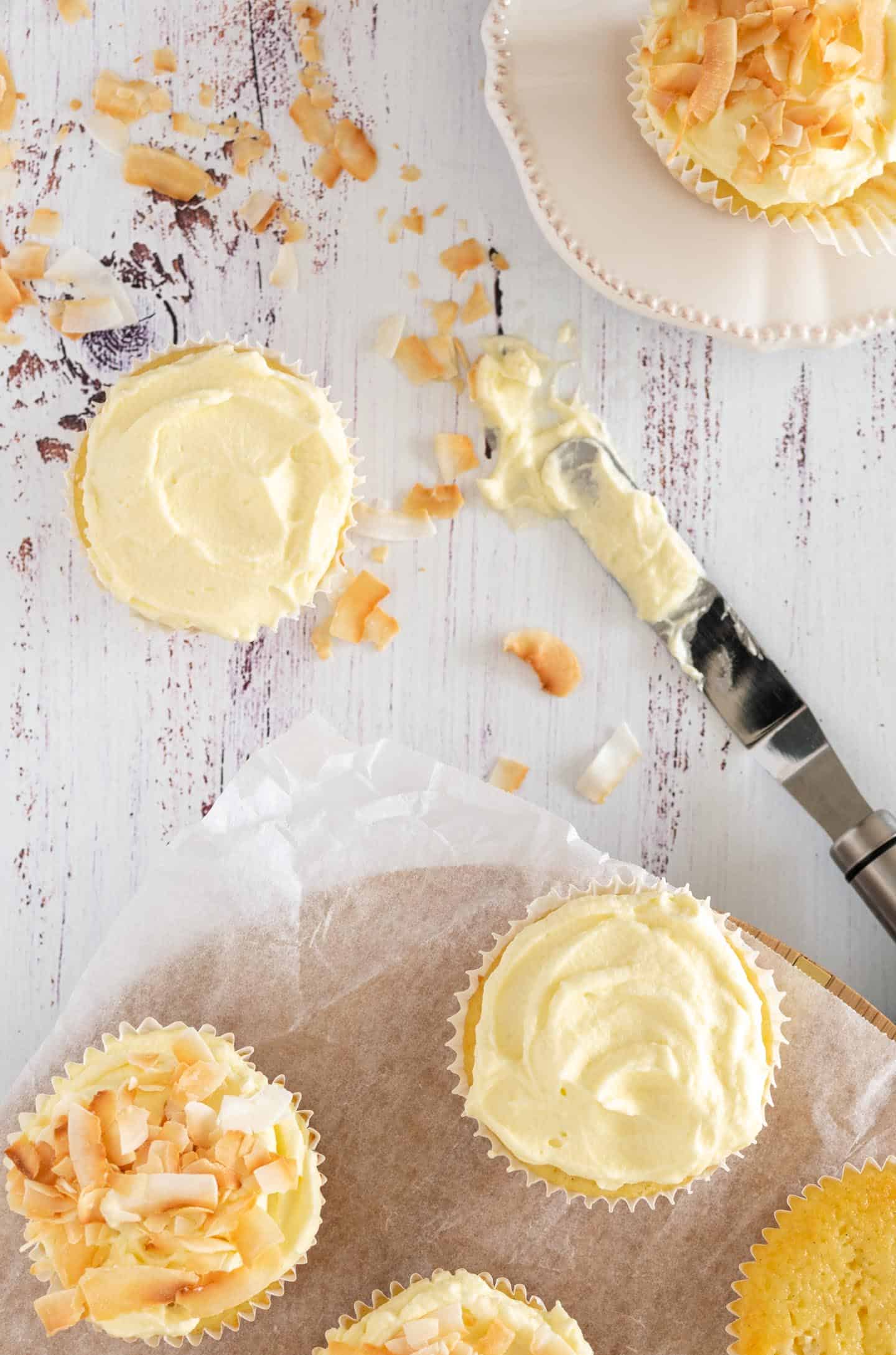 That's all you need to know to prepare these Coconut Tres Leches Cupcakes. I really hope you enjoy them as much as I did when baking and sharing them with you.
Don't forget to leave a comment down below if you try these cupcakes (and why not, an Uber-style rating? ★★★★★). It not only helps me, but also other people that want to try it. You can also tag me on Instagram or Pinterest so I get to check your photos or send them privately.
Other similar recipes:
Coconut Tres Leches Cupcakes
These vanilla cupcakes covered in whipped cream and coconut are the mini version of the classic Latin American dessert. Their flavours is unprecedented, and the three milks (Tres Leches) make them super moist. And what's even better, we get shredded coconut as the final touch.
Ingredients
Base:
150

g

unsalted butter

room temperature

180

g

sugar

3

eggs

1

tbsp

vanilla essence

180

g

self-rising flour

1

tbsp

baking powder

Pinch

of salt

180

ml

whole milk
Tres Leches:
150

ml

condensed milk

75

ml

whole milk

75

ml

evaporated milk
Topping:
150

ml

cooking cream

Shredded coconut
Instructions
Base:
Preheat your oven to 180 ºC and place muffin liners in a muffin pan.

In a large bowl, using an electric mixer, mix the butter and sugar very well, until you get a fluffy consistency.

Add the eggs and vanilla essence. Keep whisking for a few minutes.

Using a spatula, fold in the flour, baking powder and salt. 

Lastly, slowly add the milk until it's well combined in the batter, making sure not to overmix.

Using an ice cream scoop, or a regular spoon, add the batter to each muffin liner, up to 3/4.

Pop in the oven for around 15 minutes, or until the top of the cupcakes are light golden brown. Remove from the oven and let them cool completely.
Tres Leche:
In a mid-size bowl, add the three milks and whisk very well. Make sure the condensed milk, which tends to be thicker, is not all in the bottom of the bowl. Set aside in the fridge.
Topping: 
In a mid-size bowl, add the cooking cream, and using an electric mixer, whisk well until you can draw shapes with the cream and they hold its form.
Assembly: 
Once the cupcakes are at room temperature, gently stick them with a fork or toothpick.

Very slowly, start pouring the three milk mixture, letting the cupcakes soak the liquid. It's possible they overflow a bit.

Just take them to the fridge for 1 hour, until the cupcakes have absorbed all the milk. 

Cover with the whipped cream and them sprinkle some shredded coconut on top.
Notes
BAKING: Depending on the muffin liner's size, cooking time may vary. 
STORAGE: Store it in an air-tight container for a max of 2 days in the fridge.
ALTERNATIVES: If you don't have coconut milk, you can easily replace it with evaporated milk or regular milk. The coconut flavor won't be as intense, but the cupcakes will still be amazing.