These Christmas Macadamia Alfajores are the perfect treat for this special time of the year. Crumbly macadamia cookies with the smoothest dulce de leche in the center and covered in the richest Belgian white chocolate. A Latin American classic with a twist!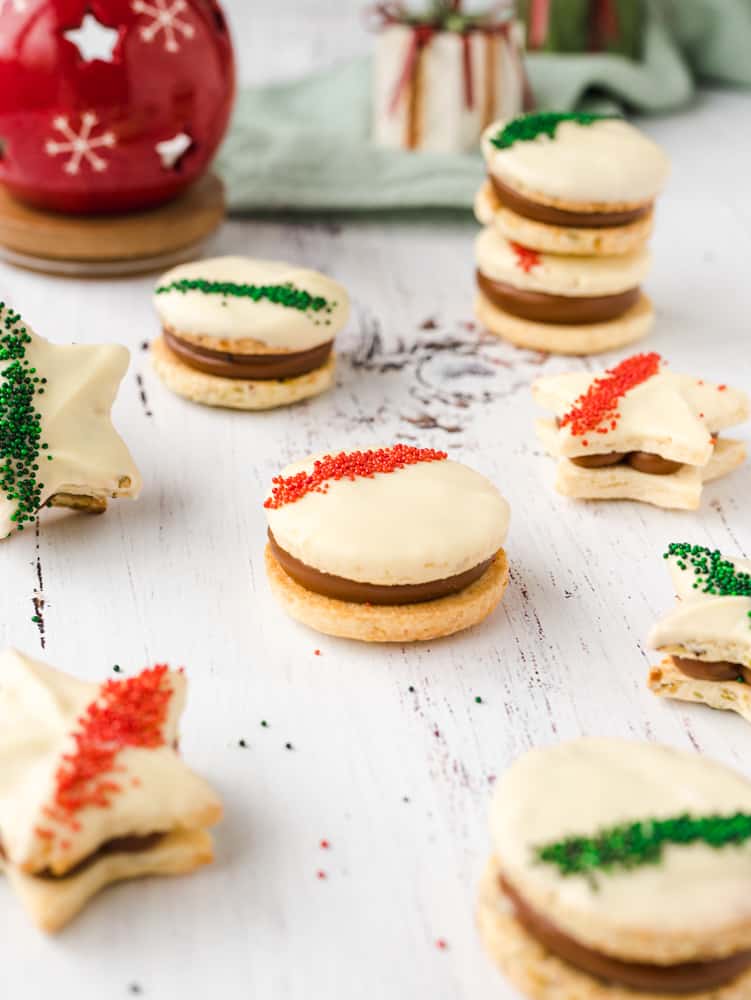 If you haven't heard of alfajores, well, my friend, you are missing out! Alfajores are the Latinamerican macaron. I've been on a mission to spread the love for these Argentinian cookies here in Australia through my online shop and Instagram (check them out if you still haven't). But still, I haven't shared a recipe with you all, in case you can't try mine 😉
Why you'll love this alfajores recipe
They are super easy to make, like all my recipes.
The cookies are so crumbly you can just eat them without turning them into alfajores. So this can be a double recipe 🙂
You can choose any dry nut you have at hand.
You don't want to miss on the combination of flavours between dulce de leche, macadamia and white chocolate.
What are macadamia nuts?
These small bites of delight are the perfect fusion of Argentina and Australia. Alfajores are as Argentinian as tango, soccer, mate (a tea with a straw) and asado (or BBQ), whereas macadamia is a clear synonym of Australia.
Macadamia trees are native to Australia (specifically, Queensland and New South Gales states). They take from 7 to 10 years to mature, added to the particular conditions for them to grow, makes them quite an expensive dry nut, but a game-changer in any recipe.
Their high content of healthy fats and rich buttery flavour lifts any cookies or cakes, and they are perfectly paired with white chocolate, raspberries and even mango.
What if I can't find macadamia nuts?
There's nothing to worry about if you can't find macadamia or if they are too expensive. There best substitute would be pecans, but you can always go fo pistachios, as I did here. The combination of flavours between pistachios, white chocolate and dulce de leche is divine! Trust me! 😉
You can always choose from almonds, walnuts or even peanuts. Just have into account that the texture and flavours may change, as they all have different content of fats, which will undoubtedly affect the cookies.
Tips to make these Christmas alfajores
Unsalted butter at room temperature: It's very important that the butter is at room temperature. This will help the cookies stay in shape and not spread too much.
Sift the flour and cornstarch together: I always measure these ingredients together in the same bowl and then, sift them together. This will help mix them into the mixture, and also avoid having any big lumps in the alfajores. It also helps the cookies to be fluffier and not too dense.
Dulce de Leche: Get the best quality dulce de leche you can find. It has to be thick and not runny at all. Otherwise, when you add the second cookie on top, the dulce de leche will spread and lose its shape.
Macadamias: If you can't find macadamias where you live, feel free to swap them with pistachios, almonds, pecans, walnuts, or any dry nuts you prefer.
Don't overmix: Make sure not to overmix the ingredients once you've added the flour.
Roll the dough between baking paper: When all ingredients are well combined, using a rolling pin, roll the dough between two baking papers to the desired thickness. This will help to get even cookies after being chilled.
Chill the dough: To avoid the alfajores cookies to spread, place the rolled dough in the fridge until it's solid hard, at least for one hour. After this time, it'll be easier to cut the cookies and they shouldn't spread in the oven.
Flour your cookie cutter: When cutting the cookies, "dip" the cutter into some flour. This will help get clear cut edges which won't spread in the oven.
How can I decorate these macadamia alfajores
Once the cookies are filled with dulce de leche, it comes the creative and fun part: the decorating!! For the ones shown in these photos, I dipped one cookie on white chocolate and then added some festive sprinkles (red for macadamia and green for pistachios).
Other options are Christmas M&Ms, chopped nuts, edible paint or just leave as they are with the rich white chocolate "exposed".
How can I store this alfajores
Alfajores have a long shelf life, around 4 weeks. There's no need to put them in the fridge, unless you like cold cookies. In that case, be my guess!
Can I freeze these macadamia alfajores?
Definitely! You can freeze these macadamia alfajores for 3 months. Take into account the texture once thawed may change, but the flavours will be equally delicious!
More recipes with dulce de leche:
Don't forget to leave a comment down below if you try this recipe (and why not, an Uber-style rating? ★★★★★). It not only helps me but also other people that want to try it. You can also tag me on Instagram or Pinterest so I get to check your photos or send them to me privately if you are shy.
Christmas Macadamia Alfajores
These Christmas Macadamia Alfajores are the perfect treat for this special time of the year. Crumbly macadamia cookies with the smoothest dulce de leche in the center and covered in the richest Belgian white chocolate. A Latin American classic with a twist!
Ingredients
70

g

unsalted butter

at room temperature

50

g

granulated sugar

2

whole eggs

1

tablespoon

vanilla essence

100

g

self-rising flour

sifted

150

g

cornstarch

sifted

Sprinkle of salt

100

g

macadamia nuts

chopped (or any nut you prefer)

25

ml

cold water

350

g

dulce de leche

150

g

white chocolate

optional
Instructions
In a big bowl, add the butter and the sugar. Using a spatula, mix until well combined. Add the eggs and the vanilla essence, and mix again.

Once well combined, add the sifted flour, cornstarch and salt, together with the chopped macadamia nuts and water. Fold until well combined.

Place the dough between two baking papers, and using a rolling pin, roll until it's 6 mm thick. Place in the fridge for at least an hour or overnight.

Preheat your oven to 180 ˚C (350 ˚F) and spray a cookie sheet with non-stick spray, or use a silicone sheet or baking paper.

Using a 6cm diameter cookie cutter, cut the cookies and place them on the cookie sheet making sure to leave to room between them. They shouldn't spread too much.

Bake for 6.7 min, until they are slightly golden brown. Let them cool completely.

To fill these alfajores, add the dulce de leche in a piping bag (or feel free to simply use a spoon) and pipe some dulce de leche (it's never too much, remember!) on one cookie.  Cover with another cookie and put some pressure to make them even.

Melt the white chocolate in the microwave, 30 seconds at a time, stirring each time, until it's completely melted. Grab the alfajores on one cookie and dip the bottom one on the white chocolate. Flip and place on a cookie sheet or large serving dish and sprinkle some festive sprinkles before the chocolate sets.
Notes
MACADAMIAS: Replace them with your prefered nut: walnuts, almonds, pecans, pistachios...
DECORATION: Fell free to get creative! You can add some chopped nuts, festive M&Ms or just leave the white chocolate "exposed". 
STORAGE: Store them in an air-tight container for up to 4 weeks at room temperature, or you can easily freeze them for up to 3 months.