Also known as Quaker Turron (or bars), this Chocolate and Oats Turron is a classic in the childhood of many Argentinians. The combo chocolate + oats between layers of crackers make both children and grownups fall in love with it immediately.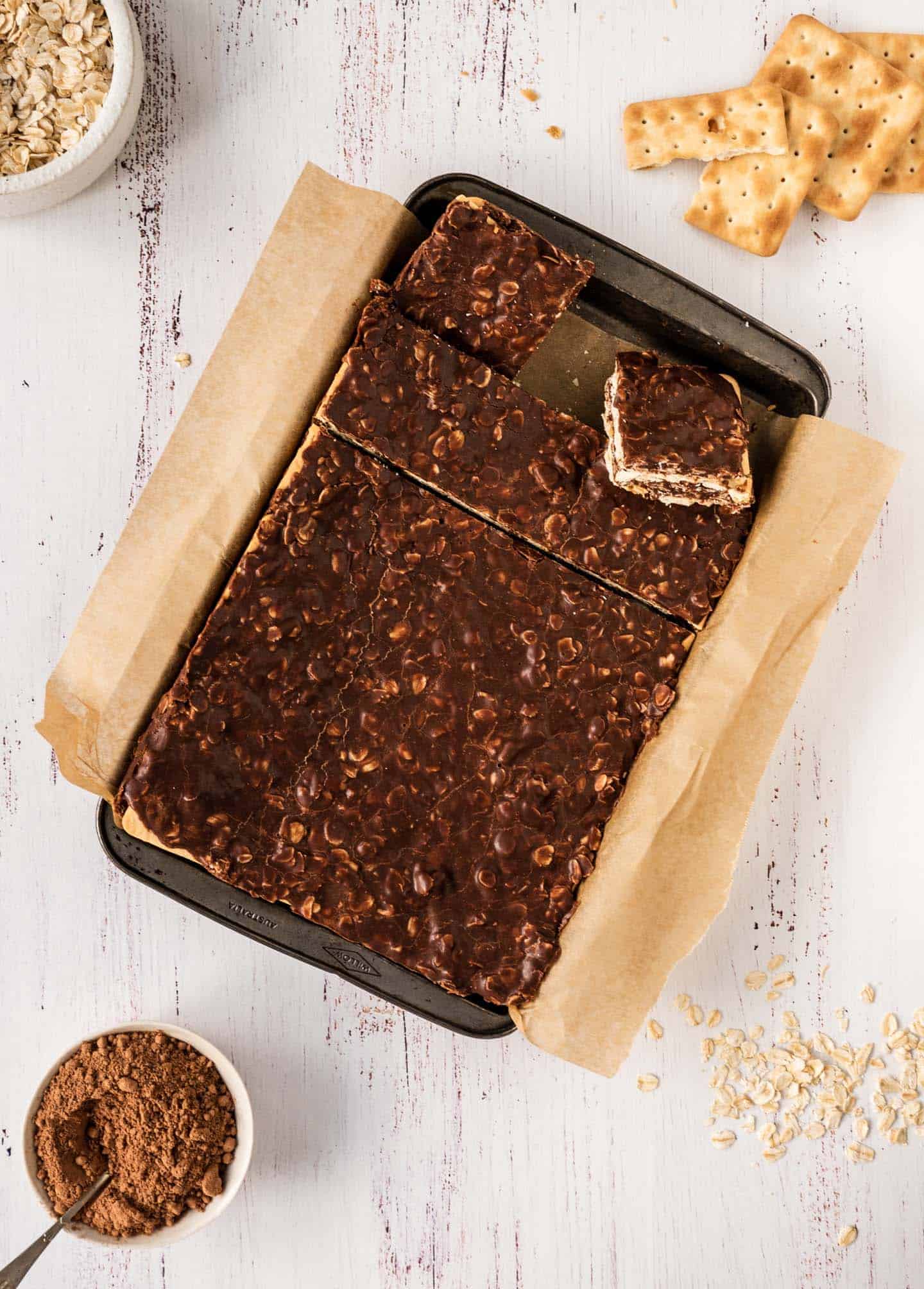 We could categorize this recipe as dessert, snacks or even chocolate bars. Let's agree the label is irrelevant. What matter is that is DE-LI-CIOUS. Yeap, in capital letters. Just because it has chocolate, right?
It personally reminds me of my childhood. It is such an easy and quick recipe, it is even kids-safe.
History of this turron
Following my usual curiosity, I tried finding where this dessert comes from. But I didn't have much luck. Many sources agree that the origin is unknown, but there are rumours that it was born in the 60s or 70s from a Quaker recipe book, a famous oats brand. But also it may be a tradition from the provinces of Argentina, and not from the capital, Buenos Aires. Of course, I cannot confirm this, so if you have other intel, please let me know.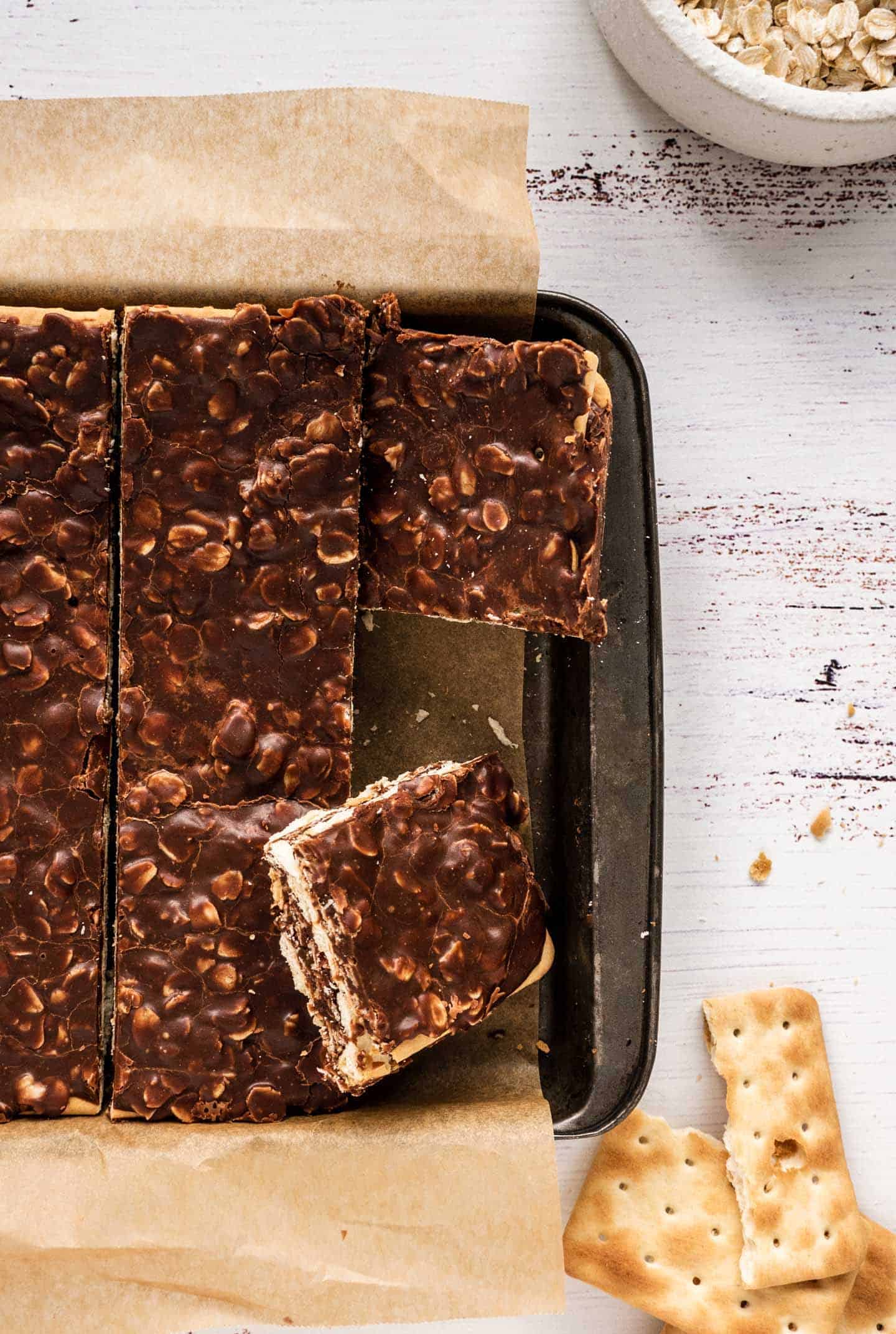 How to make this chocolate and oats turron
This recipe is super flexible and it requires just a few ingredients, so no excuses not to make it. There is no oven involved, which saves us lots of time. It does need some chill time in the fridge, in order to let the chocolate settle.
You'll probably have some or all of the ingredients for this recipe. That's another advantage to try this Chocolate and Oats Turron, especially if you've never had the luck to taste it.
What ingredients to use
Oats: As one of its names indicates, this recipe uses Quaker Oats, rolled oats or quick oats. This turron doesn't require baking, yeah! So when combining the oats with the chocolate, butter and milk at high temperature, we'll get the perfect consistency to eat it and take advantage of all its benefits.
Chocolate: This would be the hero ingredient. So, I recommend using good quality dark chocolate. Alternatively, you can use raw cacao powder, which also needs to be top notch.
Crackers: The chocolate and oats mix is sandwiched between layers of crackers. Criollitas, to be more precise. the most popular brand of water crackers in Argentina. The recipe indicates to use one package, but this is an estimate. It all depends on the size of the pan/dish you use when making this turron.
Alternatives: This recipe not only is super easy to make but also extremely flexible. Many people add dulce de leche to the chocolate and oats mix. Because, why not? Others prefer finishing it off with a layer of chocolate ganache. If you like this idea, here is a step-by-step on how to make it. Besides, if you want to get a higher turron for more people, you can easily double the ingredients and it still will taste amazing.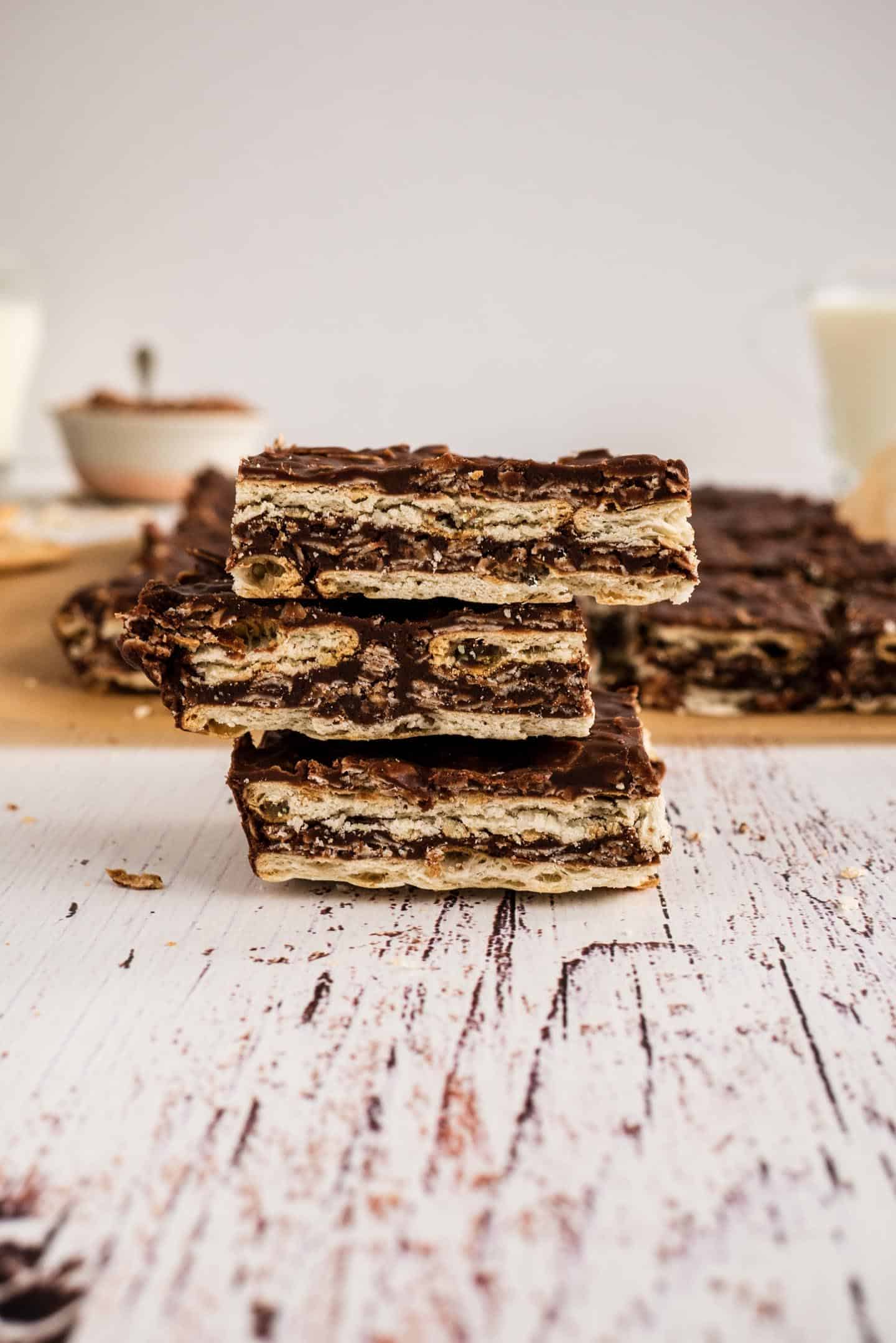 I hope you enjoy this dessert, especially if you've never had it. It has all the advantages to win everyone's heart: just a few ingredients, no oven required, a few chilling hours and it's ready to go at any time of the day.
Don't forget to leave a comment down below if you try this recipe (and why not, an Uber-style rating? ★★★★★). It not only helps me but also other people that want to try it. You can also tag me on Instagram or Pinterest so I get to check your photos or send them to me privately if you are shy.
Other chocolate recipes:
Oats and Chocolate Turron
Melted chocolate and oats layered with crackers, a total classic of every Argentinean childhood.
Ingredients
200

g

granulated sugar

150

g

unsalted butter

100

g

dark chocolate

90

ml

milk

125

g

rolled oats

1

package crackers
Instructions
In a small saucepan, at medium heat, melt the sugar, butter, chocolate and milk, constantly mixing.

Remove from the heat and add the oats, incorporating with a spatula until all the oats are covered in chocolate.

Line a cake pan with some plastic wrap, lay one layer of crackers and one layer of the oats and chocolate mix. Repeat this process until the last layer of chocolate.

Pop into the fridge for at least two hours, before cutting into squares.
Notes
ASSEMBLY: Depending on the size of the cake pan, you'll get more or less layers. You can easily double the ingredients to get a more cake-size turron.
STORAGE: Store it in an air-tight container for a week in the fridge. You can also freeze it already cut in squares of any size.