After one year of blogging, I've created this list of essential resources to kickstart your bilingual food blog. You'll find all the information needed to launch your blogging journey in just a few steps.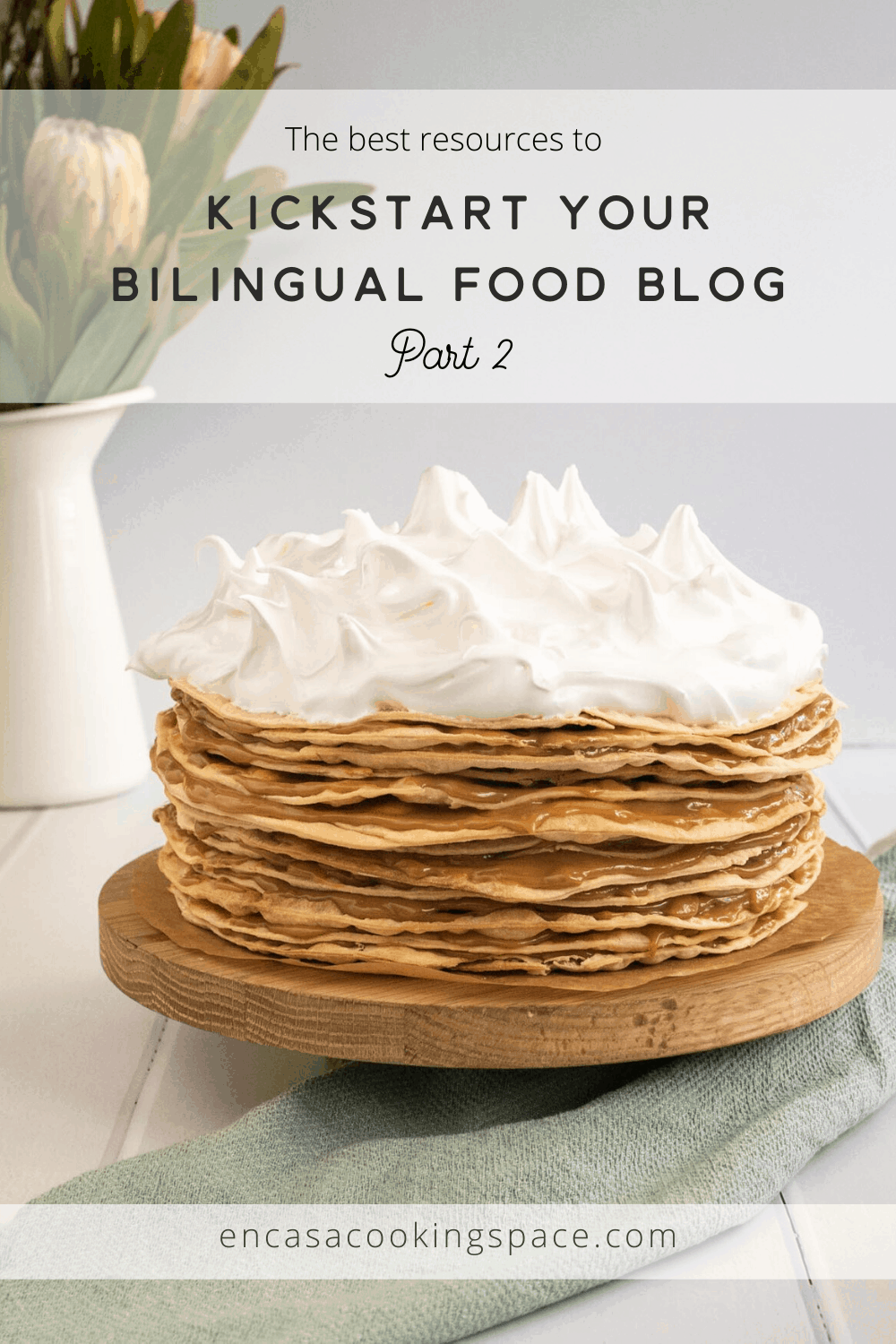 As I promised in my one-year blog anniversary post a few weeks ago, I've gathered the main resources I think are necessary if you are thinking of starting your own bilingual food blog.
Let me tell you a bit more about my beginnings…
More on how my food blog got started
Once I decided to start a food blog late 2018, I remember being on holidays back in my home town (Olavarría, in case you want to Google it) and feeling sooo overwhelmed with all the things I wanted to do. From choosing a name, a platform, a niche, to creating a logo, an Instagram account and actually learning how to write a recipe ? (even though I've read recipes all my life, let me tell you: it's not the same!!), in two languages!
After a few weeks of jumping from one idea to the other, I decided it was time to implement my life motto: "Take one thing at a time and allocate your 100% energy to it".
Which is what I would suggest if you are starting a blog, or thinking about doing so.
So, just get down to the tech deets. I won't go into each one in too much detail, as I don't really want to bore you. But get ready for some juicy, useful and amazing resources.
If you still need more specific info or help, shoot me an email and I'll happily try to guide you towards the right direction.
Basics to kickstart your bilingual food blog
1. Name: It may sound basic, but before you start this crazy journey of blogging, you have to choose a name that will represent you. I would suggest checking here if your blog name is available in all social media platforms. Something I wish I had done ahead of time 🙂
2. Domain: This is will be your "www" name. After choosing your name, you need to register it as your domain. It's a very simple process, and usually cheap 🙂 (I use Namecheap).
3. Hosting: This is where your blog will live, pretty much. I won't (and can't) get too technical about how it works, but the option you choose will have a big impact on your blog's speed, among others. My bilingual food blog is hosted in Cloudways, and I would suggest you do the same. There are other cheaper options, but trust me. My speed grew exponentially once I switched hosting companies (more on this in my next post).
4. WordPress: This is where you can create your blog for FREE. Make sure you use WordPress.ORG, and not .COM. Other options include Squarespace and Wix. However, I found WordPress to be the most common among food bloggers, which in turn means more chances to get help when things don't work out the way I plan. 🙂
5. Theme: Now that you have registered and installed WordPress, we get to the fun part! It's time to choose a theme, which is the visual or design you want your blog to have. Even though there many free options, I purchased mine with StudioPress. I opted for the Foodie Pro theme, by Feast Design, which includes the Genesis Framework. As you can tell by the name, this is the go-to theme for many food bloggers. Its minimal and simplistic design is what got my attention from day 1.
---
Ok, now that you got your blog up and running, you need what in the WordPress world is called as plugins.
The essential plugins for a bilingual food blog
If you don't know what a plugin is, I'll try to explain it in a very simple and visual way. Plugins sort of works like Lego blocks. You need several of them to keep your blog up and running.
Even though I always try to stick to the least amount of plugins, there are a few that are essential to run a safe and efficient bilingual food blog on WordPress.
Here is a list of the ones I swear by this first year:
Short Pixel: This plugin optimizes all images uploaded to the blog without compromising quality. Very simply put, it helps loading times, which contributes to more traffic.
Social Pug (or Grow): This plugin is what lets your readers share the love, either on Pinterest, Facebook, email, Whatsapp, or whatever platform you desire. Besides, it lets you customize the social buttons according to your branding.
MailerLite: Last but definitely not least, we have the newsletter or mailing marketing platform. I find this service to be user-friendly, compatible with Spanish and their customer care is excellent.
Other useful resources
Miscellaneous resources
Canva: Despite I have a graphic design sister who has helped me a lot with my branding, Canva has been a lifesaver. It lets you created thousands of designs for Instagram, Pinterest, the Web and so no.
Tailwind: This is the online tool I use to schedule all my posts on Instagram and pins for Pinterest.
Food Blogger Pro: I don't know what my blog would be like if it weren't for FBP. Besides the public podcast (which I highly recommend listening to), this membership site offers courses, deals and a platform to ask any kind of question. Among the peer members, you can find the staff of POY and different experts in a wide range of industries, such as legal, SEO, blog audits and anything in between.
Grammarly: This free writing assistant is a must for anyone whose native language is not English.
Now, it's your turn to get your blog started, if that's in the back of your mind. I actually never thought I would enjoy writing so much and I'm not sure who is reading, or if this is even of any help. So I can only suggest to go for it and give it shot!
Until next time!
Disclaimer: This post includes some affiliate links. This means I'll earn a commission if you purchase through these links, at no extra cost to you! All my opinions are 100% my own. I use all the products/services listed here and I find them trustworthy.